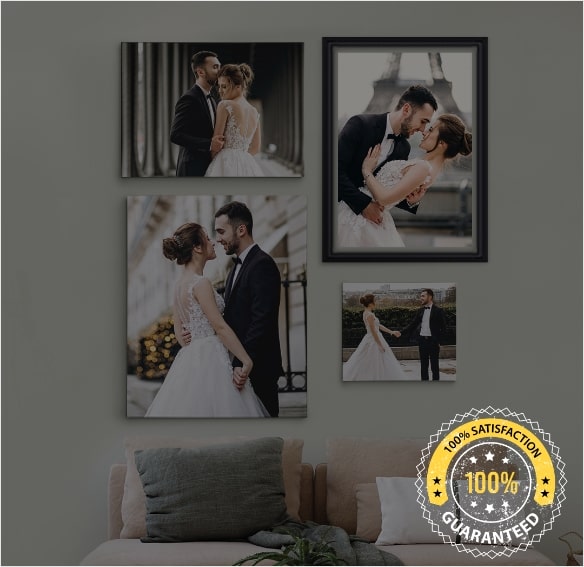 Experience Unmatched Value with Custom Prints at Wholesale Rates
Enhance your spaces, events, or inventory with our custom artwork prints at unbeatable wholesale rates. As a business owner, event planner, or retailer, you no longer need to compromise on quality for affordability. Our custom high-quality prints are as wallet-friendly as they are aesthetically pleasing.
Based in Canada, we're known for our rich and diverse range of custom art prints. All you have to do is, contact our team with your requirements, and we'll get back to you with all details in 24-48 hours.
Our flexible custom printing solutions mean you can curate a range of high-quality prints for a themed event or diversify to suit varied tastes. The more you order, the less you spend per piece.
It's time to uncover the magic of personalized, affordable excellence with our wholesale rates. Transform your spaces and experiences, all while keeping it light on the pocket.
Design Custom Prints In Bulk
Fun Ideas for Your Photo Custom Prints
Explore unique, fun ideas for displaying your photos on custom art prints to immortalize your favourite memories.
Custom-Made Prints In Various Shapes that Break the Mold
Why stick to conventional prints when you can shape your memories differently? Triangle custom-made prints are excellent for creating dynamic arrangements or geometric collages on your walls. Circular custom photography prints, on the other hand, lend a soft and harmonious feel to your space - perfect for those soothing landscapes or candid moments. Heart-shaped custom-printed gifts are classic for cherishing moments with your loved ones. At the same time, hexagon canvas prints bring an edgy and modern touch, making them perfect for a contemporary space or to showcase a series of related photos.
Order Custom Prints For Businesses to Stand Out
Businesses can step up their interior decor game with custom 3D photo printing, which can be an eye-catching focal point in a reception area or conference room. From company logos to mission statements or even product photos, the three-dimensional effect adds a layer of sophistication. Furthermore, a bus roll canvas print featuring the company's history, key milestones, or values could be a unique piece of engaging wall art.
Custom Artwork Prints for Unforgettable Wedding Memories
Wedding canvas prints are a beautiful way to keep that special day close to your heart. Displaying a captivating moment - the first kiss, the ring exchange, or the first dance - on a large, central custom photography print could serve as a daily reminder of the vows exchanged. Or consider a series of smaller custom-size prints capturing candid moments throughout the day to create a visual narrative of your love story.
Customize Prints to Delight Your Little Ones
Transform your kid's room into a vibrant, cheerful space with emoji art on canvas. You can choose from many emojis that resonate with your child's personality or interests. These custom artwork prints add colour to the room and allow your child to express their individuality. An interactive custom print idea could be a mood emoji on canvas where your child can point or pin an emoji based on their day's mood! There are more options are metal prints, acrylic prints, canvas prints, framed prints, wood prints, poster prints, etc.
Create Custom Prints with Powerful Words
In spaces like libraries and gyms, motivation is key. Displaying meaningful quotes on custom high-quality prints can provide the mental boost needed. In a library, use quotes from influential authors or characters. For gyms, motivational lines encouraging strength and perseverance could be the perfect push for someone's workout session.
Perfect Placement: Where to Hang Custom Photo Prints?
Custom photo prints add a personal touch to any space. The best places to hang them depend on the mood you want to set. Family custom prints could go in the living room for guests to see, while travel or nature pictures might be more appropriate in the office for a calming influence. The bedroom could host your custom-printed gifts of romantic photos or personal achievements, as a sweet reminder of cherished moments.
Unleashing Creativity with Custom Prints
Custom artwork prints aren't limited to personal photos. Think outside the box and use them to print out your favourite digital art, memorable tickets, favourite recipes, maps of beloved cities, or even a handwritten letter from a loved one. The possibilities to customize prints are endless!
Using Custom Prints to Create Mood Boards
Finally, custom-made prints can be used to create stunning visual mood boards. Whether it's for mapping out interior decor plans, visualizing a new project, or simply displaying your favourite visual inspirations, a mood board of custom art prints on your wall could be the creative touch your space needs.