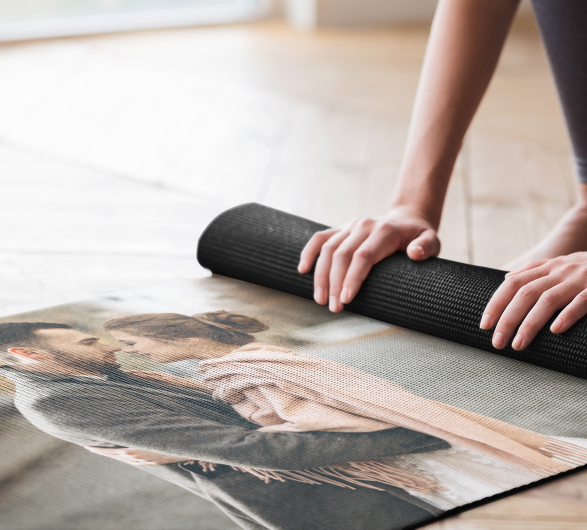 Get Cozy with Custom Yoga Mats
CanvasChamps' yoga mats with photos are a must purchase for yoga enthusiasts. So, what is stopping you from doing so? Get personalized yoga mats from CanvasChamp.
Not just this, you can shape your mat according to your imagination. Print your favorite pictures or designs, as the possibilities are endless. Just imagine what would motivate you to do yoga daily, and then you can have that printed on your custom design yoga mat. It is that simple!!
Why Choose CanvasChamp to gift Yoga Mat?
Must-have accessory for fitness enthusiast
For birthday and get together gifts
Promotional Events
Housewarming gift
Baby shower party
Or any other day that needs to be celebrated.
Showcase Best Relationship Moments on Yoga Mats
Family Photo

Get your family picture printed on the yoga mat and enjoy their company while doing yoga.

Father Photo

Let your dad encourage you to achieve great heights every single day. Gift him printful yoga mats for a healthy lifestyle.

Mother Photo

Mothers can always make you feel alive even if you are tired. Get your mother's picture on the yoga mat.

Sibling Photo

No one else is as crazy as your sibling but still you miss them some time, isn't it? Get their laughing pictures printed on the mat.

Sister Photo

Sisters are your second mother. Let your sister motivate you throughout the yoga session.

Brother Photo

Get your brother's picture customized on the yoga mat and encourage them to do yoga with you instead of hanging around.

Wife Photo

Here comes your love. Get your wife's picture on the mat and remind her to start their day with a peaceful session with you.

Husband Photo

Encourage your husband to take some time out and spend some with you while doing yoga together.

Daughter Photo

Daughters are indeed a blessing. Get her picture personalized on the mat and get them to do some poses.

Son Photo

Get your son's picture on the mat and encourage him to start his day with a sound yoga session with you.

Girlfriend Photo

Excited to do couple yoga? It is time to get a custom yoga mat with your girl's picture on it so that you never miss any yoga session.

Boyfriend Photo

Surprise your boyfriend with a cool yoga mat that has his most lovable memory printed on it – he will love you back for this.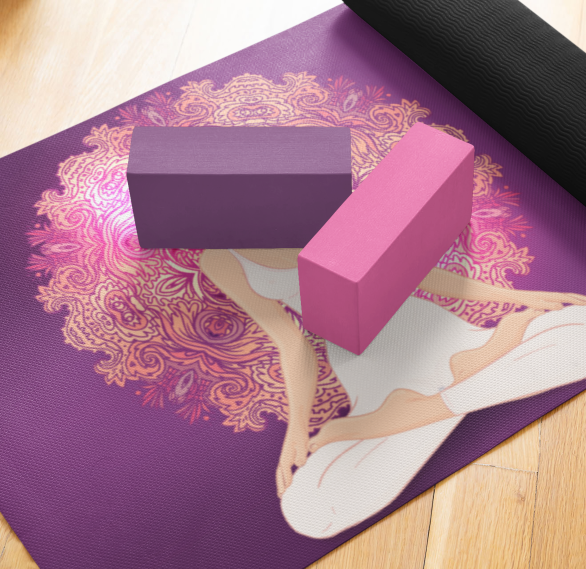 Lovable Designs for Your Custom Printed Yoga Mat
A Breathtaking Sunset/night Sky Print on Mat
Why go outside to see the sunset or moon rise when you can print them on a custom yoga mat and see them every day?
Soothing Round Mandala Prints
Looking for a perfect mat design to perform meditation? A soothing round mandala design will fit best.
Thunderbird and Arrow Print on Mat
Bring thunder with your yoga mats that have amazing thunderbird and arrow prints.
Print Seven Chakras Lotus Designs
Align your inner self with an evoking seven chakras lotus designs printed on your custom yoga mat.
Take a Deeper Yoga Path with Ornamental Decor Print
If you are a passionate lover of art a mat design with ornamental decor print will be something you will surely love.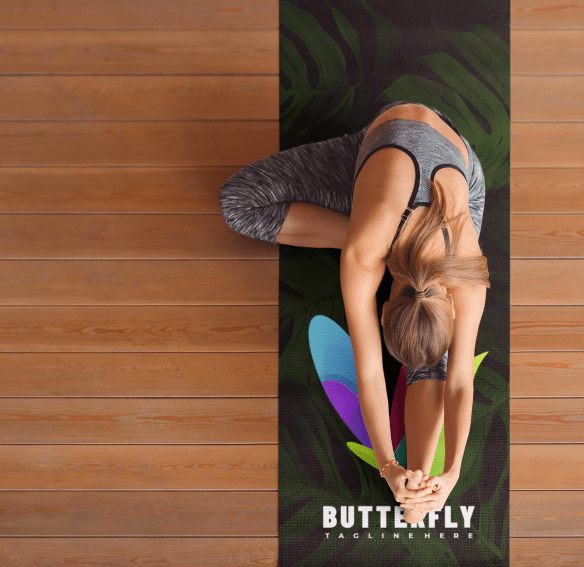 Custom Yoga Mats for Businesses
Ever thought of using yoga mats as promotional stuff? If not, then it is time to consider it. With the world going crazy over yoga, we are sure your customers will love them. Custom logo yoga mats are one of the best ways to promote a health-related venture such as a gym, yoga center, or any other health-related business.
Simply print your brand name, logo or other assets and customize the mat to match your brand image. These custom printed yoga mats can be used in business events or events used as a reward for the employees.
So, are you ready to promote your brand using custom yoga mats with logo? Get your personalized yoga mat now!!
FAQs on Custom Yoga Mat
What Is the Best Thickness for a Yoga Mat?
The best thickness for a firm grip yoga mat is 4mm to 5 mm.
Can I Make My Yoga Mat?
Yes, CanvasChamp is a leading custom yoga mats manufacturer. Simply visit our website and follow a few steps to get your own printed yoga mat.
Is A 4 mm or 5 mm Yoga Mat Better?
If you want a soft-landing yoga mat, you can go for a size between 4 mm to 5 mm
How To Print Yoga Mats?
To get your printed yoga mat, you need to upload your picture using the design tool on the CanvasChamp yoga mat website.
How to customize your yoga mat.
You can customize your yoga mat by uploading a photo on our website.