Custom Printed Yoga Mats for Yoga Lovers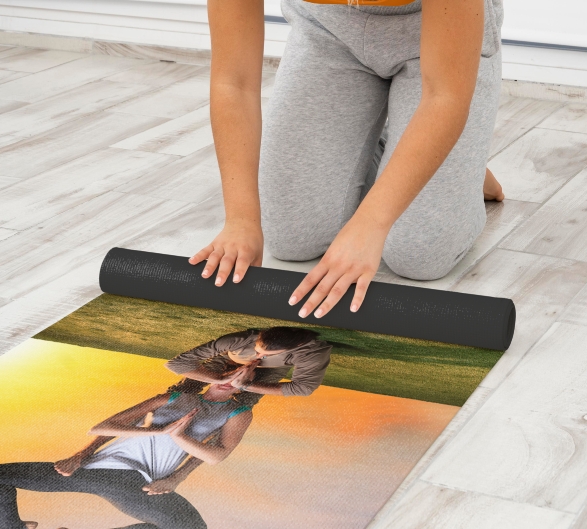 Get Cozy with Custom Yoga Mats
CanvasChamps' yoga mats with photos are a must purchase for yoga enthusiasts. So, what is stopping you from doing so? Get personalized yoga mats from CanvasChamp.
Not just this, you can shape your mat according to your imagination. Print your favorite pictures or designs, as the possibilities are endless. Just imagine what would motivate you to do yoga daily, and then you can have that printed on your custom design yoga mat. It is that simple!
Most yoga enthusiasts find it hard to stay motivated for a long time. That is where our personalized yoga mats help beginners start their yoga journey while staying motivated. With their firm grip, you can remain stable while doing yoga.
It is said that health should be the first priority for everyone then why stop yourself from being fit? Take a fresh start and design your photo-printed personalized Yoga mat online on CanvasChamp and introduce a healthy lifestyle habit forever.
Showcase Best Relationship Moments on Yoga Mats
Family Photo

Get your family picture printed on the yoga mat and enjoy their company while doing yoga.

Father Photo

Let your dad encourage you to achieve great heights every single day. Gift him printful yoga mats for a healthy lifestyle.

Mother Photo

Mothers can always make you feel alive even if you are tired. Get your mother's picture on the yoga mat.

Sibling Photo

No one else is as crazy as your sibling but still you miss them some time, isn't it? Get their laughing pictures printed on the mat.

Sister Photo

Sisters are your second mother. Let your sister motivate you throughout the yoga session.

Brother Photo

Get your brother's picture customized on the yoga mat and encourage them to do yoga with you instead of hanging around.

Wife Photo

Here comes your love. Get your wife's picture on the mat and remind her to start their day with a peaceful session with you.

Husband Photo

Encourage your husband to take some time out and spend some with you while doing yoga together.

Daughter Photo

Daughters are indeed a blessing. Get her picture personalized on the mat and get them to do some poses.

Son Photo

Get your son's picture on the mat and encourage him to start his day with a sound yoga session with you.

Girlfriend Photo

Excited to do couple yoga? It is time to get a custom yoga mat with your girl's picture on it so that you never miss any yoga session.

Boyfriend Photo

Surprise your boyfriend with a cool yoga mat that has his most lovable memory printed on it – he will love you back for this.
Lovable Designs for Your Custom Printed Yoga Mat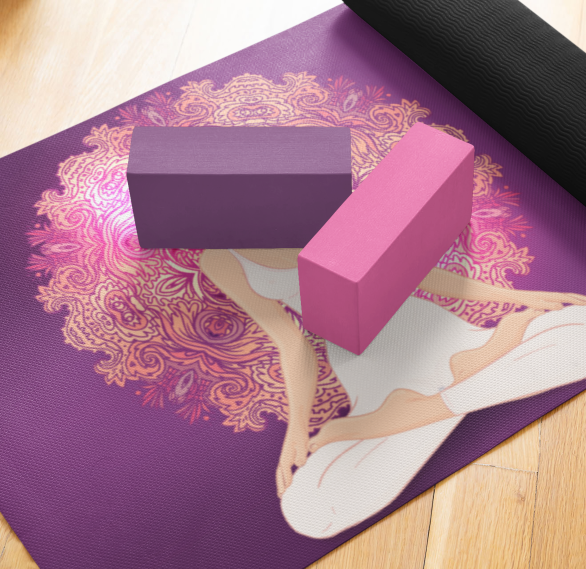 A Breathtaking Sunset/night Sky Print on Mat
Why go outside to see the sunset or moon rise when you can print them on a custom yoga mat and see them every day?
Soothing Round Mandala Prints
Looking for a perfect mat design to perform meditation? A soothing round mandala design will fit best.
Thunderbird and Arrow Print on Mat
Bring thunder with your yoga mats that have amazing thunderbird and arrow prints.
Print Seven Chakras Lotus Designs
Align your inner self with an evoking seven chakras lotus designs printed on your custom yoga mat.
Take a Deeper Yoga Path with Ornamental Decor Print
If you are a passionate lover of art a mat design with ornamental decor print will be something you will surely love.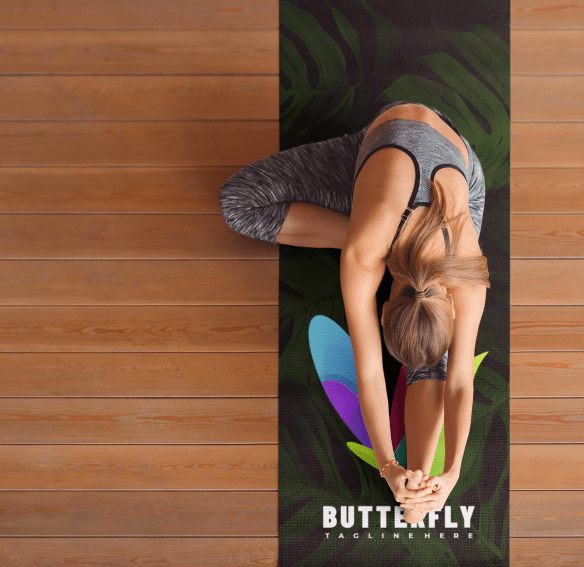 Custom Yoga Mats for Businesses
Ever thought of using yoga mats as promotional stuff? If not, then it is time to consider it. With the world going crazy over yoga, we are sure your customers will love them. Custom logo yoga mats are one of the best ways to promote a health-related venture such as a gym, yoga center, or any other health-related business.
Simply print your brand name, logo or other assets and customize the mat to match your brand image. These custom printed yoga mats can be used in business events or events used as a reward for the employees.
So, are you ready to promote your brand using custom yoga mats with logo? Get your personalized yoga mat now!!
Why Choose CanvasChamp to Print Yoga Mats in Bulk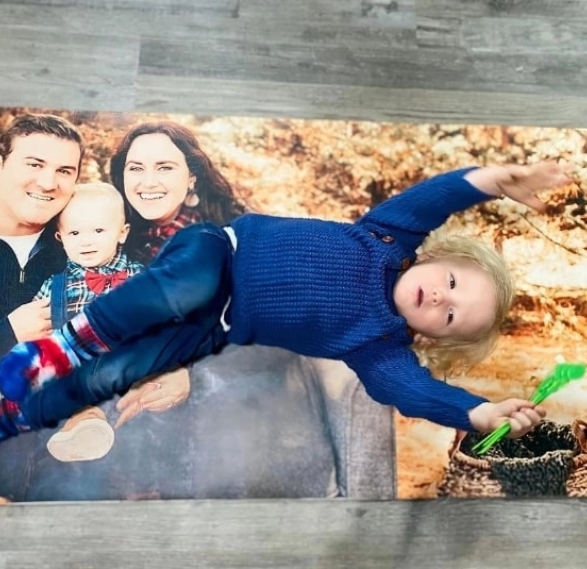 Get Promotional Personalized Yoga Mats For Business In Bulk
Promotional yoga mats are not only ideal for yoga enthusiasts but also for fitness centers, health clubs, schools, and corporate wellness programs. Bulk purchases of custom yoga mats ensure you have a sufficient supply to meet the demands of various events and activities. They can also be given as gifts or incentives, reinforcing your brand's commitment to health and well-being with your brand's logo printed on it.
These personalized non-slip yoga mats are durable and designed to withstand regular use, ensuring that your brand remains visible for an extended period. As people incorporate yoga and fitness into their daily routines, your branded mats will serve as a constant reminder of your company's commitment to their well-being.
Investing in bulk quantities of promotional yoga mats is a long-term strategy. These mats are built to last and designed to withstand regular use. By having a sufficient supply of mats, you can ensure that your brand remains visible and present in your target audience's minds over a long time.
Make Your Own Custom Yoga Mats Online
Unroll, Unwind, and Find Your Zen on Our Blissful Custom Yoga Mats! Customize yoga mats with photos you love and elevate your practice with personalized Yoga mats.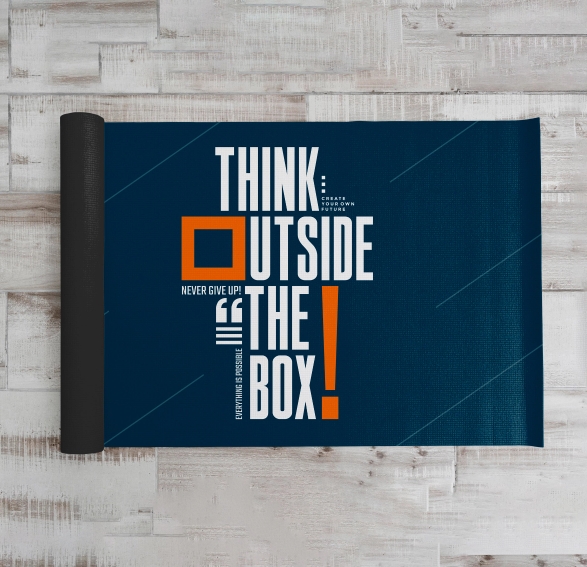 What Makes Custom Yoga Mats Popular?
In Canada, people are making conscious efforts to improve their overall health and are opting for Yoga. And that's why custom yoga mats have gained significant popularity due to several compelling reasons like:
Personalization: Custom yoga mats allow individuals to express their unique style, personality, and creativity. By designing their mats, practitioners can incorporate colors, patterns, images, or inspirational quotes that resonate with them. This personal touch enhances the yoga experience, making it more meaningful and enjoyable.
Unique Gifts: Personalized luxury yoga mats make for thoughtful and unique gifts. Whether it is for a friend, family member, or yoga enthusiast, a personalized mat shows that you have put thought and effort into choosing a meaningful present. It allows you to tailor the design to their preferences, making it a truly special and memorable gift.
Branding and Promotional Opportunities: Custom logo exercise mats offer businesses and organizations a valuable branding and promotional tool. Companies can customize personalized yoga mats with their logo, tagline, or brand colors to create a strong visual impact. These custom printed yoga mats can be used for corporate wellness programs, events, or giveaways, increasing brand visibility and leaving a lasting impression. Try these promotional personalized Yoga Mats now.
Gift Custom Yoga Mats On Every Occasion
Celebrate special moments in Canada with personalized photo yoga mats - the perfect gift for birthdays, anniversaries, graduations, and holiday seasons, promoting wellness and cherished memories.
Below are special Occasions to gift Photo Yoga Mats
Canada Day: Celebrate the nation's birthday by gifting a photo yoga mat adorned with iconic Canadian images, such as the maple leaf or Canadian landscapes, inspiring recipients to practice yoga with a patriotic touch.
Family Day: Show love and appreciation to your family members on this special day by surprising them and designing a personalized Yoga Mat featuring family portraits or shared memories, encouraging a bond of health and togetherness.
Thanksgiving: Express gratitude and thoughtfulness by presenting custom photo yoga mats to loved ones during Thanksgiving gatherings, showcasing images of memorable moments spent together and promoting gratitude for health and well-being.
Wedding or Engagement: Commemorate the union of a couple by gifting them personalized photo yoga mats displaying their engagement photo or a picture from their wedding day, symbolizing their commitment to a balanced and harmonious life together.
International Yoga Day: Join the global celebration of yoga on June 21st by gifting personalized photo yoga mats to yoga enthusiasts, featuring inspiring yoga poses or serene natural landscapes, honoring the practice of mindfulness and inner peace.
Wellness Retreats: If someone you know is attending a wellness retreat or a yoga-focused event in Canada, surprise them with a custom photo yoga mat showcasing serene Canadian scenery or motivational quotes, enhancing their retreat experience, and providing a lasting reminder of their journey.
Easy Cleaning Tips for Custom Photo Yoga Mats
Keep your custom yoga mat fresh and clean with these easy cleaning tips. Simply wipe down the surface with a gentle cloth or sponge using a mild detergent or yoga mat cleaner. Rinse with water, then allow it to dry completely.
Regular maintenance, such as wiping it down after each use, will help prevent buildup. With these simple steps, you can maintain the cleanliness and longevity of your custom yoga mat, ensuring hygienic and enjoyable yoga practice every time.
FAQs on Custom Yoga Mat
What Is the Best Thickness for a Yoga Mat?
The best thickness for a firm grip yoga mat is 4mm to 5 mm.
Can I Make My Yoga Mat?
Yes, CanvasChamp is a leading custom yoga mats manufacturer. Simply visit our website and follow a few steps to get your own printed yoga mat.
Is A 4 mm or 5 mm Yoga Mat Better?
If you want a soft-landing yoga mat, you can go for a size between 4 mm to 5 mm
How To Print Yoga Mats?
To get your printed yoga mat, you need to upload your picture using the design tool on the CanvasChamp yoga mat website.
How to customize your yoga mat.
You can customize your yoga mat by uploading a photo on our website.
Where to buy yoga mats?
When it comes to purchasing yoga mats, you can get it customized online from CanvasChamp. With our expertise in personalized products, we can provide you with a unique and customized yoga mat that perfectly reflects your style and personality.
You can upload your own photos, designs, or artwork to create a one-of-a-kind yoga mat that stands out from the rest. Our high-quality materials and printing techniques ensure that your custom yoga mat will not only look amazing but also provide the comfort and durability needed for your yoga practice.
Trust CanvasChamp to deliver a personalized yoga mat that enhances your practice and brings joy to your yoga journey.
How much is a yoga mat?
As for the price of yoga mats, at CanvasChamp custom yoga mats start from C$59.99. However, this price can vary depending on factors such as quality, material, size, and additional features. We can help you print your brand name, logo or personal photos, quotes, and clipart on these custom yoga mats.