Detailed Specifications of Personalised Pen Drive
Multiple options for varied needs - Customised USB flash drives and pen drives
Visiting Card Pen Drive
Printing Type: UV Print on Pen drive.
Print Side: Front & Back Printing.
Pendrive Material: Plastic
Variants: 4, 8, and 16 GB
SanDisk Ultra Dual Drive Luxe Type C Flash Drive
Printing Type: Engraving
Print Side: Back Side Only
Pendrive Material: Metal
Pendrive Model No: SDDDC4
Variants: 32, 64, and 128 GB
SanDisk iXpand Mini (Apple)
Printing Type: Engraving
Print Side: Front Side Only
Pendrive Material: Metal
Pendrive Model No: SDIX40N
Variants: 32, 64 and 128 GB
HP USB 3.1 Flash Drive
Printing Type: Engraving
Print Side: Front Side Only
Pendrive Material: Metal
Pendrive Model No: 796L
Variants: 32, 64, and 128 GB
HP USB Flash Drive
Printing Type: Engraving
Print Side: Back Side Only
Pendrive Material: Metal
Pendrive Model No: V232w
Variants: 32, 64 and 128 GB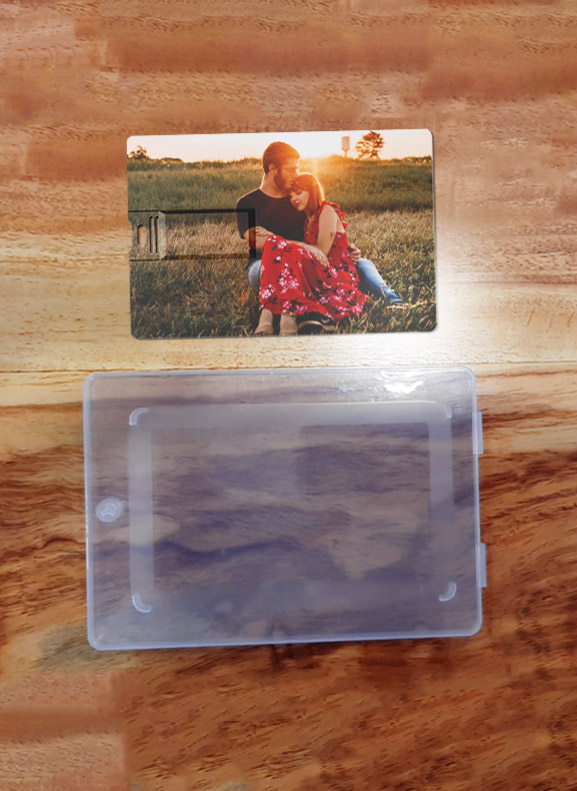 Designing 100% Custom Pen Drives Made Easy
Print a photo or engrave a name, get a personalized pen drive the way you admire!
Are you looking for ideas to motivate your employees or win your potential client's attention? Or are you finding a customized gift for your tech-savvy friends on their birthday? CanvasChamp offers you a chance to amuse your receivers with customized pen drives. Print your college's convocation photos on a pen drive and give them as a parting gift to your group or engrave your wedding date on a pen drive and gift it to your spouse on your 25th anniversary.
Plan a usable gift on CanvasChamp, which offers the following types of custom pen drives option:
Visiting Card Pendrive

When on the go, you can need a pen drive anytime, anywhere, so keep your files, photos, and documents always handy! ! Now, carry a customized visiting card style pen drive with pictures on both sides in your wallets and bags. These custom pen drives look like credit cards, and we pack them in a hard plastic protective case so that nothing can spoil your photo prints.

SanDisk Ultra Dual Drive Luxe Type C Flash Drive

Do you prefer to use a Type C flash drive to store and access your valuable data.? Now, make it a style statement and engrave your company's logo, short quote, or pet's name and make it a personalized Type C flash drive on CanvasChamp.

SanDisk iXpand Mini (Apple)

Want your files to stay confidential and handy? Get yourself a custom pen drive and engrave your name on it via laser technology on CanvasChamp. A polite way of saying to others - "hey' stay away; it's my pen drive!"

HP USB 3.1 Flash Drive

Want plenty of room to save your favourite files, high-resolution photos, favourite songs, movies, business presentations, portable apps, and other essential documents. Get yourself a USB flash drive. Want more? Customize the pen drive with laser engraved technology on CanvasChamp and use it as a giveaway promotion gift, exhibition gift.

HP USB Flash Drive

Are you too worried about others using your flash drive justhatThet because all look the same? Now never let others use your flash drive out of confusion. Use our easy-to-use design tool and engrave your name, employee code, or the text you prefer on the backside of the flash drive.