Customizable Beach Towels for All Ages
Wrap yourself in comfort and style with our custom beach towels from CanvasChamp!
Personalized Beach Towels for Kids

Personalized Beach Towels for Adults

Personalized Bachelorette Beach Towels

Beach Towels for Bride and Groom

Personalized Bridesmaids Beach Towels

Personalized Groomsman Beach Towels

Personalized Beach Towels Party Favors

Personalized Beach Towels with Characters

Personalized Beach Towels with Names

Personalized Bride Beach Towel

Personalized Cartoon Beach Towels

Personalized Disney Beach Towels

Personalized Honeymoon Beach Towels

Personalized Spiderman Beach Towel

Personalized Superhero Beach Towels

Personalized Unicorn Beach Towel

Personalized Wedding Beach Towels
Steps to Design Your Personalized Beach Towels
Choose A Size

Find the perfect fit for your beach adventures with our range of sizes: from the spacious 30 x 70 Inches to the cozy 27 x 55 Inches.

Upload Your Photo

Turn your beach towel into a cherished keepsake by easily uploading your favorite photo - a special moment frozen in time, now part of your beach experience.

Add Clipart or Text

Make your beach towel truly one-of-a-kind with our selection of vibrant clipart or by adding your own text - express your personality and style in a unique way.

Add to Cart & Buy

Ready to dive in? Simply add your customized beach towel to your cart and proceed to checkout, and you'll be one step closer to enjoying a personalized beach accessory.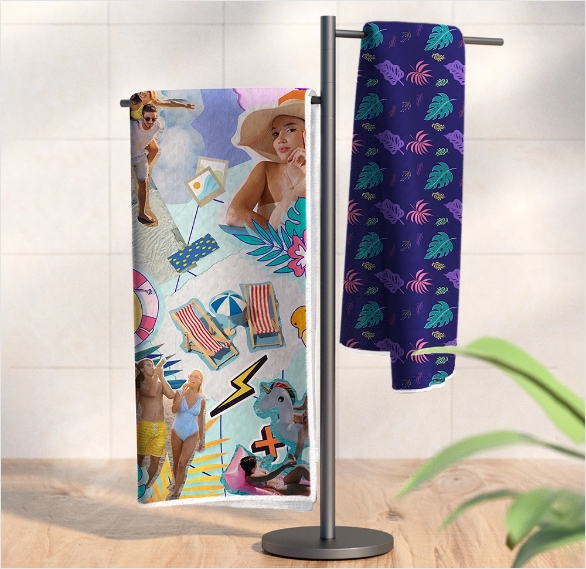 Personalized Beach Towel in Wholesale
Purchasing custom beach towels in wholesale can provide cost savings and customization options for a variety of purposes, making it a popular choice for businesses and individuals who want to promote their brand, offer unique products, or make a profit through resale. So, if you too are looking for custom beach towels wholesale rates, CanvasChamp is your go-to store.
Why Buy Personalized Beach Towels in Bulk?
Promotional Purposes: If you are planning a promotional event or campaign, you need custom beach towels in bulk quantity. Custom beach towels with a company or organization's logo or branding can be a great promotional item for events, giveaways, or corporate gifts. Buying in wholesale allows for bulk ordering, which can result in cost savings.
Retail Business: If you run a store in Canada and or have your own retail businesses that sell beach towels, you may look out to purchase custom beach towels in wholesale as a way to offer unique designs and styles to their customers. This new product can surely bring you footfall, and buying in bulk can also help lower the cost per towel, increasing profit margins.
Personalized Gifts: Custom beach towels can make great gifts for special occasions such as weddings, birthdays, or family reunions. Buying wholesale allows for a larger quantity of towels to be personalized at a lower cost.
Group Events: If you're planning a large event such as a beach wedding or family reunion, purchasing wholesale custom beach towels can ensure that everyone has a matching towel while also serving as a memento of the event.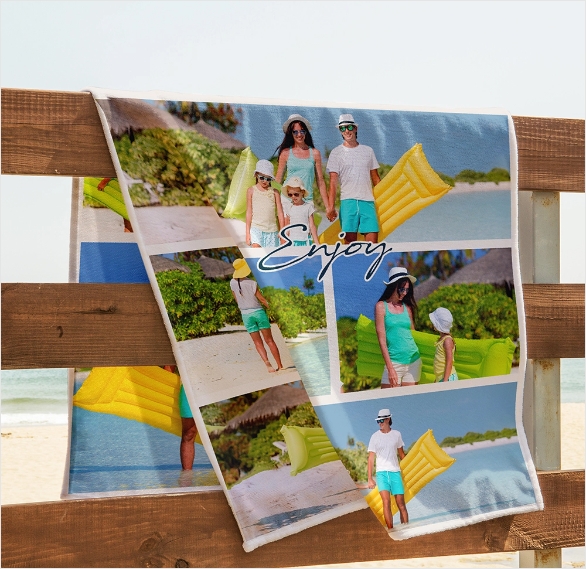 What Are the Benefits of Having Custom Beach Towels?
There are several benefits of having custom beach towels, including:
Personalized Touch: Custom beach towels allow you to add a personal touch to your beach gear. You can choose your own design, color, and even add your own text or images.
Unique and Eye-catching: Custom beach towels are unique and eye-catching, allowing you to stand out from the crowd. Whether it's your favorite sports team, a funny quote, or a family photo, a customized beach towel will definitely make a statement.
Practical and Functional: Custom beach towels are not only stylish, but they're also practical and functional. You can choose the size and material that best suits your needs, making them perfect for all types of beach activities.
Great Gift Idea: Custom beach towels make for a great gift idea for family and friends. You can personalize them with their favorite colors, images, or quotes, providing a thoughtful and unique gift that they'll surely appreciate.
Lasting Memory: Custom beach towels can also serve as a lasting memory of a special moment or event. Whether it's a family vacation or a beach wedding, a customized beach towel with a photo or special design can serve as a lasting reminder of those cherished memories.
Know More About Personalized Beach Towels
Customized beach towels with photos are a great way to add a personal touch to your beach gear. Whether you're looking to showcase your favorite family photo, a cherished memory, or a fun vacation snapshot, a personalized beach towel with your own photo will surely stand out.
These towels are not only practical and functional, but they also make for a unique and thoughtful gift for family and friends. Read on for some great ideas and tips for creating your own customized beach towel with photos.
Beach Towel Basics and Product Details :
CanvasChamp offers a range of beach towels made from 100% polyester in various sizes to suit everyone's needs. The available sizes include 32 x 63, 40 x 60, 30 x 70, and 27 x 55. The 27 x 55 size is perfect for personalized kids' beach towels, while the rest are suitable for anyone. Choose from seven colors, including blue, green, pink, purple, red, white, and yellow, to make your beach towel truly unique.
Customized Beach Towel for Promotion :
Company Logo:Add your company logo to the towel to increase brand recognition and promote your business.
Sponsorship Opportunities:Sponsor local events or sports teams by providing customized beach towels with your logo, which will increase visibility and brand recognition within your community.
Employee Gifts:Give customized beach towels as gifts to your employees, which will create a positive image of your business and boost morale.
Personalized Wedding Beach Towels Ideas :
Mr. and Mrs. Beach Towels:Celebrate the newlyweds with a set of Mr. and Mrs. beach towels, featuring their last name or initials.
Wedding Date Beach Towels:Customize a beach towel with the couple's wedding date and a romantic design, such as hearts or flowers.
Beachy Honeymoon Beach Towels:Create beach towels with a fun and playful design that celebrates the couple's honeymoon destination, such as palm trees, tropical drinks, or sea creatures.
Personalized Monogram Beach Towels:Add a touch of elegance to the couple's beach day with monogrammed beach towels featuring their initials in a beautiful font.
Personalized Beach Towels for Kids Ideas :
Spider-Man Pose:Create a beach towel featuring Spider-Man in his classic pose or in action, swinging through the city or fighting villains.
Birth Year or Age:Commemorate a special year or age with a customized beach towel featuring the child's birth year or age.
Personalized Mermaid Photo:Create a personalized beach towel with your child's photo dressed as a mermaid or swimming in a mermaid tail.
Personalized beach towels with photos are a fun and creative way to make a statement at the beach. With endless design options and styles to choose from, you can easily create a one-of-a-kind beach towel that reflects your personal style and captures your most cherished memories.
These towels also make for a unique and practical gift for loved ones, providing a lasting reminder of your special moments together. So why settle for a plain, boring beach towel when you can make it uniquely yours with a customized photo beach towel.
Personalized Beach Towels – General FAQs
How can I order custom beach towels?
To order custom beach towels, you can follow these general steps:
Visit CanvasChamp's website, which offers custom beach towels.
Select the towel product you want to customize.
Use our design tool to personalize the towel with size, colour, images, or text.
Customize the design elements as desired.
Review and preview the final design.
Add the custom beach towels to your cart.
Proceed to checkout, providing shipping and billing information.
Choose a payment option and make the payment.
Verify order details and confirm the purchase.
Await delivery of your custom beach towels to the specified address.
Specific ordering processes may vary depending on your chosen company or online store. It's recommended to refer to our website or contact our customer support for detailed instructions and guidance on ordering custom beach towels.
How do I design my custom beach towels?
We provide an online design editor to help you design your custom beach towels. It is effortless to design your personalized beach towels online are mentioned below:
Go to our design tool on the Custom Beach towel page.
Select the towel product and choose the colour and size.
Upload your desired images or add text.
Customize the placement and size of the design.
Preview and make any necessary adjustments.
Save or finalize the design.
Add the custom beach towel to your cart and provide shipping and payment information.
Complete the order and await delivery of your designed towels.
What materials are available for custom beach towels?
Crafted from 100% polyester, our personalized beach towels guarantee top-notch quality for personal use and gifting occasions. Polyester is an outstanding material for beach towels due to its swift drying ability, lightweight construction, durability, colourfastness, ease of cleaning, and customization versatility.
These polyester custom beach towels dry rapidly, making them perfect for beach outings, while their lightweight design ensures hassle-free portability. In addition, they exhibit remarkable durability, resisting fading and shrinking and demanding minimal maintenance.
Furthermore, polyester facilitates vibrant and intricate printing, enabling stunning custom designs for truly personalized beach towels.
Can I use custom beach towels for promotional purposes?
Yes, absolutely. Custom beach towels can be used for promotional purposes. They offer a unique and practical way to promote your brand, company, or organization. Customizing beach towels with your logo, slogan, or brand message can increase brand visibility and create a lasting impression among your target audience.
Custom beach towels can be used as promotional giveaways at events, trade shows, or conferences or as part of marketing campaigns or loyalty programs. They are functional items that recipients can use and enjoy, extending your promotional efforts' reach.
Additionally, beach towels are often taken to beaches, pools, and other recreational areas, providing exposure to your brand in various settings.