5 Styles of 3D Crystal Cube Available
1. Rectangle-Shaped 3D Crystal Cube
Capture your entire picture entirely on a rectangular shaped 3D crystal cube. Your honeymoon couple photo can look marvellous in our rectangle-shaped 3D crystal cube.
Sizes Available:
180mm x 120mm x 65mm
100mm x 100mm x 160mm
2. Diamond-Shaped 3D Crystal Cube
Did you propose and they said yes? Seize the moment in this diamond-shaped 3D crystal cube of the life-turning moment and cherish the expression for a lifetime.
Sizes Available:
3. Heart-Shaped 3D Crystal Cube
Become the Romeo or Juliet of the relationship by presenting to your beloved with a perfect couple photo glistening on a heart-shaped 3D crystal cube gift.
Sizes Available:
100mm x 95mm x 20mm
100mm x 100mm x 20mm
140mm x 140mm x 20mm
145mm x 125mm x 60mm
4. Cube-Shaped 3D Crystal Cube
Honour your loved ones' achievement by giving them a cube-shaped 3D crystal cube adorning their accomplishments on it.
Sizes Available:
80mm x 80mm x 80mm
70 mm x 70mm x 70mm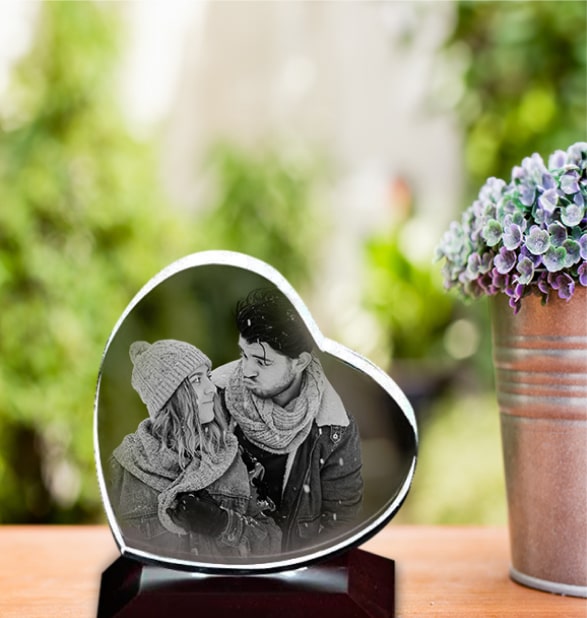 Gift-giving Made Easy With 3D Crystal Cube
CanvasChamp makes it simple for you to design your best photos on a 3D crystal cube in Canada for any occasion. Customizing a personalised 3D engraved crystal cube is so easy that you can gift it to anyone and make them feel special with your efforts.
Our 3D crystal cubes come accompanied by a yellow-light stand on which you can rest the best of your pictures and make them shine throughout the night.