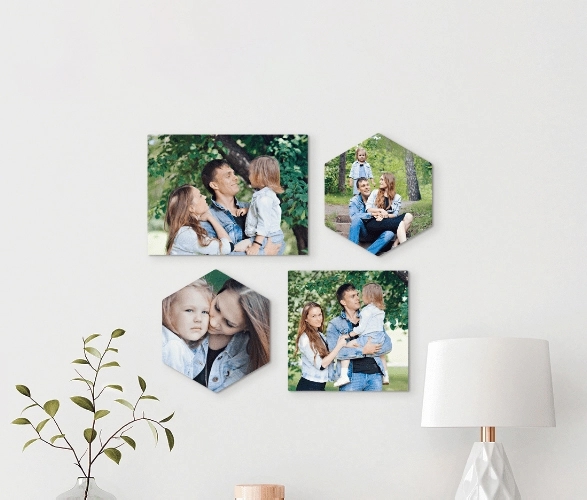 Specifications of Our Customized Photo Wall Tiles
Variety in shapes of photo tiles with your photos and custom messages.
Material & Shapes:
Material: Foam Board, Metal, Acrylic photo tiles.
Thickness: 5/6 MM
Printing Technology: UV Printing
Cutting & Finishing Technology: CNC Router
Shape: Hexagon, Rectangle, Square & Circle
Different Sizes of Photo Wall Tiles:
Square: 6" x 6" – 8" x 8" – 12" x 12"
Rectangle: 6" x 8" – 8" x 10" – 12" x 18"
Circle: 6" x 6" – 8" x 8" – 12" x 12"
Hexagon: 7" x 6" – 9" x 8" – 14" x 12"
Make Your Own Personalised Photo Wall Tiles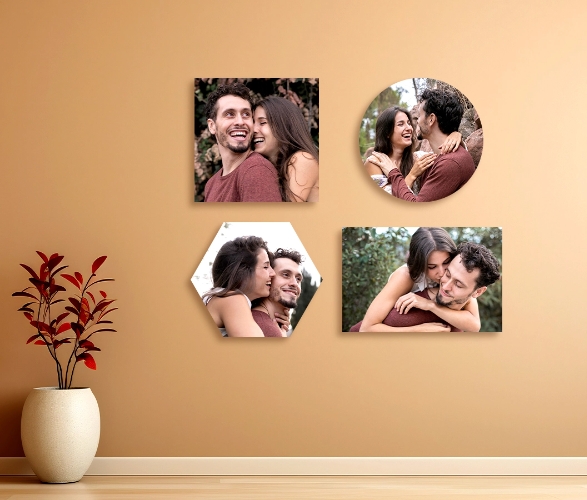 Designed to Give an Aesthetic Look to Your Place
Do you love reading quotes? Or decorate your home with your favourite pictures? Or are you looking for a budget-friendly custom gifting option? Now end your search and scroll on to the best-personalized photo gift option – foam board, metal, acrylic photo wall tiles available on CanvasChamp.
With these customized photo-printed wall tiles, you get the best alternative to decorate dull or boring walls with your latest vacation, wedding, and/or birthday pictures. Unlike ceramic tiles, these foam board, metal, acrylic material tiles are easy to handle, carry, move, and place.
Now don't worry about finding a space for these beautiful-looking foam board, metal, acrylic photo wall tiles because of the sleek design you can install anywhere - whether your home, office, countertops, backsplash, or your newly decorated indoor garden space.
Unleash the artist within you with our custom-printed wall tiles. Congratulate your loved one with these beautiful tiles printed with photos and messages for their special day. This way, you bring your family together and show your creativity and love for them.
With so many beautiful stories, we are sure photo tiles are something your loved ones would accept with an open heart, even your traditional parents. Visit our official website, and get your custom tiles.
Customise Photos on Tiles & Give Your Walls a Bright Look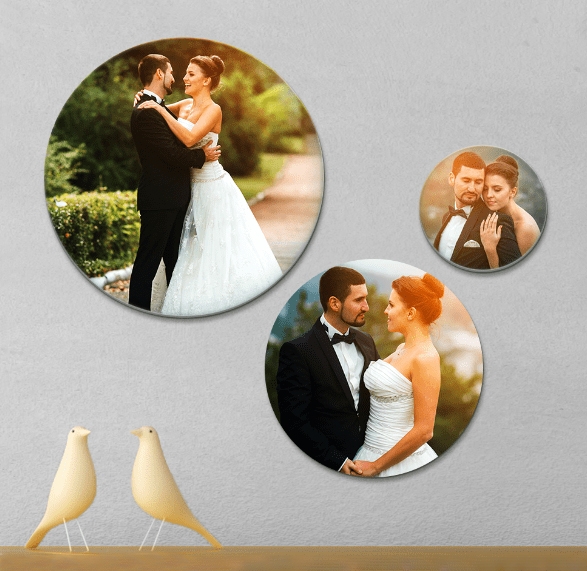 Design Fully Customized Wall Tiles with Photos Online on CanvasChamp.
Celebrate life by simply clicking and printing your fun-loving moments on custom photo wall tiles and let your memories shine bright on your walls. These photo tiles for walls are easy to maintain and clean and are designed stain and scratch-resistant.
CanvasChamp's personalized wall tile is the perfect alternative to various ceramic tiles on a small budget. Our process of imprinting your custom photo and text on the tile is speedy and easy. These custom photo wall tiles are designed using advanced UV digital printing technology; thus, you can carefree hang them into your kid's room without worrying about scratches.
It is easy to amalgamate these foam board, metal, acrylic wall tiles on any wall perfectly, and the best part is you get to choose your preferred tile shapes. We have a collection of:
Hexagon Shape Photo Tiles
Rectangular shape Photo Tiles
Circle shape Photo Tiles
Square Shape Photo Tiles
Along with several practical home usage, these tiles also work best for promoting any commercial products and planning print marketing campaigns. Further, you can even customize it into indoor signage representing your office employee's names and designations or design it as a creative business gift.
Take the first step - add your message with a business logo or product specification on this personalized wall tile and place an order only on CanvasChamp.