Why Choose CanvasChamp for LED Neon Signs
Energy & Cost Efficient

Free Delivery

3 Years Warranty

Easy Returns
Handing Kits with Custom Neon Signs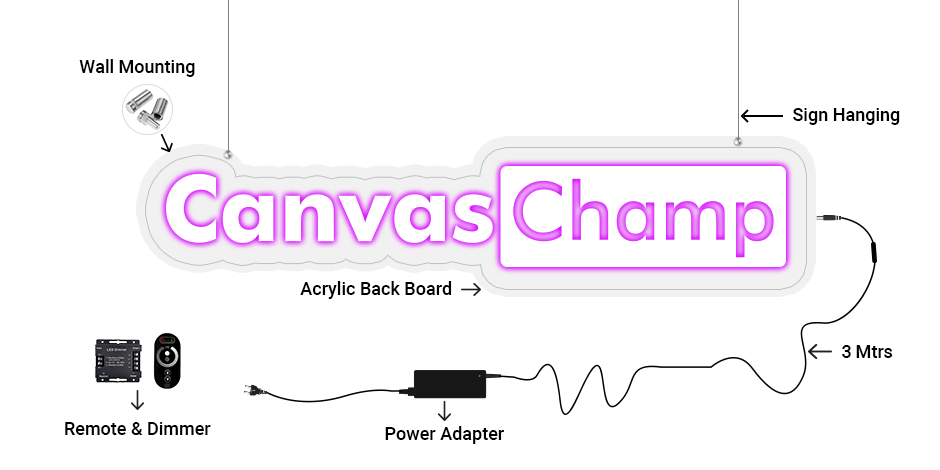 Best Places to Hang Custom Neon Signs
Custom-made neon signs have emerged as incredibly versatile decorative elements, offering a unique fusion of form and function. Whether used to promote a brand, enhance an interior, or create a specific ambiance, custom neon signs can effortlessly transform any space.
Neon Signs for Bar

Neon Signs for Restaurant

Neon Signs for Logo

Neon Signs for Rooms

Neon Signs for Hotels

Neon Signs for Wedding

Neon Signs for Business

Neon Signs for Party Decor

Neon Bar Signs for Home

Neon Signs for Bedroom

Gaming Neon Signs

Neon Signs for Garage

Name Neon Signs
Steps to Customise Your Neon Signs
Embark on an exciting journey to create your own custom neon sign with CanvasChamp's user-friendly design platform. Follow these straightforward steps to bring your unique vision to life and make a statement that shines
Select Your Size & Text

At CanvasChamp, we understand the importance of creating a custom-made neon sign that perfectly fits your space and vision. Our easy-to-use design platform allows you to select the ideal size for your sign and enter the desired text. Whether you want to make a bold statement or add a subtle touch of illumination, our versatile options cater to every need. Let your imagination run wild and craft a message that truly reflects your personality or brand.

Select Your Colour

The colour of your personalized LED sign can set the tone and atmosphere of any space. With CanvasChamp, you can access a wide range of vibrant colours to create a sign that aligns with your desired aesthetic. Whether you want a warm, inviting glow or a cool, contemporary vibe, our extensive colour palette offers the perfect hue to bring your custom neon sign to life.

Select Your Backboard

The right backboard can enhance the visual impact of your custom neon sign, ensuring it stands out and captures attention. CanvasChamp offers various backboard options to suit any style or decor. With multiple options like cut-around acrylic, cut-to-letter, rectangle or open box, our selection allows you to find the perfect backdrop for your neon creation.

Select Hardware Options

CanvasChamp's range of hardware options guarantees a secure and easy installation for your custom neon sign. We provide mounting brackets, hanging chains, and other accessories to ensure your sign is displayed safely and seamlessly. You can also select the 'Remote & Dimmer' option to control the brightness, switch ON-OFF and other settings. Trust in our high-quality hardware to keep your neon sign in place and looking its best.

Make Payment and Checkout

Once you've designed your ideal custom neon signs online, completing your purchase is a breeze. CanvasChamp offers a secure and user-friendly checkout process with various payment options to suit your preferences. After placing your order, you can eagerly await the arrival of your stunning, personalized neon sign, ready to illuminate and transform your space.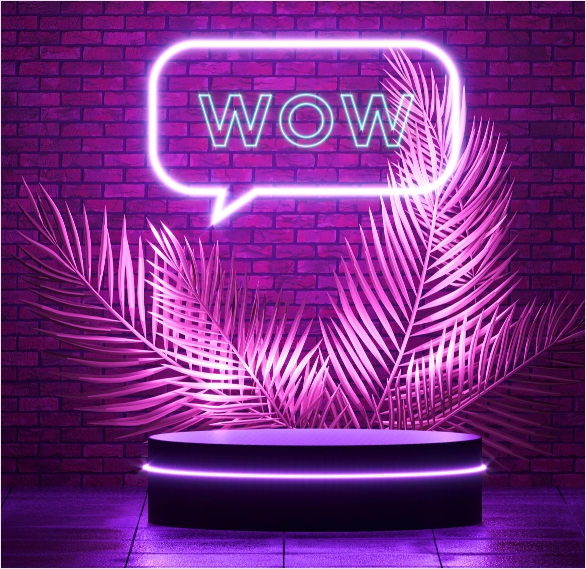 Buy Custom Neon Signs at Wholesale
CanvasChamp is the ultimate destination for all your wholesale custom neon sign requirements, whether seeking bulk orders for your brand, business, or resale purposes or wanting to purchase in larger quantities for better pricing. We provide competitive wholesale rates on premium neon signs to cater to your every neon sign acquisition need.
Our extensive wholesale custom neon signs collection features a wide array of options, and we can create custom designs, products, and logos with our LED neon signs.
We specialize in the wholesale business of diverse neon signs, including lettering, imagery, logos, and everything in between. Our collaborations span numerous brands, companies, individual clients, resellers, and retailers, ensuring we meet each customer's unique needs. Opting for wholesale purchases is an ideal way to acquire a variety of custom neon signs, LED signs, and letter signs at cost-effective prices.
Learn More About Custom Neon Signs
Discover the world of custom LED light signs and transform any space into a vibrant, eye-catching display. These personalized LED lighting solutions offer businesses, events, and homes endless possibilities. With many options, you can create a unique design that reflects your individual style and vision.
A custom neon sign can transform any dull-looking event into a happening one! These eye-catching neon signs showcase your distinct taste and create an impressive visual on social media platforms like Instagram. Undeniably, custom LED neon signs are a captivating way to make a statement and elevate your aesthetic appeal. But how can one customize these Neon signs?
Choose from a variety of sizes, backboards, and colours to craft a custom neon sign that demands attention and adds a touch of modern flair. Select the perfect backboard to complement your creation and ensure it stands out. Opt for the hardware that guarantees secure installation and enjoy the effortless process of bringing your vision to life. Dive into the exciting realm of custom glass neon signs and elevate any atmosphere with an unforgettable glow.
COST: Vibrant Impact, Cost-Effective Choices of Neon Signs
The cost of a custom neon sign varies based on factors such as size, design complexity, and materials used. Prices can range from around C$270 to C$1,300 or even higher for larger or more intricate designs.
Some key costing aspects to consider include the following:
The size of the custom-made LED neon signs, with larger signs typically costing more due to the increased materials and labour required.
The design complexity also plays a role, as intricate designs with multiple colours or text elements can drive up the price.
Additionally, choosing materials, such as traditional glass versus modern LED neon, can impact costs.
Production time and the chosen custom neon sign company further affect pricing, making it essential to plan and compare various companies to find the perfect balance of quality and affordability for your custom neon sign.
By carefully considering these aspects and doing thorough research, you can find inexpensive custom neon signs at CanvasChamp that fit your vision and budget.
COLOURS: Bold Hues, Brilliant Neon Coloured Signs
Colours are potent in enhancing and accenting any design, style, or décor, infusing vibrancy and energy into any space. As a result, colour psychology plays a significant role in the effectiveness and appeal of custom-made neon signs. Different colours evoke various emotions and reactions, influencing the overall impact of the sign.
Red: Ignite the passion with a fiery red statement custom neon sign.
Blue: Create calmness and trust with soothing blue tones of custom neon wall signs.
Green: Embrace nature's balance with the refreshing green hues of your custom-name neon signs.
Yellow: Spread joy and optimism with vibrant yellow custom acrylic neon signs.
Orange: Through an Orange custom neon sign, energize and inspire with lively orange accents.
Purple: Elevate your décor with luxurious creativity by choosing a purple custom-design neon sign.
Pink: A Pink custom neon sign will soften the mood with romance and a playful atmosphere.
White: Love minimalism? Showcase simplicity and purity with classic white custom text neon signs.
Black: Nothing can go wrong with Black! Emphasize elegance and power with sophisticated black custom neon signs.
You can even pair two different colours to make it look different. At CanvasChamp, you can select the Flow-mo custom color changing neon sign to effortlessly elevate your space with vibrant colors, personalized designs, and unmatched visual appeal.
MATERIAL: High Quality Material of Custom Neon Signs
Custom neon signs are a stunning visual addition to any space and rely on the quality of materials used in their creation to ensure longevity and safety. Various materials are used in making custom LED neon signs, with the most common ones being:
LED Flex Tubes: Modern custom neon signs use LED flex tubes or LED neon flex as an alternative to glass tubes. These tubes are made from flexible silicone or PVC material and contain small LED lights that mimic the appearance of neon gas.
Acrylic Backboards: Our custom neon signs use clear or coloured acrylic backboards to support the neon or LED tubes. Acrylic is lightweight, durable, and transparent, making it an excellent material for showcasing the custom acrylic neon sign's design.
Power Supplies and Wiring: Custom neon signs require power supplies, such as transformers or adapters, to convert the electrical voltage to the appropriate level for the sign. Wiring and connectors are also essential for connecting the tubes and power supply.
By choosing a high-quality material, you can enjoy the captivating glow and unique appeal of your custom-made neon light signs for years to come.
SIZES: Choose Any Size and Font Style of Neon Signs
CanvasChamp offers small, large custom neon signs and custom-size options to cater to any space or requirement. Whether you're looking for a small custom neon sign or a large statement installation, we offer standard sizes ranging from 7 inches to 26 inches in height.
The Right Size Matters: Key Factors for Custom Neon Sign Sizing
Determine the goal of your sign: Determine the primary purpose of your custom design neon signs. Larger signs work for branding or advertising, while smaller ones suit decor.
Consider Available Space: Consider the available space where you plan to install the custom neon sign. Measure the area to ensure a comfortable fit that's visible enough.
Think About Visibility: Choose a size that suits the viewing distance, with larger ones for distant visibility.
Account for the Surrounding Decor: Choose a size that complements the existing décor and doesn't clash with other elements.
Keep Budget in Mind: Custom LED neon signs vary in cost depending on size and complexity. Larger signs may cost more, so consider the budget before deciding on the size.
Whether you're seeking a small sign for a subtle touch or a large, attention-grabbing statement piece, CanvasChamp ensures your vision comes to life.
HANGING KIT: Neon Signs Comes with Hanging Kits
Our custom neon signs come with a versatile hanging kit that makes installation a breeze. Consider these popular hardware options for your custom neon light signs:
Wall Mount: This option securely attaches your sign to a flat surface using screws or bolts.
Ceiling Mount: Similar to wall mounts, ceiling mounts attach the custom indoor neon signs to an overhead structure or ceiling, making them an excellent choice for high-ceilinged indoor spaces like event venues or trade show displays.
SHIPPING: Fast Delivery, Bright Results
Ordering custom neon signs from CanvasChamp and having them delivered to your doorstep in Canada is a breeze. Once your order is received, we will ship your personalized neon sign immediately. Delivery time may vary depending on the shipping option you choose, such as
Priority shipping – Delivery in 3 to 5 business days*
Express shipping – Delivery in 5 to 6 business days*
Standard shipping – Delivery in 6 to 8 business days*
WEIGHT: Neon Signs Can Be Move with Ease
Our custom neon signs are designed with visual appeal and practicality in mind, making them lightweight and easy to handle. Using high-quality, flexible LED tubing and lightweight materials like acrylic, our custom neon signs are easy to hang or mount and won't cause undue stress or strain on your walls. The lightweight design ensures they are safe and easy to transport, whether you're moving homes or taking your sign to an event.
Custom Neon Signs in Bulk Is an Ideal Choice for:
Businesses: Companies looking to create a cohesive brand identity or to promote their products and services may opt for custom neon signs. These wholesale custom neon signs can be used for interior and exterior applications, such as storefronts, office spaces, or trade show displays.
Event Planners: Custom neon signs are a popular choice for various events, including weddings, corporate functions, or social gatherings. Event planners often require bulk customized sign orders to create a memorable and visually appealing ambiance.
Resellers and Retailers: Those selling neon signs can benefit from wholesale rates, offering customers various custom options while maintaining profitability.
Franchise Owners: Franchisees often require consistent signage across multiple locations, making wholesale custom neon signs an ideal solution for maintaining brand uniformity while keeping costs low.
Interior Designers and Architects: Professionals in these fields may require wholesale custom neon signs for their projects, adding a unique touch to residential or commercial spaces. Wholesale rates allow them to source high-quality signs at competitive prices.
Non-profit Organizations and Schools: These institutions may seek wholesale custom neon signs for fundraising events, sports functions, or educational purposes. Wholesale pricing helps them acquire the necessary signage while staying within budget constraints.
Neon Signs Design Tool: Illuminate Your Ideas
Creating custom neon signs was never this easy! Thanks to our neon signs design tool, creating custom neon signs has become simple by offering a comprehensive, user-friendly platform. All you need to do is,
Visit our design tool
Enter your text/brand name or upload your logo
Choose colours and fonts
Choose hardware options
Pay and wait for delivery
The design tool for custom neon signs empowers individuals and businesses to craft bespoke neon signs that effortlessly reflect their brand and personal style.
FAQs on Custom Neon Signs
How to make custom neon signs?

To create your own custom neon sign online, explore CanvasChamp, which offers two options for customizing the perfect sign. First, you can select from various pre-made neon signs or second; you can fully customize your design. Visit the CanvasChamp custom neon sign online tool, input your desired name or quote, select the font, and begin personalizing your unique creation.

How much do custom neon signs cost?

It starts from C$00.00, and depending on the size and complexity, it can go higher. However, investing in a high-quality custom neon sign can provide long-lasting value and visual appeal for your space or business.

How to design a custom neon sign?

It is super-easy with CanvasChamp's design tool. All you need to do is,

Visit our design tool.
Enter your text/brand name or upload your logo.
Choose colours and fonts.
Choose hardware options.
Pay and get a custom neon sign delivered to your doorstep.

How to get a custom neon sign in bulk?

CanvasChamp can help you with custom neon signs at wholesale rates for your bulk requirements. Contact us with your order, and our team will get back to you within 24-48 hours with all the details.

Where to buy custom neon signs for my restaurant?

Attract more customers and revamp your ambiance with CanvasChamp's personalized neon signs for restaurants. Thanks to our design tool, our high-quality, durable & affordable custom neon signs have endless design possibilities.

Are neon custom signs eco-friendly?

Not entirely. However, at CanvasChamp, our custom neon signs are crafted using advanced LED technology that offers energy-efficient and environmentally conscious lighting solutions. As a result, these signs reduce energy consumption and heat generation and last longer, making them a cost-effective and sustainable choice for businesses and individuals seeking to enhance their visual appeal while minimizing their carbon footprint.

What colours are available for my neon sign?

At CanvasChamp, you can choose from a wide range of colours for your custom neon sign, including classic shades like red, blue, and yellow and pastels, whites, and multicolour options.

Do custom light-up neon signs get hot?

No, custom neon name signs from CanvasChamp are designed using energy-efficient LED technology that generates very little heat, making them safe and cool to the touch even after prolonged use.

How long does an LED neon sign last?

Custom LED neon signs from CanvasChamp have an average lifespan of 50,000 hours or more, making them a highly durable and long-lasting lighting solution for homes, businesses, and other settings.

Are custom neon signs expensive?

The cost of custom neon signs varies depending on the size, design complexity, and materials used. However, at CanvasChamp, we offer affordable custom neon signs that cater to different budget requirements, making it possible for anyone to create a unique and personalized neon sign for their space or business.

Are neon signs easy to install?

Yes, custom neon signs from CanvasChamp are designed for easy installation, and most signs come with pre-drilled holes or mounting hardware to simplify the process. In addition, our customized neon signs are lightweight and can be easily hung on walls or displayed on shelves or desks.

Can I return my customized neon light sign?

At CanvasChamp, we take great care in shipping your custom neon signs to ensure their safe arrival. However, if you encounter any issues with your order, please contact us for a return or exchange. We stand behind the quality of our products and will replace any defective or damaged signs.