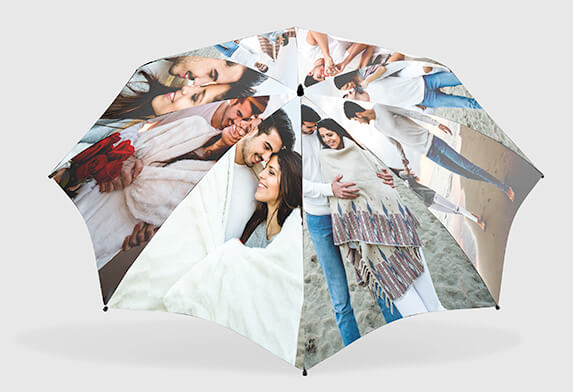 Why Custom Umbrellas from CanvasChamp?
Brand Your Business
Promote your products for the best marketing
On-demand Fast Printing
Design umbrellas within a few minutes
Best Quality Assured
High-quality materials used for umbrella production
Custom Design Options
Personalize your custom umbrella in creative ways
Make an Impression with a Personalized Umbrella
Umbrellas will always be used no matter what season, may it be windy, sunny, or cold. Find yourself standing out from the crowd with personalized photo umbrellas during rainy weather.

Dazzle everyone with your photos on an umbrella as a gift that everyone will like for its utility. Customize and print up to eight photos on our octagonal umbrellas.
Design Your Umbrella
Multiple Panel Printing Options in Custom Umbrella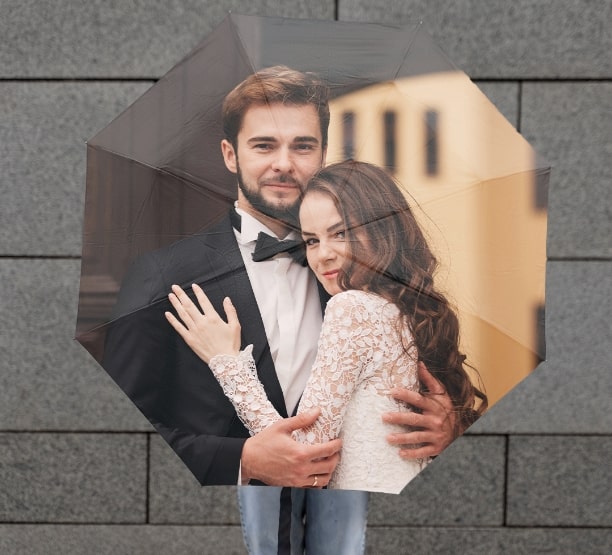 Single Panel Printed Umbrella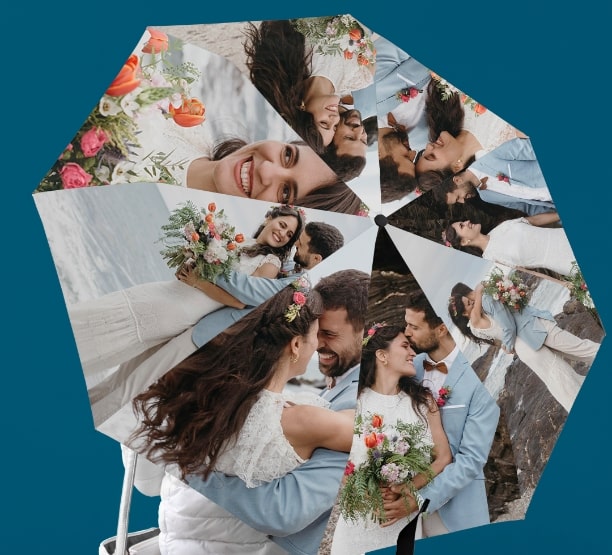 Multiple Panel Printed Umbrella
Design Ideas for Custom Umbrella
Custom Beach Umbrellas

Custom Outdoor Umbrellas

Custom Cocktail Umbrellas

Custom Photo Umbrellas

Custom Market Umbrellas

Custom Pool Umbrellas

Custom Printed Table Umbrellas

Custom Rain Umbrellas

Custom Restaurant Umbrellas

Custom Travel Umbrellas

Custom Wedding Umbrellas

Custom Folding Umbrellas
DESIGN YOUR CUSTOM PRINTED UMBRELLA
Crafting a customised umbrella is a breeze, even for design novices; simply follow our user-friendly guide for a seamless creation process.
Choose a Size

We provide an assortment of custom umbrella sizes to cater to your specific requirements. Opt for a compact version that easily fits into your bag and is convenient to carry or select a standard-sized umbrella to accommodate multiple users.

Choose the Material

Our personalised photo umbrellas are crafted using top-grade polyester material, ensuring your umbrella's colours remain vibrant and its quality endures for years to come.

Choose the Design

After determining your preferred size and material, unleash your creativity! Effortlessly upload, click, and drag your images or designs onto each custom photo umbrella panel to create your unique piece. For those seeking inspiration, explore our pre-designed clipart collection to kickstart your artistic journey.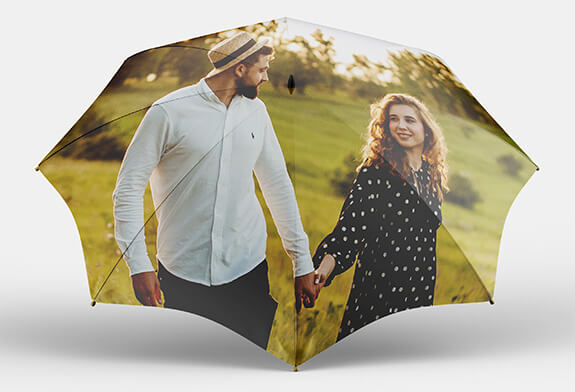 Promotional Umbrellas in Canada
Help your customers see the potential in your business through your sturdy custom photo umbrellas
Get to land on better business opportunities by promoting your brand on personalized umbrellas. During a chilly rain, the first instinct that everyone gets is to take cover. With unpredictable Canadian weather conditions, people always stuff umbrellas everywhere - in car, office, home or garage, to keep themselves dry whenever needed.
You can step into that comfort space by giving away custom printed umbrellas to use during such weather situations. A customer dry, safe, and happy with your durable personalized umbrella will always bring loyalty to your brand. So design your own umbrellas with your fancy logo or brand name today!
Make Your Own Umbrella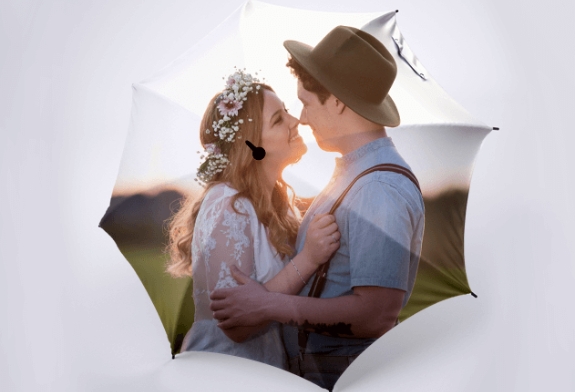 Buy Custom Photo Umbrella at Wholesale
Personalised umbrellas serve as exceptional gifts and are available for bulk orders to enhance your events. Experience CanvasChamp, your premier destination for crafting personalised, high-quality custom umbrellas in bulk. Whether it's for a special event, promotional campaign, or a thoughtful gift, our easy-to-use design platform and exceptional customer service make it simple for you to create distinctive and functional custom photo umbrellas that are sure to impress. Immerse yourself in the magic of transforming your cherished photos or original designs into memorable, practical keepsakes with custom printed umbrellas.
Bulk Order of Custom Umbrella