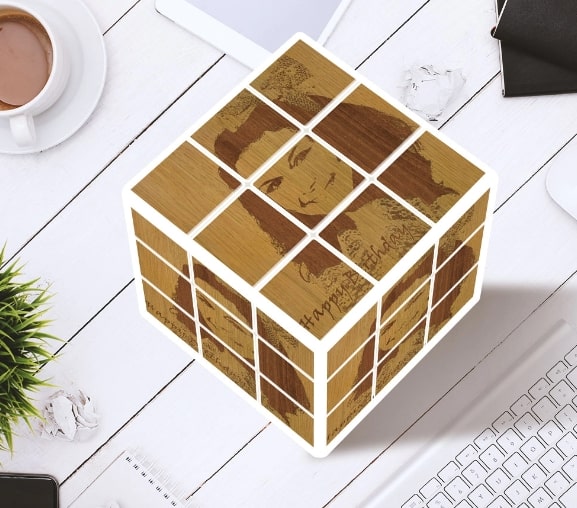 3x3 Rubik's Cube
Make your memories more playful with mini Rubik's cube 3X3. Buy a 3x3 Rubik's Cube online from CanvasChamp and imprint your favorite memories on it. The 3X3 Rubik's Cube is a perfect gift for your brain buster kids to increase their engagement. Let's de-stress your daily workload with the best Rubik's cube 3x3.
FAQs
How Many Cubes Are There in A 3x3 Rubik's Cube?
There are a total of 27 small cubes, which constructs a 3x3 Rubik's Cube.
How Many Pieces Are in A 3x3 Rubik's Cube?
In a 3X3 Rubik's cube, there are a total of 27 small pieces/cubes.
Where To Buy Rubik's Cube 3x3?
The best quality customization of Rubik's Cube 3x3 are available at CanvasChamp.
Perfect Gift for Every Rubik's Cube Lovers
Give a Thoughtful Gift and Adore Your Relationship
Looking for something unique and eye-catching gift for your pet lover friend? Gift any of our magic cubes on special occasions, such as a pet's birthday or National Pet day, to make their celebration special. Use different faces of the cube to imprint different photos of your furry friend.

Pet Lover

Your grandfather needs an engaging thing that keeps him busy. Print your grandfather's most cherished picture on a personalized Rubik's cube and give him something to play in his spare time. What can be better than a custom photo printed Rubik's cube? Don't forget to add your childhood pictures because you know you are your grandpa's favorite.

Grandfather

Grandmothers are always the most loving person in your life. When it comes to gifts, they should be unique and special. Now it's time to make her smile by gifting her this customized Rubik's Cube. And make sure to engrave all your childhood pictures with her on a personalized photo Rubik's cube.

Grandmother

Give your superhero a thoughtful gift of a custom photo Rubik's cube, and let him play smart. Say to your father that he is a fantastic person, and you are lucky to have him in your life by engraving your careful thought on a custom picture Rubik's cube from CanvasChamp.

Dad

Your mother is the most fabulous person in your life. Just because God can't be everywhere, that's why they made mother for you. Shower your love to her whenever possible. Now customize a custom Rubik's cube online from CanvasChamp and get your unique photo engraved gift at your doorstep.

Mom

Having a sister is like having a best friend with you. You grow up together, and you share everything with her. She deserves something special when she has her birthday around the corner. Bring her an easy-to-use exclusive gift filled with your best memories this year. Get a magic cube from CanvasChamp and customize each side of it.

Sister

Brother is the pillar of you, and he protects you every time, and he always supports you no matter what. What if when you curiously surprise him? Isn't it an excellent idea? Get the best Rubik's cube and print all your adorable pictures together on it. Let him solve it with curiosity and reveal all pictures of love.

Brother

Friends is the special relationship which is made by you in this life. He is a person with whom you can share all your feelings and emotions. He is the secret keeper of your life. Share more secrets with them by printing their pictures and messages on a custom photo Rubik's cube.

Friends

Your sibling is the person who shares most of the great memories together. The sweet and salty relationship deserves an exclusive celebration all the time. Why not print it on a Rubik's cube game and surprise them with amazing pictures? Let's do it with CanvasChamp.

Sibling

Your picture-perfect cute baby has a memory full of photos. Your gallery is constantly flooded with many pictures of you and your babies' moments. Let those moments out from your mobile and print them out of a custom magic cube. Give your baby a thing to play with filled with their most cute pictures.

Cute Baby

A romantic couple always surprises each other by simply arranging a soapy candlelight dinner or having ice cream together. Clicking pictures can't be untouched by the romantic couple. This time, get a Custom Rubik's cube and let the couple play with it one by one.

Romantic Couple

Family is the place where you feel safe and loved. You spend a lot of time with your family and click some great memories together. Print those special pictures on a custom-made Rubik's cube and add a piece of joy with CanvasChamp.

Family

Your friend's group is a squad that stands confident and shares great memories together. Get a name for your squad and print it on a custom photo Rubik's cube. Also, print some pictures together and get a Rubik's cube for each of your group members.

Friend's Group

It is not wrong to be self-obsessed and click pictures in many poses. But what are those pictures are doing on your mobile? Let's flaunt them. Customize a Rubik's Cube filled with your selfies and other pictures and put it on the central shelf. We see compliments pouring in.

Multiple Self Photo

Curating a gift for her is the most challenging task ever. But CanvasChamp makes it easier and a few clicks away from you. Get an exclusive gift at your doorstep by taking a few steps on our easy designing tool. Print her pictures on the magic Rubik's cube and gift them to her to make more memories.

For Her

Many men don't have many pictures. So, let's change this. Collect as many cherished memories of your man and engrave those pictures on our custom Rubik's cube. We're sure he will fall in love with you again. Don't wait. Grab it before it's gone.

For Him
Make Every Celebration Special with Rubik's Cube
-Shower more love with a personalized Rubik's cube on every occasion.
Bring your father's life journey on a single piece of art that is a personalized photo Rubik's cube. Print his most cherished moments on a Rubik's cube's each side and gift it to him this Father's Day.

Father's Day

Mothers love to get little gifts that are filled with lots of memories. This Mother's Day, celebrate it with your mommy, take her out for dinner, and give her an exclusive gift from CanvasChamp. Customize a magic cube online and get it delivered before the special day.

Mother's Day

True friends are the one who knows which gift can excite you. So start designing your Rubik's Cube online and make your friendship day memorable. This friendship day, send our latest gifting options from CanvasChamp to your loved ones.

Friendship Day

Canada day is near. Are you ready with a gift idea for it? If your answer is no, then CanvasChamp has the great de-stressing gift. So, let's celebrate this victory by gifting our exclusive collection of premium Rubik's cubes to CanvasChamp. Introducing custom Rubik's cube.

Canada Day

Pet lovers are so obsessed with their pet's photos. And don't you just love posting pictures of your furry friends online? On this National Pet's Day, give a unique gift to these pet parents. They will fall in love when they see their pet's photos are engraved on a Rubik's cube. So don't waste time and start customization now only on CanvasChamp.

National Pet Day

A customized Rubik's cube is the best gift for kids and adults. So on this St. Patrick's Day party, gift a cool customized Rubik's Cube to your friends and family and made their day more beautiful.

St. Patrick's Day

Easter is a day celebrated in the memory of Jesus. People like to organize a get-together on this day. They want to play games and exchange gifts with their family and friends. Make your family and friends feel special this Easter with CanvasChamp'a new gift of customized Rubik's cubes.

Easter Day

Here's to another year of being great together, and it's the perfect time to gift your better half something magical and make your day more memorable. Print the most adorable pictures of past years on a Rubik's Cube and make your bond stronger.

Anniversary

On this Valentine's Day, surprise the love of your life with a different and cute Rubik's cube. Also, you can customize it by adding your lovely pictures with our best designing tools online through our website and get your gift at your doorstep.

Valentine's Day

Make every woman in your life happy by sending them some customized gift. Order your customized Rubik's Cube from CanvasChamp and make them feel loved. Let them know that you care for them.

Women's Day

Selecting the right Christmas gifts for your family and friends is difficult. But CanvasChamp gives you the best solution every time. Like this time. Introducing our latest gift, the magic cube. Start customizing it and avail it before Christmas. So, what are you waiting for? Go get it!

Christmas Day

Let's start this New Year with new energy and make our relations stronger. Give a cool New Year gift to all who are very close to your heart. CanvasChamp brings you something new for this New Year. Start customizing your personalized Rubik's cube and enjoy this New Year with this new game.

New Year's Day
Promotional Rubik's Cube with Picture or logo as a Gift
Your business promotions can no more be boring. In today's cutting-edge competition, you need to adopt unique and eye-catching advertising strategies to expand your brand reach. Personalize a Rubik's Cube in different sizes and pieces and print your brand's logo, product picture, tagline, and marketing punchline. Also, get it for yourself or gift it to your employees, distributor, or any other business person to touch everyone's heart.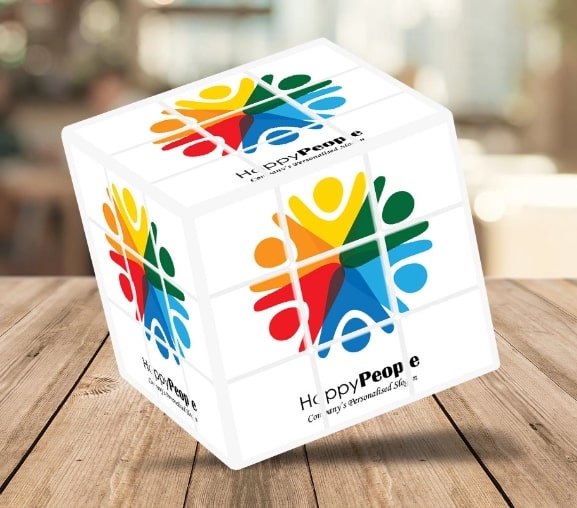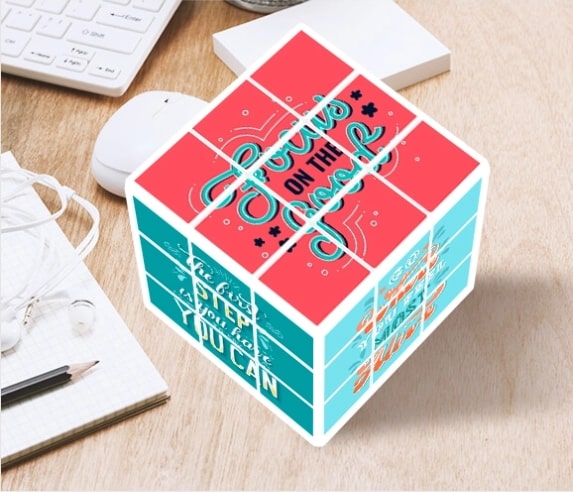 Get The Best Rubik's Cube and Use It In Your Way
Connect to design and create your personalised Rubik's cube with CanvasChamp
Rubik Cube is an excellent gift for anyone dear to you or someone who enjoys solving Rubik cubes. You can also make your own personalised Rubik's cube in Australia with pictures of your loved ones on it.
CanvasChamp Rubik cube is like any other regular Rubik's cube but with a unique twist. You can upload six of your favourite photos and get your Rubik cube customised precisely how you want it.
There are two types of Rubik cubes available with us: Regular and Classic. The classic model is the heavier of the two, but both are made using excellent material.
Since it is a one-of-a-kind show item or gift, it makes for a great centrepiece in your living room, and you will be asked where you got it from!
Custom-printed Rubik cubes are a great way to hold your logo in front of your customers and prospects. Rubik Cubes at CanvasChamp are available in a range of designs to fit any budget. Our Rubik cubes also make excellent handouts. They're a fun, one-of-a-kind, and cost-effective way to display your logo.
So next time, when you search for a pathway to show your love for Rubik lovers, then these customised Rubik cubes from CanvasChamp will indeed leave them delighted.
FAQs Related To Rubik's Cube
What Is A Magic Cube?
A magic cube is one puzzle cube that can be solved to reveal the photo or quote engraved on it.
Where to Buy Rubik's Cube?
Buy Rubik's speed cube from CanvasChamp and get the best quality, durable and affordable material.
How To Make a Custom Rubik's Cube?
With CanvasChamp, you will enjoy the easiest methods to make a custom Rubik's cube.
How to Make a Magic Cube?
Making a magic cube is a matter of a few clicks with CanvasChamp's easy to use design tool.
How to Make a Photo of a Rubik's Cube?
Avail the latest designing tool at the Rubik's cube section on CanvasChamp and add the memories of your choice.