Unique Personalized Summer Vacation Gifts for Travel
Add Fun to Custom Games with Summer Photo Gifts
Ideas to Add Your Photos to Summer Housewarming Gifts
Add Fun to Kitchen Décor on Summer Vacation
Personalize Your Photo Mugs for Summer Holidays
Add Fun to Summer Activities in Canada Vacations
Celebrate the Summer in Style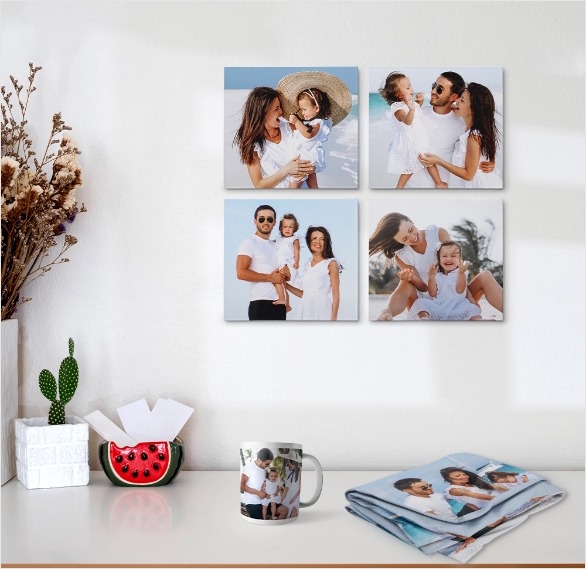 Exciting Gift Themes for a Sun-Kissed Season:
Get ready to embrace the vibrant and invigorating essence of summer by exploring a variety of exciting gift themes. Here are some popular summer themes and their corresponding gift ideas that capture the spirit of the season for our Canadian audience:
Beachside Bliss: Dive into the sun, sand, and waves with beach-inspired gifts that evoke the carefree coastal vibes. Delight your loved ones with personalized beach towels adorned with their names, custom beach totes for seaside adventures, or engraved beach-themed photo frames to preserve cherished memories.
Tropical Escape: Transport them to a tropical paradise with gifts that exude warmth and exotic charm. Consider custom tropical-inspired canvas prints showcasing breathtaking landscapes, personalized tropical drinkware for sipping refreshing beverages, or engraved palm tree keychains as a daily reminder of their own oasis.
Outdoor Enthusiast: Ignite their adventurous spirit with gifts designed for outdoor enthusiasts. Opt for personalized beech towels or custom photo blankets perfect for cozying up under the starry night sky.
Festive Summer Celebrations: Embrace the joyous summer festivities with gifts inspired by seasonal holidays. Surprise them with personalized Canada Day aprons, Fourth of July printed coffee mugs, or engraved beer steins on photo beer mugs to raise a toast during summer solstice celebrations.
Serenity at Sunset: Capture the mesmerizing tranquility of summer sunsets with gifts that radiate peace and relaxation. Choose personalized sunset wall art to adorn their living spaces, meditation photo yoga mats for moments of quiet contemplation.
Add Memories on Personalized Summer Photo Gifts
Welcome to our curated collection of custom summer gifts, designed to make this season even more memorable. Discover a wide range of personalized items that capture the essence of summer, from beach-themed accessories to vibrant home decor.
You will get best gifts for summer here no matter whether you're celebrating a birthday, expressing appreciation to loved ones, or adding a personal touch to your own summer festivities. Our custom summer gifts will bring warmth, joy, and a personal touch to every occasion.
Personalized Summer Gifts for Warm-Weather Celebrations
Picking up personalized Summer Gifts which are perfect for every warm-weather celebration can be difficult. That's why we bring you a range of custom photo summer gifts which can make every summer moment truly unforgettable based on different occasions and relationships.
• Summer Birthday Gifts:
Celebrate the summer-born individuals in your life with our unique summer birthday gifts. From personalized beach-themed items to trendy summer photo mugs, we've got an array of summer gifts that are sure to make their day special.
• Summer Gift Ideas for Adults:
This summer, elevate your gift-giving with our curated selection of summer gift ideas for adults. From personalized summer beach gifts to decor items that celebrate summer, you'll find the perfect way to convey your thoughtful sentiments.
• Summer Gift Ideas for Employees:
Show your appreciation for your team this summer with our selection of summer gifts for employees. From custom flip-flops perfect for the beach to personalized power banks for those summer outings, you can't go wrong with these summer-themed gifts.
• Summer Gift Ideas for Her:
Find the perfect summer gift ideas for her in our varied collection. Whether it's a custom summer themed apron for the BBQ enthusiast or photo bookmarks for the summer reader, you'll find the best gifts for summer right here.
• Summer Gift Ideas for Him:
From metal prints of his favourite summer destinations to custom flashdrives for the tech-savvy, our summer gift guide for him offers a variety of ideas to brighten his summer days.
• Summer Gift Ideas for Teachers:
Summer is the perfect time to express gratitude to teachers. Our range of teacher-oriented gifts like custom tote bags and photo calendars are sure to be a hit, and they also make great summer holiday gifts.
• Summer Gifts for Girlfriend:
Show her she's special with our curated range of summer gifts for your girlfriend. Whether it's a photo-printed umbrella for those summer showers or a personalized tote bag for beach getaways, you'll find the best summer gift ideas here.
• Summer Corporate Gifts:
Make a lasting impression this summer with our selection of summer corporate gifts. From power banks to custom flashdrives, these practical gifts are perfect for employees or clients and celebrate the spirit of summer.
• Summer Gift Ideas for Friends:
Looking for fun and thoughtful summer gift ideas for friends? From custom flip-flops for those beach outings to personalized coasters for summer parties, our summer gift guide has you covered.
• Summer Gifts for Boyfriend:
Find the perfect summer gifts for your boyfriend in our collection. Whether he's a fan of the beach or loves to BBQ, our personalized summer gifts will surely impress him.
• Summer Gifts for Coworkers:
Foster team spirit this summer with our range of summer gifts for coworkers. Personalized items like photo calendars or mugs make excellent and thoughtful gifts, and they're perfect to celebrate summer in the office.
• Summer Gifts for Dad:
Show your appreciation for dad this summer with our unique gifts. From metal prints to commemorate his favourite summer spot, to custom aprons for the BBQ king, you'll find the perfect summer gift ideas for Dad here.
• Summer Gifts for Mom:
Celebrate Mom this summer with our selection of personalized summer gifts. Whether it's an acrylic print of her favourite summer flowers or a custom diary for her summer musings, our summer gifts for Mom are sure to delight.
• Summer Gifts for Teens:
Our summer gifts for teens are both fun and trendy. Think custom flip-flops, photo socks, or even photo yoga mats. These are the best summer gifts to keep them stylish and on-trend.
• Summer Gifts for Women:
Explore our collection of summer gifts for women and discover a plethora of summer-themed items. From custom photo umbrellas to stylish tote bags, you'll find the best summer gift ideas to bring joy to her summer days.
• Summer Holiday Gifts:
Make their summer holiday extra special with our curated collection of summer holiday gifts. From personalized travel accessories to personalized beach towels, our gifts are designed to enhance their vacation experience and create lasting memories.
• Summer Housewarming Gifts:
Celebrate a new home in the summertime with our selection of summer housewarming gifts. Choose from personalized garden decor, custom canvas prints, or outdoor entertaining essentials to help them create a warm and inviting space for summer gatherings.
• Summer Themed Gift Ideas:
Capture the essence of summer with our selection of summer themed gift ideas. From tropical-inspired home decor to beach-themed accessories, our gifts embody the spirit of the season and bring the joy of summer into their lives.
• Summer Vacation Gift Ideas:
Prepare them for a memorable summer getaway with our handpicked vacation gift ideas. Whether it's personalized luggage tags, travel photo books, or unique canvas pop art, our gifts are perfect companions for their upcoming adventures.
• Trendy Summer Gifts:
Stay on-trend this summer with our collection of trendy summer gifts. From stylish personalized aprons to the latest summer accessories, our gifts are designed to keep them looking cool and fashionable throughout the season.
Customize Summer Gifts Online with Different Personalization Options
When it comes to personalized summer gifts, we offer a range of customization options to make your gift truly unique and meaningful. Here are some of the personalization options available:
• Photo Personalization:
Incorporate cherished memories by adding photos to your gift. Whether it's a custom photo mug, a photo canvas, or a personalized photo book, these gifts can be adorned with your favorite summer photos.
• Name or Initials:
Add a personal touch by including the recipient's name or initials on the gift. From personalized beach towels to custom engraved jewelry, this customization option adds a special touch of identity.
• Message or Quote:
Express your sentiments with a heartfelt message or an inspiring quote. Customized message plaques, engraved keychains, or personalized wall art are great options to showcase your personal touch.
• Color and Design Choices:
Choose colors and designs that resonate with the recipient's personality or the summer theme. Customized beach bags, flip flops, or t-shirts can be designed with specific color combinations or summer-inspired patterns.
• Customized Sizing:
Some gifts, such as personalized clothing or accessories, offer size options to ensure the perfect fit for the recipient.
• Unique Materials:
Explore different materials and textures for your personalized summer gifts. From engraved wooden coasters to custom-printed metal prints, the choice of materials can enhance the overall appeal and uniqueness of the gift.
Remember, each product may have specific personalization options available, so be sure to check the individual product pages for more details on how you can customize your chosen summer gift.
Summer Gift Ideas Related FAQs
What are some of the Unique Personalized Gifts for Summer Enthusiasts?
Explore our selection of one-of-a-kind personalized photo gifts for those who love the summer season. From custom beach towels with vibrant designs to engraved outdoor accessories, we offer unique and thoughtful options to make their summer truly special.
What Sets Our Personalized Summer Gifts Apart?
Discover what makes our personalized summer gifts stand out from the rest. We take pride in offering high-quality products that can be tailored to your exact specifications, ensuring that each gift is as unique as the recipient and captures the essence of summer perfectly.
How Can You Create Your Own Personalized Summer Gifts at CanvasChamp?
Unleash your creativity and design personalized summer gifts with ease at CanvasChamp. Our user-friendly online customization tool allows you to upload photos, add custom text, choose colors and designs, and preview your creation before placing your order. Designing your own summer gifts has never been easier!
What Elements Can You Customize on Your Personalized Summer Gifts?
When it comes to personalizing your summer gifts, you have a range of options to make them truly special. From adding names, initials, or custom messages to selecting specific colors, designs, or themes, you can customize various elements depending on the product. Let your imagination soar and create a personalized summer gift that will leave a lasting impression.