Embellish Your Walls With Shaped Canvas Prints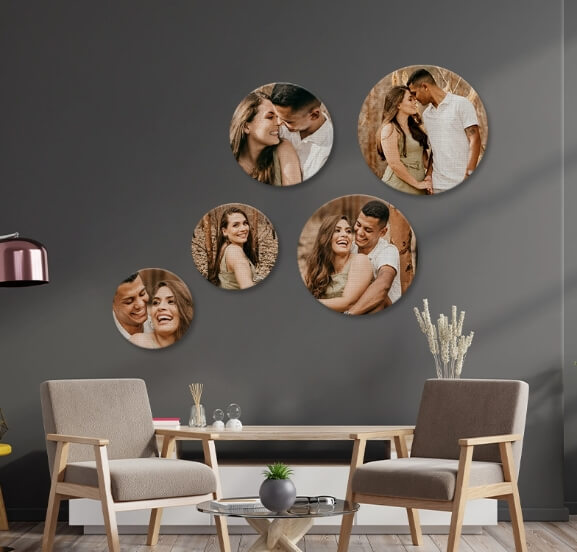 Custom Round Canvas Prints
Custom canvas prints provide classy, eye-catching, and exciting visuals around your area. Choose what you like - be it your own portrait pictures, images of any landscapes, pet, sun, moon, or favorite movie character. These custom round-shaped canvas prints are a fantastic way to display your artwork and cherish your moments.
Round Shaped Canvas Details
Sizes: 10 sizes in 4" increments from 12" to 48" diameter
Material: Heirloom-quality canvas
Thickness: 0.6"
Hardware: Sawtooth Hanger & Hanging Hooks
Wrap: Border color wrap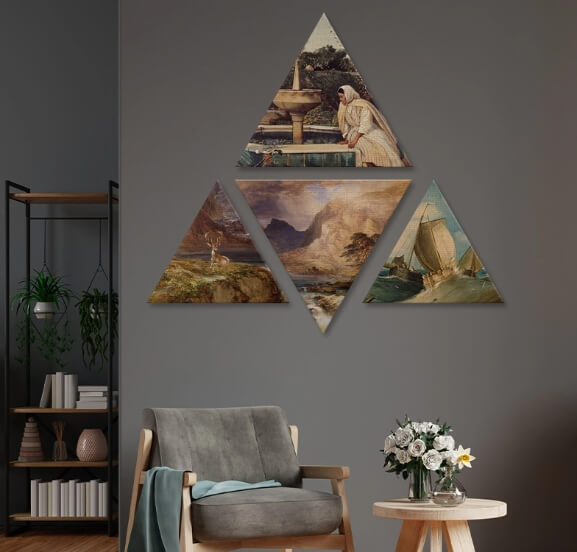 Custom Triangle Canvas Prints
Triangle shaped canvas prints perfectly go with every modern or traditional home decor. And we make it look even more beautiful by using the highest quality UV custom printing technique that accentuates your wall design theme. It is easy to hang and durable to last for generations. We ensure to pack triangle canvas prints using a dust cover that makes it more versatile to send, carry, and gift anywhere safely.
Triangle Shaped Canvas Details
Sizes: 10 sizes in 4" increments from 12" to 48" length each side
Material: Heirloom-quality canvas
Thickness: 0.75" & 1.5"
Hardware: Ready to Hang, Sawtooth Hanger, Hanging Hooks and Dust Cover Back
Wrap: Border color wrap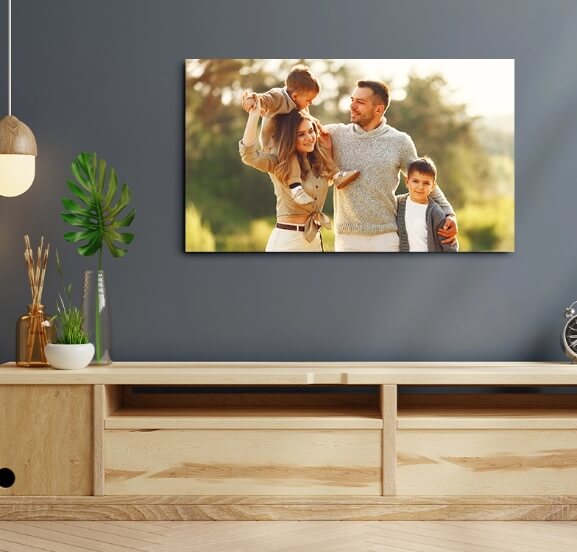 Design Shaped Canvas And Give Wings to Your Creative Lens
Today, memories exist only in a digital world; your creative shots, moments, and emotions are on your social channels. Still, the value of having your memories in your hand is unforgettable. Let your happy moments thrive on Canvas Champ's custom-shaped canvas. Be proud of your best shot! Hang it on your wall and admire yourself every day!
Choose a unique way to tell your loved ones how important they are in your life! Customize and gift-shaped canvas prints available in the following shapes:
How to Order Custom Shaped Canvas Prints?
Placing your order to buy custom shaped canvas print is easy and effortless when you do it from CanvasChamp's online tool. Follow the below steps:
Select the shape of your custom canvas print.
Decide a picture that you want to place on these beautiful custom canvas print.
Choose a clipart or add your quote or text message.
See the final version.
Place your order and get delivery anywhere in Canada.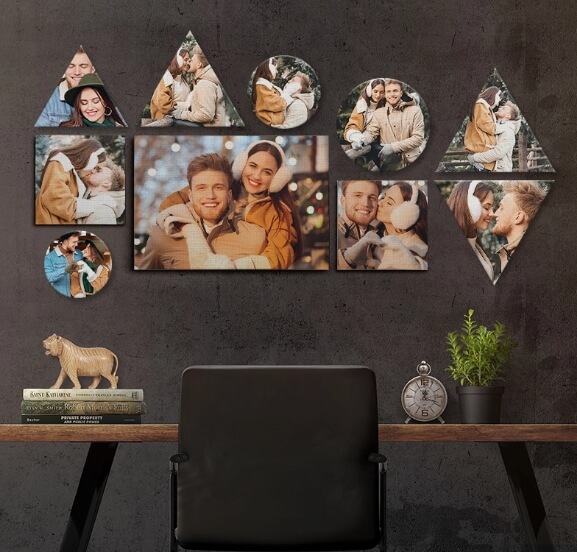 Unique Decor Options with Shaped Canvas Prints
Check out below custom shaped canvas prints decor ideas:
Customize your family photo on shape canvas and place in your living room on a bare white wall.
Make your kitchen livelier by hanging round shaped photo canvas with motivational quotes.
Let the garden become a happier place with square shaped canvas with your favorite lyrics.
New & Unique Choices in Shaped Canvas
Printing your digital photos is quite exciting! Get a custom-shaped canvas to resemble your feelings on the wall and home corners. Be it your creative snaps, candid moments of a family vacation, reviving your old school memories, a motivating quote, or refreshing lyrics! You choose to print what you like.
Custom shaped canvas prints are a striking way to show your perfect clicks that display your artistic nature. Design round or triangle-shaped canvas prints on CanvasChamp and enjoy cherishing your memories while enjoying your sip of coffee.
FAQS ON SHAPED CANVAS PRINTS
What resolution is best for printed images on canvas?
If you want your picture to look stunning choose 200 dpi or larger for images for your shaped canvas print.
What technology is used for printing?
To deliver only the best quality shaped canvas prints we use ultraviolet screen printing technology. Also, with the help of Pantone matching system you get highest quality color correction. And we proudly say that our canvas prints last longer as they have a protective clear coat for stain resistance.
What if I want only photos or graphics and no text?
You can customize your shaped canvas print as per your choice and keep it with only photos also. All the customization options are available in our easy-to-use design tool.
Can I order custom round and triangle canvas prints in bulk?
We at CanvasChamp welcome bulk buyers as well and so yes you can order custom-shaped canvas in bulk. For more details and to enquire about wholesale shaped canvas prints check out our wholesale canvas printing page.