Create Custom Canvas Wall Art Online Canada
Choose from the range of most popular wall art size and buy custom canvas wall art online that has your beautiful memories and relive your happy time each day.
Custom Split Canvas Wall Art – Designed to Look Bold
Check out custom multi panel canvas wall art options for your living room and bedroom and thanks to the excellent built-quality, your walls will shine bright each day.
Turn Your Photos into Custom Wall Art
And see the magic these canvas wall art with photos can do to your office and living space.
Custom Wall Art Decor with Your Photos
Bring home loud and traditional or magical and beauteous custom print canvas wall art and let your walls vouch for your style.
Canvas Customized Wall Art Prints
Choose wall art custom made which will create "the moment" where every visitor will be enticed to stop and watch your walls!
Create Personalized Wall Art Matching Your Taste
Pick your Canvas wall art Canada and pair it with your home decor. Every customized photo wall art will be perfect to lean on your classic walls.
Custom Wall Art Prints Matching Your Taste
Want to try minimal or decorate space with a bunch of photos – we have every kind of beautiful custom design wall art for you!
Create Your Own Wall Art for Any Place
Give a crisp look to any space with beautifully crafted personalised canvas wall art!
Custom Wall Art Prints for Special Occasions
Design personalised canvas wall art for every special occasion and tell your loved ones how much you care about them with CanvasChamp!
Learn More About Custom Wall Art Prints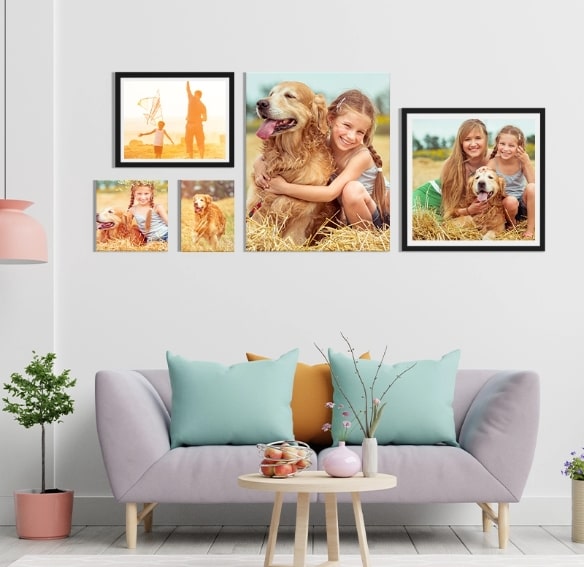 Wholesale Canvas Wall Art Prints
Are you looking for custom wall art in bulk? Then you are at the right place. At CanvasChamp, we just not only deal with single custom wall art pieces but also customize them in bulk. So whatever quantity, you need for custom photo wall art, just share with us! We make each and every high-quality piece of wall art with love so that you get only the best.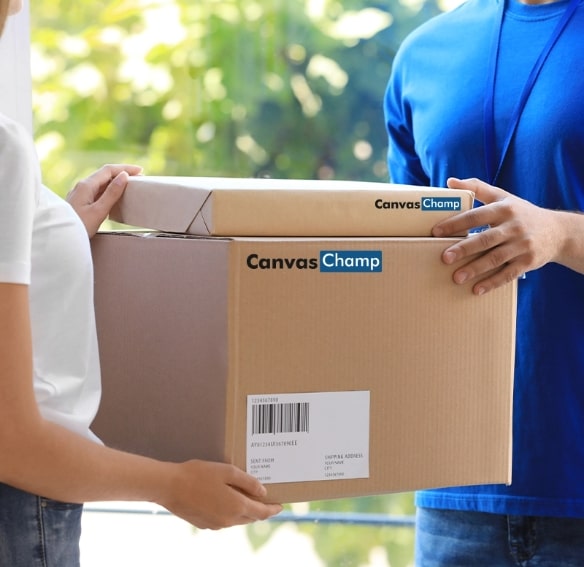 We Deliver Your Custom Wall Art at Your Doorstep!
We have three shipping models including standard, express and priority. Pick one of our models as per the time you have for the custom wall art decor. We ensure the most secure shipping at your doorstep.
Get delivery of custom wall art prints by CanvasChamp in multiple cities of Canada including Toronto, Montreal and Calgary. Apart from this, we also bring custom wall art to top Canadian cities like:
Vancouver
Edmonton
Ottawa
Calgary, and many more!
FAQs on Personalised Wall Arts
How to print canvas wall art?
Printing customized wall art is just a matter of few clicks when you are at CanvasChamp. Follow the below steps and yes you are all set to get custom wall art:
Step 1: Select Your Size as per the area where you are going to hang your custom wall art.
Step 2: Upload your picture, text, and use clipart to make your custom wall art more impressive.
Step 3: Pick your mounting options and process to checkout.
Where to buy canvas wall art?
The best place to buy canvas wall art is online with CanvasChamp. Just go through our easy-to follow customization process, upload your photos, and place your order. Our team will shortly dispatch your order to your doorstep in Canada.
How to choose wall art?
Choosing custom wall art is dependent on your preference which may differ from one to another. You must take care of the size and price of your custom wall art and where you want to place the wall art. We have a variety of collections for home and office space.
Also, you can check out our idea gallery for inspiration to choose your custom design wall art.