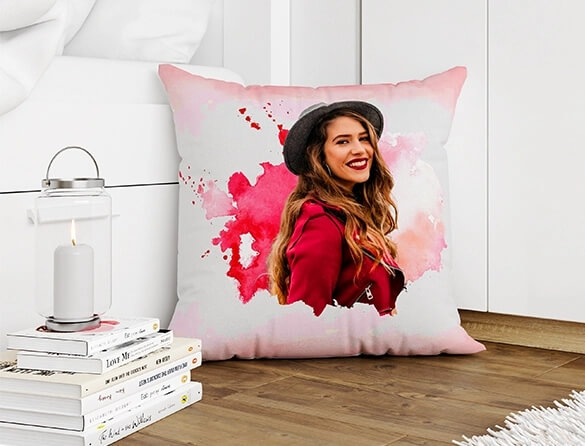 Product Description of Throw Pillow
Offices for as long as we remember have been cold, stuffy places with no comfort. But that has got to change! And it started with adding these ultra-soft throw pillows.
The best thing about throw pillow is that you can match them with the office's interiors or even add contrasting colors to add a fun element. It's something your co-workers or even your bosses would love. You can get delivery anywhere in Canada.
Decorative throw pillows in Canada are made using poly-cotton. Our throw pillows are easy to clean and wash. Simply remove the covers, throw in the laundry, dry, and repeat. That's it. No complex instructions.
Like our life, our throw pillows are not one size fits all, so we have introduced over 10 sizes of throw pillow for maximum comfort. Ranging from 12"x12" and 20"X36", pillow lovers can choose the most comfortable size.
Modern Throw pillows are best to gift on valentine, Halloween, Christmas, New Year, women's day, and Father's Day celebrations.
Know More About Custom Throw Pillow
Best Modern Throw Pillows with CanvasChamp
There are numerous customization options available for modern throw pillows, allowing you to create unique pieces that suit your personal style and complement your home's décor. Some popular customization options include:
Fabric Choice: Select from a range of fabrics like pure polyester, blended polyester, or outdoor-friendly materials to match your desired look and feel.
Pattern and Design: Choose from a variety of patterns, including geometric signs, abstract, floral, or even custom-designed prints to create the perfect aesthetic for your space with modern throw pillows.
Custom Artwork and Photos: Upload your own images, artwork, or photographs to be printed or embroidered onto the pillow, resulting in a deeply personal and meaningful accent piece.
Monogramming and Personalization: Add your initials, name, or a favorite quote to your throw pillow using embroidery or printing techniques for a personalized touch.
Color Schemes: Pick from a vast array of colors and create a custom color palette that coordinates with your existing décor or stands out as a statement piece with affordable throw pillows complimenting your throw pillow material.
By exploring these various customization options, decorating with throw pillows becomes easy and you can create the perfect modern throw pillows that not only showcase your personality but also enhance the comfort and style of your living space.
Here are some occasions where customized throw pillows can be a perfect choice:
Housewarming: Celebrate a friend or family member's new home with a personalized throw pillow that complements their décor and adds a welcoming touch.
Weddings: Gift the newlyweds with customized pillows featuring their names, wedding date, or a meaningful quote to commemorate their special day.
Anniversaries: Mark a couple's milestone anniversary with high-quality throw pillows showcasing their years together or a photo from their wedding day.
Birthdays: Surprise your loved ones with a home decor throw pillows designed with their favorite colors, patterns, or images that reflect their personality and interests.
Baby Showers or Christenings: Congratulate new parents with a personalized pillow featuring their baby's name, birthdate, or a sweet nursery rhyme.
Graduations: Honor a graduate's achievements with a personalized throw pillows in Canada featuring their school colors, graduation year, or an inspirational quote.
Mother's Day or Father's Day: Show your appreciation for your parents with a personalized pillow that includes a heartfelt message or a photo of a cherished memory. These washable throw pillows are something your mom would love to decorate sofa with.
Valentine's Day: Express your love and affection with a custom throw pillow featuring a romantic photo or quote that symbolizes your relationship.
Christmas or Hanukkah: Gift your loved ones with festive, personalized throw pillows featuring holiday-themed designs, family photos, or seasonal greetings.
Retirement: Celebrate a retiree's accomplishments and new chapter with a personalized pillow that highlights their career, hobbies, or a favorite quote.
Personalized throw pillows are versatile and meaningful gifts that suit various occasions, allowing you to create a one-of-a-kind keepsake that recipients will cherish for years to come. Buy throw pillows online in Canada and gift them to your loved ones on special occasions.
Photo Throw Pillow Unique Customization Ideas To Try
Photo throw pillows are a unique and personalized way to showcase your favorite memories and add a touch of sentimentality to your home décor.
Here are some creative ideas for customizing photo throw pillows:
Family Portraits: Use a professional or candid family photo to create a meaningful and heartwarming keepsake that everyone can enjoy.
Pet Portraits: Immortalize your beloved pets by featuring their images on a throw pillow, adding a playful and endearing touch to your space.
Travel Memories: Showcase your favorite travel destinations or memorable vacation moments on a photo pillow to relive the experience and spark conversations with guests.
Collage: Combine multiple photos into a single collage-style design, allowing you to feature several memories or images on one pillow.
Black and White or Sepia: Transform your photos into classic black and white or sepia-tone images for a timeless and elegant look.
Pop Art: Turn your photos into pop art-inspired designs by using bold colors, patterns, and filters for a modern and vibrant touch.
Typography Overlay: Add a quote, date, or message overlaid on your photo to create a personalized and meaningful design on these excellent quality throw pillows.
Special Occasions: Commemorate significant events, such as weddings, anniversaries, or graduations, by featuring photos from the occasion on a custom throw pillow.
Vintage Style: Apply vintage filters or effects to your images for a nostalgic and retro-inspired look when you buy throw pillows Canada.
Photo Mosaic: Use numerous smaller images to create a larger, mosaic-style custom throw pillows for a unique and visually striking design.
Buy Throw Pillows Online and Gift on These Different Occasions in Canada
Personalized throw pillows make thoughtful and unique gifts or décor accents for various occasions in Canada. They add a touch of warmth and individuality to any living space.
Can I Buy Bulk Throw Pillows?
CanvasChamp is the best place to buy throw pillows in bulk. These inexpensive throw pillows in Canada come with complete customization option and fast delivery.
So, if you are looking for bulk indoor throw pillows or outdoor customized throw pillows, you have landed on the right page. Just reach out to us and shoot your bulk enquiry to buy custom printed throw pillows and we bet you will get the best quality at unbeatable prices.
Throw Pillow FAQs
Why Is It Called A Throw Pillow?

From the ancient Egyptian era, throw pillows, aka accent pillow, were used like a "raised platform," offering the right support to the head. However today in the modern era, they are called throw pillows because they can be easily tossed or "thrown" onto furniture to enhance its appearance or add comfort.

These best modern throw pillows are primarily used for decorative purposes and can be found in various shapes, sizes, and custom designs.

Where To Buy Throw Pillows?

The best place to buy throw pillows Canada is CanvasChamp. If you want to buy throw pillows for couch, throw pillows for bed, or throw pillows for outdoor space without going to stores, just buy it online with CanvasChamp and we will deliver your decorative throw pillows in Canada.

How To Wash Throw Pillows?

Whether you have indoor sofa throw pillows or outdoor throw pillows in Canada, if you want to wash throw pillows, first check the care label for specific instructions. If the cover is removable, wash it separately according to the label. For the pillow insert, you may need to hand wash or spot clean, depending on the material and care instructions.

Can Throw Pillows Go in the Washing Machine?

Yes, when you buy modern throw pillows from CanvasChamp, you can wash them in machines. Just ensure that you don't use hard detergent which can affect the color and texture.

How To Clean Throw Pillows?

Want to clean your bed throw pillows – try these two ways. First, machine wash them or if you want to clean throw pillows without washing, consider vacuuming them to remove dust and debris, spot cleaning with a mild detergent and water, or using a fabric cleaner for more stubborn stains. Though we offer cheap throw pillows in Canada, but that's only for the price and we ensure that zero compromise is done with the quality so you can easily clean and wash these decorative throw pillows.

How To Style Throw Pillows on Couch?

To style throw pillows on a couch, use an odd number of pillows for balance, mix patterns and colors that complement your overall decor, and incorporate different shapes, sizes, and textures to create visual interest.

What Size Is a Standard Throw Pillow?

A standard throw pillow size is typically around 18x18 inches, but they can range from 12"x12" and go up to 20"X36" depending on the design and style. So, if you have to place them on bed, try large-size bed throw pillows or if you want to use it on sofa, medium size decorative throw pillows would work best. For office chairs or cars, you can also try 12"X12" size throw pillows.

Are Throw Pillows Out of Style?

Throw pillows are not out of style and continue to be a popular home decor accessory. They allow for easy updates to your living space and can be changed seasonally or as your design preferences evolve. Decorative throw pillows in Canada are not just beautiful to keep but become your partner in happy and sad times too. Just hold these sofa throw pillows which are extremely soft and cozy to hold.

Do Couches Need Throw Pillows?

Well, if you are someone who doesn't like décor ideas in that case, couches don't necessarily need throw pillows, but adding them can enhance the comfort and aesthetic appeal of your seating area. They can also tie together the overall design scheme of a room and whenever you want to go into comfort zone, you can hold them and fall asleep.

Do Throw Pillows Have to Match?

Matching pillows is now a thing of the past. With modern décor styles, throw pillows don't have to match each other, but they should complement your overall decor. Mixing patterns, colors, and textures can create a cohesive, visually appealing arrangement. You can get customized throw pillows from CanvasChamp in Canada.

How Big Are Throw Pillows?

Throw pillows come in various sizes, with the most common ranging from 12"x12" and go up to 20"X36". The size you choose depends on your personal preferences and the intended use of the pillow.

How To Arrange Throw Pillows on a Bed?

Bed throw pillows are a great addition to your bedroom or kid's room. To arrange throw pillows on a bed, start with larger pillows at the back, followed by smaller ones in front. Mix shapes, colors, and patterns to create a visually appealing display that complements your bedding.

How To Arrange Throw Pillows on a Couch?

To arrange throw pillows on a couch, begin by placing larger pillows at the ends, followed by smaller ones in the middle. Experiment with different combinations of patterns, colors, and textures to create an inviting and cohesive look.

How To Choose Throw Pillows?

To choose throw pillows, consider factors such as the color scheme, patterns, textures, and overall style of your living space. Select pillows that complement your existing decor and add visual interest.

How To Decorate with Throw Pillows?

To decorate any space with the best throw pillows, use them to add pops of color, patterns, and texture to your space. Layer and mix different sizes, shapes, and styles to create a visually appealing arrangement.

How To Make Throw Pillows?

To make throw pillows, purchase or make a pillow insert, then sew or buy a pillow cover in your desired fabric. You can customize the design with embroidery, appliqué, or other decorative techniques. If you don't have time, you can visit CanvasChamp and get your throw pillows customized online and we will bring your best throw pillows in Canada.

How To Measure Throw Pillow Size?

To measure throw pillow size, use a measuring tape to measure the length and width of the pillow. Standard sizes typically range from 16x16 inches to 24x24 inches, but custom sizes are also possible. And once done, you can place the order online and get throw pillows Toronto or Canada delivered to your doorstep from CanvasChamp.