Display Your Photos In a New Way
Custom acrylic prints are just one of those options which can instantly brighten up any space with your favourite photo on it. It tends to give a beautiful depth to your photos, making it a good conversation starter if kept in a living room. After all, creating a unique visual impact through intimate or artistic images is what makes a home decor exceptional. Incredible longevity with fade-proof features and qualities. Exhibit photos artistically with the help of acrylic printing and your acrylic photo prints Canada designs will look fab.
Your walls mostly reflect on how you are in-person, which means exhibiting the photos the right way is necessary, and that comes by choosing the right medium. Acrylic glass prints are a number one choice when it comes to projecting depth, colours and perfect detailing of a photo. It is loved by home-makers and professionals alike, making it the right choice for you as well to finally print that focal piece for your room.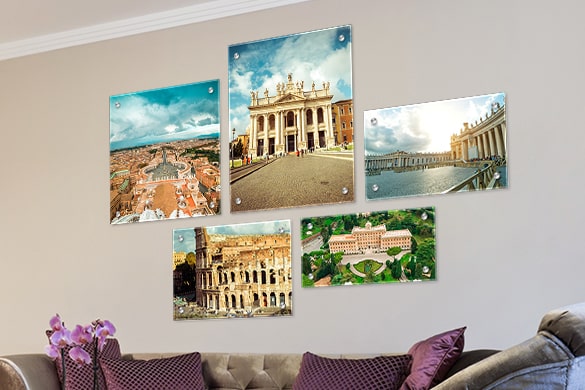 Acrylic Wall Displays
For the art lovers who were born to make their homes look like a personal gallery, acrylic wall displays can absolutely help them show their creativity with grouped photos on acrylic. With the neat look of the plexiglass, photos will not tell the story, but the colours dancing on the best canvas Canada prints will! Order your Acrylic prints Canada now!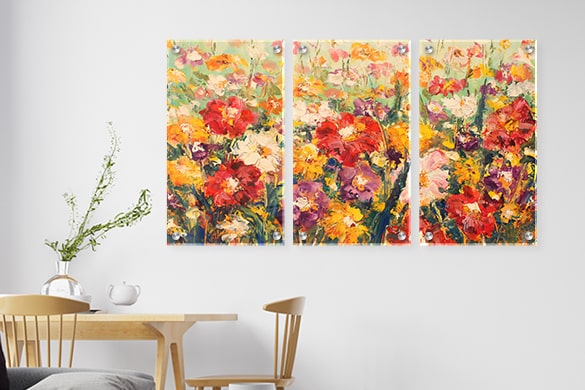 Split Acrylic Prints
Instead of telling a story with a beginning and an end, you can split one single image across multiple panels to give a climactic effect to a place. The excellent clarity of acrylic split prints can make any photo of yours sparkle like the tiles of mosaic art!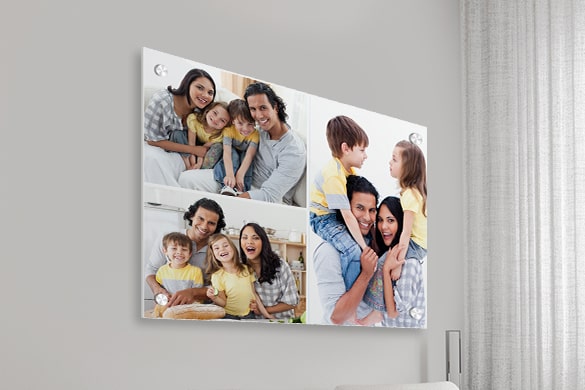 Acrylic Photo Collage
Get a spectacular option to convert your photos into a collage on acrylic! Get to shine all the best memories that you have had with your friends and family by getting them printed on the acrylic photo collage. Get to choose various templates to arrange your photos and make it stylish the way you want!
Hardware to Hang Acrylic Prints
We provide three options to hang your acrylic prints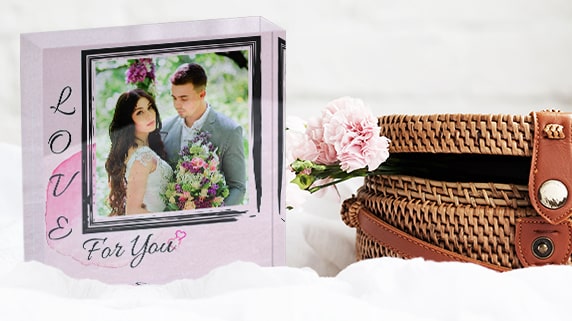 Frame your photo on a one-inch thick acrylic glass
Image printed on the back of the block to reflect memories
Diamond polished edges for a pleasant 180° view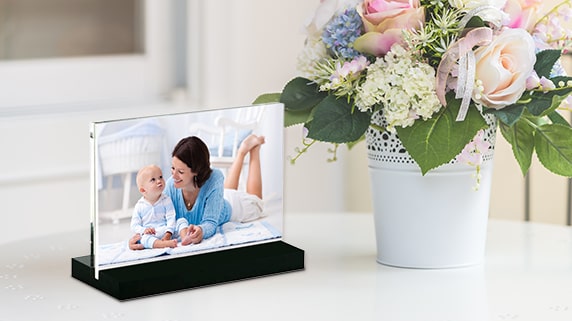 Acrylic tabletop display as a timeless decor
Custom size options in acrylic table displays
Perfect to show memories on a table or desk
Acrylic Photo Prints With These Fantastic Features
Perfect Colour Vibrancy

Balanced Depth to Photos

Simple to Clean

Hardware Installed
frequently asked questions
Q:

Which file formats can I upload?

A:

Our system accepts JPG, JEPG and PNG files of up to 25MB each. Please check before uploading that your data is in one of these formats.

Q:

Is face mounting and printing directly onto the acrylic the same process?

A:

No. The photo is printed directly onto the back of the acrylic whereas, in face mounting, a paper print is sandwiched between a substrate on the bottom and an acrylic panel on top.

Q:

Are the acrylic photo prints waterproof? Can I hang them in the bathroom?

A:

Yes, our acrylic prints are absolutely waterproof. Our printing method doesn't stick your photos like a sticker but is infused on the acrylic glass through sublimation process, which makes it long-lasting and durable.

Q:

Do the back of your frames come finished?

A:

No, we do not finish the back of our frames. As such, you may occasionally see some rough, unfinished marks on the back of our handcrafted frames that include, but are not limited to, paint spots, scuffs, and measurement marks. But we try our best.

Q:

How are acrylic prints made?

A:

The UV giclee printer prints the image directly on the acrylic material. Light refracts through the acrylic glass, giving the image depth and excellent image quality.

Q:

How do I clean my acrylic prints?

A:

A plain wipe down with a soft cloth on the front panel will do the work. You can use an all-purpose cleaner too but do not use on the photo panel side of the acrylic print or else you might end up scratching the photo.

Q:

Can I do download an image from google and give it to print a quality acrylic print?

A:

We hardly doubt you might be able to get quality prints off the internet apart from the copyright issues you might face. Even the best resizing software won't work if you have the worst quality of a photo from the internet. You can try out stock photos of good quality.

Q:

Can you remove impurities from pictures?

A:

Yes, minor and major touches can be done by us; we can also rejuvenate pictures. For images that need a lot of editing, an additional fee might come on your way which will be asked about before starting the work.

Q:

How long does it take to get my order done and shipped to me? Can I add another address different from the billing address?

A:

It takes only 24-48 hours of your order processing with us after which to reach your doorstep, it takes about 5-10 business days. Also, you can select a different shipping address than the billing to send the print directly wherever you want to receive.

Q:

How to hang the acrylic mounted photos?

A:

When you place the order, you will be able to see the different options to select the hanging hardware. That way, we deliver prints to you that are ready for you to hang on your wall. If you do not like the options offered for hanging, then you can arrange hardware of your own choice once the print arrives at your doorstep.
Ask about Custom Acrylic Prints and get answer in email.