Best acrylic photo blocks in Canada!

Polished in the vigorously for precise edges

Black acrylic base is given with a reflective mirror

Contentment guaranteed from us
Super Convenient with Block Sizes to Match Your Requirement
Choose any size out of 12 block sizes to make your picture look perfect. Either square or rectangle, you can fit a portrait or a big family photo as sharp images.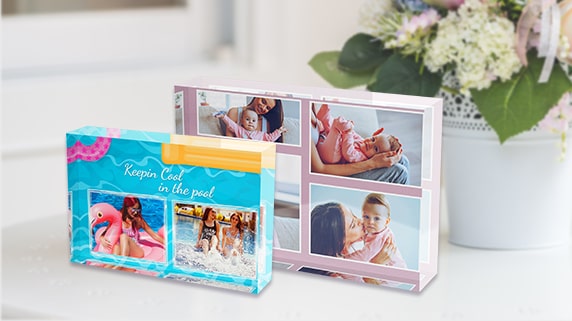 Features
Your photo gets a visual depth and colour-brilliance because of the block of acrylic glass. The acrylic block's transparent sides are polished, meaning you can see through all sides to every detail in the image.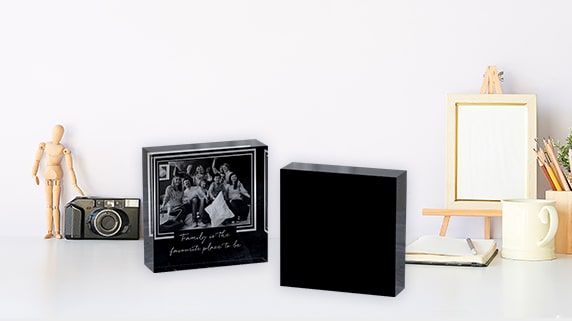 Backing
The black-coloured backing provides a visual finishing touch and prevents unwanted light from shining through. Thus, making the colours of a photo look more highlighted.
Best Quality Acrylic Photo Blocks in Canada
Brighten up your day with a crystal clear acrylic block that is long-lasting and lightweight.
Printed on photographic paper

Solid packaging for protection

Vibrant colours

Premium solid model gift

Independent hold on the desk

Good Quality from a Branded Company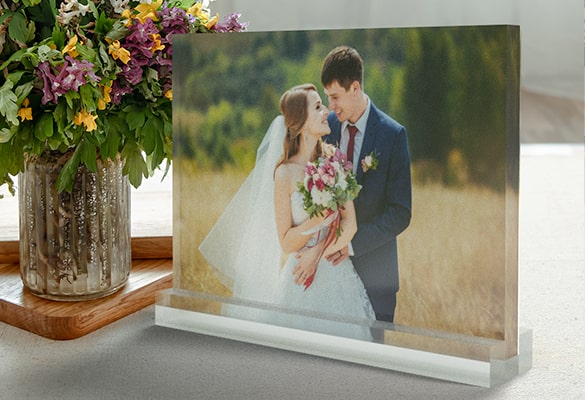 Let the Photo Make a Statement with an Acrylic Block Stand
Acrylic photo blocks can stand on its own on any surface. So make your memory more dazzling by adding an optional black block base with a reflective mirror. With our straightforward editing tool, make acrylic blocks with stands in just a few minutes!
All the Info on Acrylic Photo Blocks
Beautifully polished like a diamond for immense photo clarity:
Personalized acrylic block prints have been polished from all the sides except one side where the photo is printed to give a crystal clear look of your favourite photo.
Freestanding and also can come with an optional stand:
They can stand without any support but you can also opt for a stand to literally make it "stand out".
Proper packaging for non-damaged delivery:
We pack is as securely as possible as it is a glass block and we always deliver it undamaged. That's a guarantee.
Personalized acrylic block prints make ideal gifts for any occasion:
Gift it at a wedding, birthday, anniversaries or even graduation to make unique moments even more unique.
Give a 3D effect and colour vibrancy to your photos with acrylic photo blocks in Canada:
Due to thick plexiglass in an acrylic photo block, the colours of the image prints get more vivid and sharp making the images look alive.
Custom sizes available to fit any image size:
Take an family portrait of two members to ten members, fit your photo to the sizes available with us to get the best of your special memory.
Hand polished and handcrafted by best artisans:
People who really care about your memories are the people that work hard to make your personalized acrylic block prints.