CUSTOM PANORAMIC METAL PRINTS - A PIECE OF TRUE ART
Get your photos printed on these Panoramic metal photos and flaunt your space.
Front View

Back View
MAKE CUSTOM PANORAMIC PRINTS EVEN MORE BEAUTIFUL WITH HANGING KITS
No Hanging Kit

If you wish for a simple look, no hanging kit is the best option as it helps you. Its no-frame feature gives it an infinity look, which adds to its charm.

Front Mount

Front mount option offers four screws fixed at the corner of the metal prints, giving a modern finish where prints are suspended away from the wall.

Back Mount

If you wish to give your metal prints an unframed look, a back mount is the best option. It comes with a mounting block that accommodates a screw for hanging your prints.

Easel Back

Give your prints an invisible hanging look with an easel back. We are sure they will catch every visitor's attention and get an ooh and ahh reaction from everyone who notices these prints.

Easel Stand

Easel stands are your best bet if you wish to display your metal print on tables and desks and give it a more artistic look.
ADD A DRAMATIC EFFECT TO PANORAMIC METAL PRINTS
Original

This filter is a good option if you want to keep the photos as they are.

Sepia

Want to add a retro effect to your photos? Then Sepia filter is your best bet.

Black and White

The world is black and white. We could not agree more! Add a classic black and white effect to your pictures with a Black and White filter.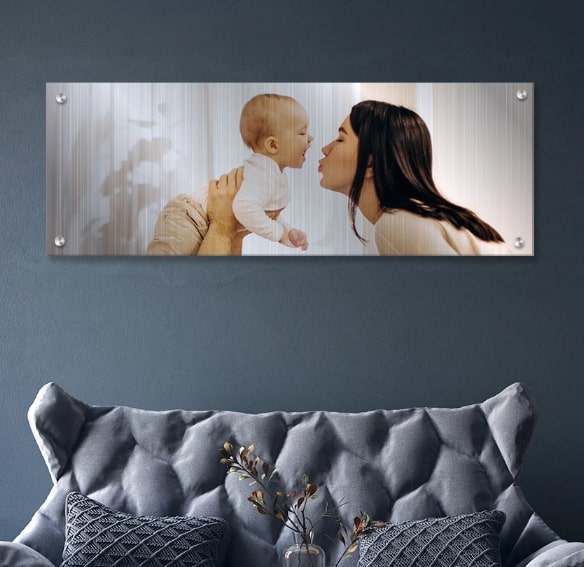 Panoramic Metal Prints for Home Decor
Want to fill up those plain, boring walls to add a fresh look to your home? Well, metal prints are your best friend. These high-quality, custom metal prints dramatically affect your living space and give it a more contemporary look.
Be it a family photograph, friends, or even cute photos of your pet, and you can print them on our metal and display them on your walls with pride. Its aluminum base makes it sturdy and long-lasting. Moreover, the stainless-steel studs as the hanging tool provide a quick and effortless way to display these adorable prints at your home.
Get these adorable metal panoramic prints for your home decor and add a much-needed drama to your home.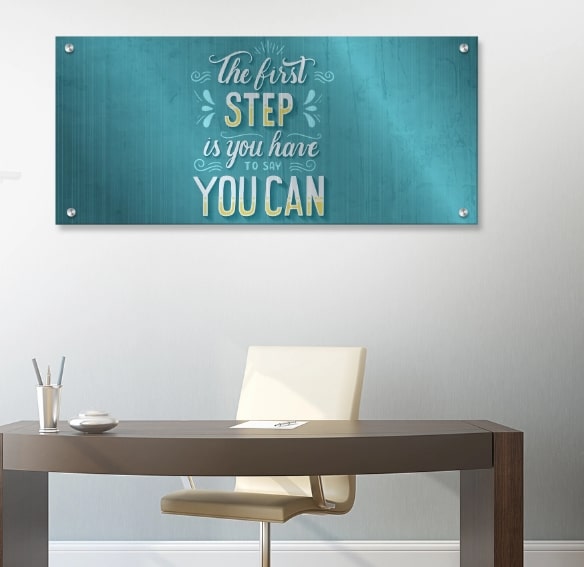 Panoramic Metal Prints for Office Decor
Are you tired of staring at those plain, boring walls throughout the day? Well, it is time to change it. CanvasChamp's panoramic metal prints are what your office walls need to add some personality.
These metal prints are fantastic ways to find your creative expression. These prints bring photos to life and often make an enjoyable conversation starter.
If you are looking to design your panoramic metal prints, head on to our design tool and let your creativity find a much-needed outlet.
FAQ ON PANORAMIC METAL PRINTS
Get answers to frequently asked questions related to panoramic photos on metals
Q: How to Print Panoramic Photos on Metal?
A: Metal prints are made from premium quality aluminum and metal inks to improve their shelf time, which means they will last for a long time. Your metal prints will remain intact for years to come due to our UV-resistant inks that shield them from damage.
Q: Do you provide panoramic metal prints in varied sizes?
A: Yes, CanvasChamp's panoramic metal prints are available in different sizes, such as 8 inches X 24 inches, 10 inches X 20 Inches, etc.
Q: Which hanging option is best?
A: CanvasChamp provides assorted options, including front mounts, rear mounts, easel back, and easel displays. A front mount is a good option if you want to give a modern suspension effect. Easel back and easel display are a better choice.
Q: How long will these metal prints last?
A: Our metal prints are printed with premium waterproof and UV-resistant inks that increase the longevity of prints by up to 2 to 4 times. This means they will last for decades if you take good care. UV resistant ink protects the prints from fading due to direct sunlight, whereas waterproof quality protects them from fading due to water.
Q: What is the turnaround time for panoramic metal prints?
A: Since all the metal prints are made on demand by our artist, it can take two to three weeks to deliver prints to you. Please choose the rush option while checkout to get your prints early if you want the prints urgently.
Q: How will the prints look as compared to my screen?
A: We try our best to resemble the prints exactly as you see. But in general, the print looks remarkably close to what you see on your screen.