Custom Canvas Banners
Display your best concepts on CanvasChamp banners
No Risk, 100% Guarantee!
Canvas Banners with HD Quality Print
Flaunt your proud moments on high-quality canvas banners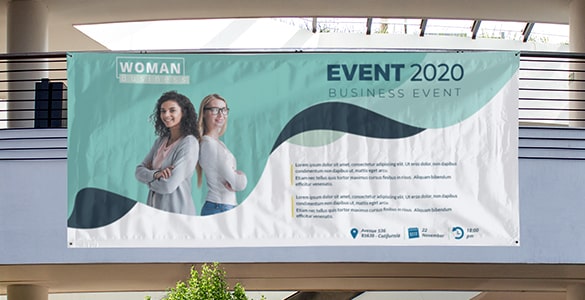 Canvas Banner Prints
We are introducing a new canvas product to our already a dozen canvas products- Canvas Banners. They are used for high-end banner displays, banners, backdrops and more. With a little bit of texture, similar to a painted canvas, they are great for any business or professional event!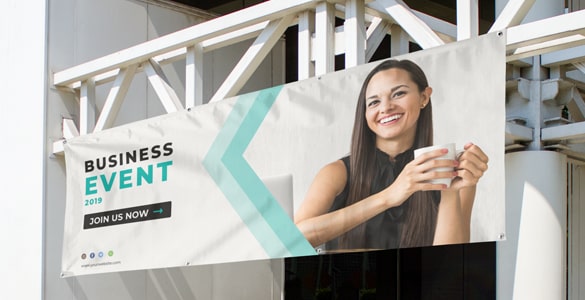 Practical and Functional Canvas Banners at Lowest Price
Explore your creativity with a perfect message and appearance of a banner for your organization or event. CanvasChamp caters ideal canvas banner printing services to make banners as a backdrop for churches and schools. Also, you can use banners to promote fundraising events, fairs, festivals and other social events. Or even advertise your business with it. These custom canvas banners can withstand indoor and outdoor environments very toughly.
Since we provide canvas banner prints at the lowest price in the industry, in case, if you find a better-published price anywhere else, then we will match them and give you an additional 10 percent off on the cost of your order. We also fully back our products and shall any error or defect may be there in the outcome, we fully refund it or reproduce it at no additional charge.
Also, we have quick ordering, fast shipping and money-back policies that define our quick turnaround of a maximum of 48 hours. So what are you waiting for? Order a custom canvas banner from us and find out all that we can do for you!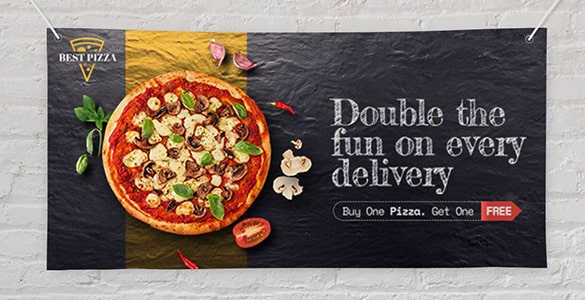 Specs of Cheap Canvas Banners Canada
If you were looking for perfectly customized canvas banners, then you have come to the right place here. You merely need to upload your graphics or image to create the exact design that you have in your mind. Unlike some of our competitors, we give you a choice of unlimited colours, various custom sizes (up to 58 inches wide and 100 ft long). Each canvas banner that we make is coated with a semi-gloss finish which further enhances the quality of it.
Specifications of Canvas Banners
Finely printed banners from CanvasChamp come with these features:
 

Cotton Polyester Fabric

 

Lightweight (360gms)

 

UV Rays Resistant

 

Easy to Manage & Clean

 

Available in all Sizes
Frequently Asked Questions
Q:

hi can you print canvas at 5' x 7' ? if so cost to have printed and framed ?

A:

Hey, Thanks for getting in touch with us. We can definitely print a 5" X 7" canvas. The cost would be $9.11 plus shipping charges. Please send us further details on cs@canvaschamp.com Thanks

Q:

Can you print 5' X 8' Banners?

A:

Yes, we can print canvas banners of any sizes up to 54 inches by 54 inches. For further information, you can mail us at sales@canvaschamp.ca or go through our banner design tool to customize your banner with your own preferred choices.

Q:

I am looking for the pricing of a 2' X 8' banner. The artwork will include a 1' X 1' yellow and black square with a large black type.

A:

canvas banner with dimensions 2' x 8' would be around $72. Also, the shipping charges will apply based on the type of shipping that you would prefer for it. You can upload your file on this link: https://www.canvaschamp.ca/canvas-banner. You can also send us the artwork through the mail on sales@canvaschamp.ca, and we can work the details out.

Q:

Does the canvas weight or its material vary from regular canvas items? What is the difference in canvas banners compared to your rolled canvas prints?

A:

Yes, the weight of the rolled canvas print will vary to canvas banners as a rolled canvas is mostly stretched canvas prints. It depends upon the size of the canvas print you also choose as well. Also, if using for personal purpose, you can use rolled canvas as it is affordable with good quality, but for promotional use, canvas banners fit the purpose best.
Ask about Canvas Banners and get answer in email.