Customize Your Gift Certificate
Nothing matches the convenience and choice of gifts for gift certificates. All gift certificates from CanvasChamp bring the joy of wishes and gifts in the most customized way.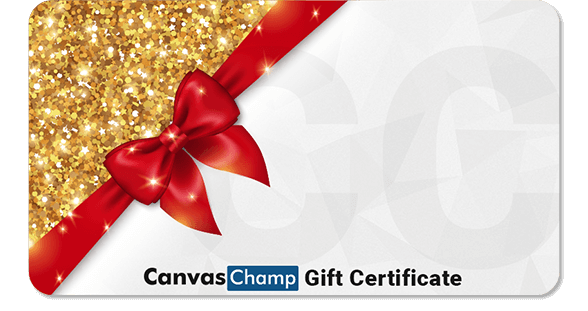 Select an amount for your gift certificates starting from C$15 to C$99999!
CanvasChamp certificates have no expiry date, come at zero purchase fees, and are free from all activation fees! Hence no extra costs in having gift certificates.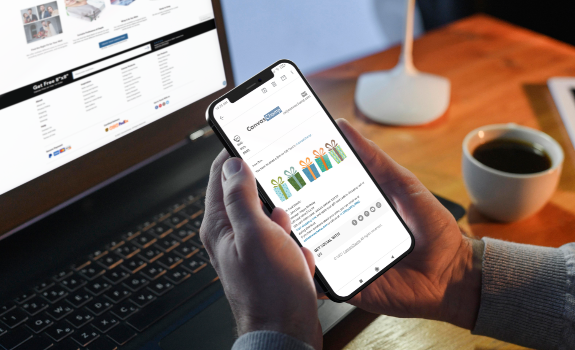 Why Go for CanvasChamp Gift Certificates?
Create your customized gift certificates for any occasion using the name, details, and a special message for the gift card recipient.
Quick and easy to get a gift card in minimal time, thus ideal or last-minute invitations.
Your loved ones can get the right gift according to their requirements from various gifting ranges.
Frequently Asked Questions
Q: Why is a gift certificate better than other options?
A: Our gift certificates end the guessing game and offer a wide variety of gifts to the recipient to choose from. There is no need to get confused in finding the ideal gift for your loved ones when you can go for the gift certificate that comes with selection choices.
Q: How to get a CanvasChamp gift certificate?
A: It is easy to get a gift certificate by filling in CanvasChamp's website details. On successful purchase, you'll receive an email confirmation regarding all information on the recipient and amount details.
Q: What is the process to use the CanvasChamp gift certificate?
A: The recipient can redeem the CanvasChamp gift certificate while looking for products from our side. The multiple options in gifts and other exclusive items make it easy to select the right product, and then instead of payment, the recipient can go for paying using the gift card.
Q: When does CanvasChamp's gift certificate expire?
A: Never! Yes, you're right, as all gift certificates from CanvasChamp come with no expiry date. Hence these can be used at any time without worrying about additional activation fees.
Q: How much is the maximum amount for gift certificates?
A: There is no limit to the maximum amount for our gift certificates. Our gift certificates start from the lowest at C$15 and go up to unlimited amounts.
Q: Is it possible to spend part of the gift certificate and the balance afterwards?
A: Yes, spending a part of a gift certificate is easy and then paying the balance afterward. Using the gift certificate, it is easy to check the balance from an email that carries a pending balance after every purchase.
Q: Can I use gift certificates for corporate gifting?
A: CanvasChamp gift certificates are ideal options for professional and personal gifting requirements. Thanks to the multiple gifts range and easy process to redeem the gift certificate.
So, are you ready for the affordable and highly creative gift certificates from CanvasChamp? All your friends, colleagues, or family relatives can find something great according to their likings. It is the time to say goodbye to the limited gifting range and explore the new way of gifting with CanvasChamp. And guess what? There are no limits on the gift certificates' amount!