Customize your Canvas Prints
10% Additional Discount Order Over $149 + Free Shipping
use coupon code:

CAN10

|

Ends Soon, Hurry!
Custom Canvas Prints
Custom Canvas Prints is now available in Canada! If you want unique decor for your walls, you have come to the right place. In our experience, unusual and unique artwork really grabs people's attention. The best part is that you can customize this artwork yourself, with our custom canvas prints online service in Canada.
We also offer Decorative prints like Metal Prints, Acrylic Prints, Photo Boards for making your Home or Office walls beautiful and Impressive.
With us, "custom" truly sticks to its definition. YOU are the creator, and we are simply the medium through which you receive it. Put your ideas together; the colors, depth, tone, and print size, and we will bring it to life. Not only that, but we also specialize in cheap custom canvas prints. You won't find better prices anywhere else in Canada!
Personalize Your Canvas Prints
Don't forget, for the process is quite easy and can be done in minutes. The most difficult part of this process is trying to create your design, artwork, or graphic. It can be quite daunting, but if you take your time, you can create a masterpiece.
Not only do we have custom prints available to you, but we have pre-made prints for your liking. We have natural scenes, classic art, black and white sketches, oil paintings, religious scenes, and character sketches. Our true classic art lovers can check out the Famous artist gallery where you will find Leonardo da Vinci, Salvador Dali, Claude Monet, Pablo Picasso, Van Gogh and other famous artists from which you can choose.
The next step is choosing your canvas size and placing your order. From there, we ship it to where you would like!
Get Started on Customizing your Canvas Print
We want to get your prints to you as soon as possible, so do not wait! Buy custom canvas prints online today and let people admire your exquisite taste in art. It will be quick, easy, and you are guaranteed to be satisfied.
A Personalized Canvas Print Can Be the Most Thoughtful Gift
A personalized canvas print can be the most thoughtful gift you can present to a loved one. At Canvas Champ, we allow canvas prints customization so that you can create a custom canvas print that perfectly reflects your feelings and emotions towards a friend or loved one.
Customizing the frame of the canvas print is probably the easiest way you can transform your image into a stand-alone piece of art. Whether you need a frame for a portrait or you want to enhance the beauty of an old family photo, you will be able to find a framing option that best suits your taste. Select from our wide range of frames, and customize them. You can choose the border color to allow perfect blending of the canvas print with your interior decor or choose a brown golden frame to give your canvas print an authentic royal look.
We offer a wide variety of hanging and framing options for you to choose from. You can pick something that matches your tastes and requirements perfectly.

Black Frame
If you want to go for a bold effect, then a black frame will display your image in the best way.

Brown Frame
For a lighter yet impactful effect, the brown frame is exactly what you need for your next canvas print.

Brown Golden Frame
This frame design will give your image the soft reflected glow seen in museum paintings and art masterpieces.

Gallery Frame White
The ever popular gallery white frame print will give your image the classic look unique to old paintings in galleries.

Mirror Image
0.75" or 1.5" (depending on the thickness selected) is copied and extended on the edges to wrap around the frame. Select this option if you have any important details on the edges that you do not want to loose.

Image Wrap
0.75" or 1.5" ( depending on the thickness selected ) of the image is extended. The classic look. May crop some of your image in the wrap. Select this option if you want to go for the classic look and do not have any important details on the edges.

Border Color
The wrap is printed with the solid color that you choose from the palette. Select this option when you want the edges to be in sync with the color on the walls.
Need some glitter and colors to make your photos shine and stand out? With our image customization you can retouch your photos and add colors and special effects. Use any one of our four one-click filters to create a staggeringly gorgeous image in a ridiculously easy manner. The choices you have include gray scale, pixel painting, original effect, and sepia.
Custom Image Option
If you want your canvas image to come out exactly how you want it, then you should select from our vast custom image options.

Sepia
This effect provides a classic and stylish look to your image which will look great in any living room or bedroom space.

Gray Scale
Want your canvas to be represented with different shades and tones of gray? Then choose gray scale.

Original Effect
Original effect will keep your image in its original condition. This is a great option for all those people who do not like altering their images in any way.

Pixel Painting
This provides a more abstract or a painted effect to your image that gives it a unique look to decorate your space with.
In order to ensure that your final custom canvas print is of a good quality, Canvas Champ has set certain image requirements that you should consider when uploading an image. These include:
The image should be in a compatible JPEG, TIFF, BMP, or PNG format.
The image should be in RGB, Adobe RGB, or any other RGB profile. Please note that images in CMYK color profile are prone to color shifting.
The image should be up to 50MB in size.
Your image should be in one of these dimensions: square, double width, long and short panoramic, digital point and short, and DSLR.
To know more about custom canvas prints, you may contact us at (800) 993-0992.
Ask about Customize your Canvas Prints and get answer in email.
Question and answer about Customize your Canvas Prints
Q: Hello are you able to do a print in 20" by 60"Thank you
A: Dear Customer, Greetings! Thanks for choosing us! please take a note that the maximum size we can print is 54 x 54 so we can do 20 x 54 sorry for that. Please let us know if we can help you further. Kind Regards, Sam Canvas Champ.
Is this question useful?
Yes
No
Q: Do I need to allow space on all sides of print for wrap-around/mounting? And if so, how much space on each side will be needed? (Say my actual image is 10x10, do I need to create a 2 inch border on each side so that none of the actual information in my picture is lost, making it 14x14?)
A: Dear Customer, Greetings! Thanks for choosing Canvas Champ, Please let you know in case of mirror wrap or border color there is no chance of cropping off your image. So no need to ad extra 2 inches on either sides. Please let you know there is a comment box where you can write that you want proof of your image and our designing team will send you the proof accordingly and we will not proceed without your approval. Thanks, Canvas Champ
Is this question useful?
Yes
No
Q: if I order custom size say 40"x28" (rolled) so no framewill that be what you print? or will you include 0.75 bleed for frame and a bit of white for staples on back.. or would I have to do 40"+0.75"+0.75" (for both sides of the frame and x 28" +0.75" + 0.75"total for 41.5"x29.5" and even after will that still have a bit of white left for staples?please let me know asap .. and also turn around time.. I can come pick it up.. no issues just need it by Friday.also where are you located?found you on a map near Toronto is that correct?Thank you
A: Dear Customer, Greetings! Thanks for choosing Canvas Champ, Please let you know in case of Rolled canvas we use to provide you extra 4" space on either sides (Height and Width). If you choose 40" x 28" Rolled canvas, then the print will be of 40'x28" size and we left extra 4" space so the Total canvas size is 44"x32" size. Please let us know if anything else i can assist you with. Thanks, Niik Canvas Champ
Is this question useful?
Yes
No
Q: Hi. Does your canvass print include frame?
A: Hello Noelle, Our canvas prints are stretched on a wooden frame which are ready to hang prints. We offer two options for the frames, 1) The thickness of the wooden frame is 0.75" 2) The thickness of the wooden frame is 1.5". Also we offer designer frames around the canvas prints in different colors like black, white, brown, walnut, golden etc. You can email us at cs@canvaschamp.com.au for further queries regarding your order. Thanks
Is this question useful?
Yes
No
Q: Do you have an option where I as the photographer can add my name to the front or back of a photo canvas print?
A: Hello there, Thanks for getting in touch with us. We sure do have that option. You can add your signature to your pictures or our design team can guide you further for adding more specifications to it. We also drop ship orders for a lot of our photographer clients where we do not add our logo or name to the products. Kindly let us know about your requirements and we will meet them with amazing quality of products. Please email us on cs@canvaschamp.com.au
Is this question useful?
Yes
No
Q: Do you have an option for resin finish on the canvas prints? Where are you based? Do you ship to Toronto?
A: Hello there, Thanks for reaching out to us. Yes we do have an option for a resin coating under the name of lamination. If you opt for lamination then we coat the prints with resin. We are based in USA, and we provide shipping anywhere in USA, Canada, Australia and New zealand. For further queries please email us at cs@canvaschamp.com.ca
Is this question useful?
Yes
No
Square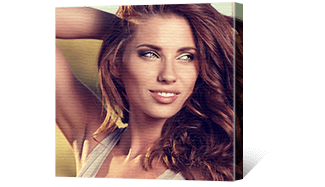 20 x 20 CM
8"x8"
C$51.69
C$7.75
30 x 30 CM
12"x12"
C$80.04
C$12.01
40 x 40 CM
16"x16"
C$219.94
C$32.99
50 x 50 CM
20"x20"
C$222.71
C$33.41
Start Order
Rectangle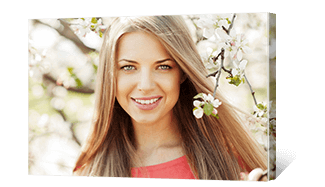 20 x 30 CM
8"x12"
C$68.18
C$10.23
30 x 45 CM
12"x18"
C$217.38
C$32.61
40 x 50 CM
16"x20"
C$193.62
C$29.04
40 x 60 CM
16"x24"
C$221.80
C$33.27
Start Order
Panoramic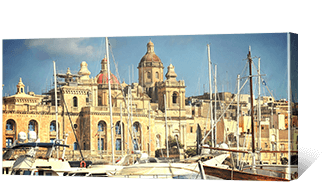 20 x 60 CM
8"x24"
C$204.78
C$30.72
25 x 100 CM
10"x40"
C$296.91
C$44.54
37 x 112 CM
15"x45"
C$538.29
C$80.74
45 x 135 CM
18"x54"
C$778.17
C$116.73
Start Order
Turn your photo into canvas print
100% satisfaction guarantee!