60+ Best Personalized Gifts Ideas Guide Canada - Black Friday Day 2022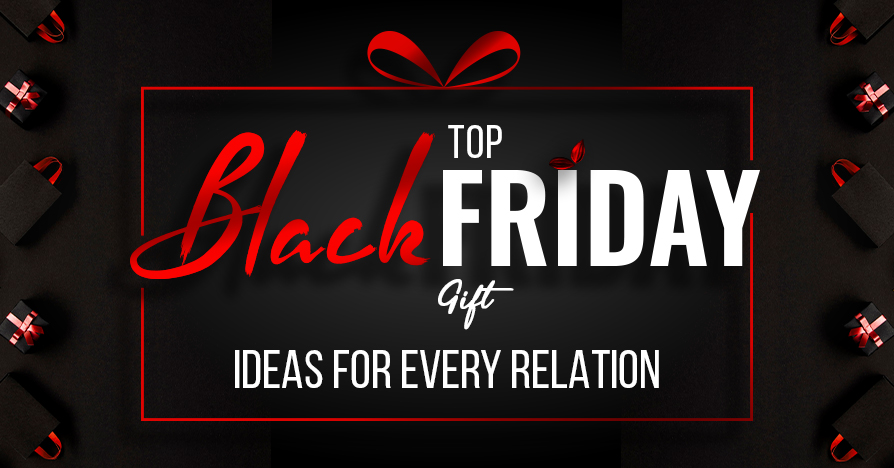 Giving presents to someone is a means of showing your love and affection towards them.  
Many people believe that more than just buying a gift and giving it to your relatives and family members if specific customizations are done, they simply level up a way of showing love and respect to them.  
Personalised gifts are also considered a great option for keepsakes. And now, with our Black Friday sale, you can get everything at less price with a mega-discount.  
Not sure what to buy? This guide will uncover the best gifts and home decor items you can customize online and save much more with the Black Friday discount. 
Black Friday Gift Options to Shop in Canada:
Black Friday Day Gift Ideas for Room Décor

Black Friday Day Gift Ideas for Wall Décor

Black Friday Day Gift Ideas for Table Décor

Black Friday Photo Gift Ideas

Best Black Friday Gifts for Family
 Let's Get Started!
Black Friday Day Gift Ideas for Room Décor
The Christmas gift-giving and end-of-year holiday shopping festivals will begin on Black Friday in the United States, and right now, the entire world is relishing it because it is so well-known and provides everyone with immense joy.  
The wait is finally over when the weather becomes chilly, and you can give your family a unique photo blanket as a Black Friday present to show affection and comfort. 
When the weather drops, a warm blanket is a necessity. Avoid letting the chill make your loved one's tremble on a chilly night. Create your woven blanket, personalize it, and give it to your cherished as an attractive Black Friday gift. 
Make your loved one exclaim, "Wow," with this cozy, warm, and incredibly soft fleece blanket. You can choose and give your one-of-a-kind one from those with various all-over designs and subtle variations of muted colors. For this winter's Black Friday gift, consider a personalized item. 
For chilly nights, you can give your children or family members a Black Friday gift of a handmade sherpa fleece blanket, a warm Christmas idea that will keep everyone warm and delight them. 
With the support of unique pillow covers, it's time to elevate your room's design a notch! Surprising your loved ones with the pillow covers will empower you to personalize your pillows and family with a Black Friday gift. 
You may have a lovely home that is furnished with nice stuff. So, you can elevate your area with premium photo pillow covers. The silky fabric on which you may print your photos improves the atmosphere of the entire room. 
Create custom-shaped photo cushions featuring your pet's favorite images! For Black Friday, you can give a gift to your family or yourself. Pillows in the shape of pets may be the ideal finishing touch for your couch, bed, or even your pet's room decor! 
The enjoyment and love of your near and dear ones is guaranteed by the magic sequin cushion. On Black Friday, it's simple to give special people personalized sequin pillows. Cushion coverings with sequins combine pleasure and practicality. 
Emphasize any space with one-of-a-kind throw pillows for any bed or sofa. While it provides a superior feel and durability, on the one hand, the beautiful touch adds to its adorableness on the other. Use your family and friends' photos for this festive Black Friday season. 
 


Black Friday Day Gift Ideas for Wall Décor
Everyone contributed their love and pleasure throughout the original one-day event. Consequently, Black Friday continues through the weekend and into the following Monday. And this is happening everywhere in the world. Giving dear ones presents on this Black Friday with unique wall decor may amaze them with your surprise. 
Are you considering creating framed prints from a couple of your unique photos? Maybe you're thinking about giving your partner a gift of photographs. After that, you may get your loved one a picture frame for this Black Friday. 
Have you ever woken up from sleep and noticed your life flashing before your sight? Give your family a mosaic picture book that you may use to beautify your home's walls. 
Wall decals enhance your home's happiness and fulfillment. The ideal present idea for this Black Friday is about the wall decals, numerous decorative items, their positions, and the overall interior design. 
Engrave a picture on wood to design a hand-carved poster. These hand-carved photo frames are ideal wooden presents for your mother, father, brother, sister, friend, or spouse this Black Friday. 
Make personalized memory mazes for yourself by printing your favorite digital photos on canvas. The simplest and most popular method to make enduring memories out of images for your loved ones this Black Friday is with canvas prints. 
Make your memorable occasions even more remarkable by pictures collaging them as you see fit and giving them to your loved ones this Black Friday. Be sure to surprise them with all the photos engraved in the collage. 
A worthwhile and amusing gift, like customized wall clocks, may make giving less boring.  On this Black Friday, such presents can be given to anyone or any organization, personal or professional. 
If you desire to keep your photo memories for years with little to no maintenance and give them as a gift to loved ones or friends on Black Friday, metal prints are the best alternatives. 
The finest presents for the Black Friday festival are acrylic prints, which look stunning on your home's walls and transmit happiness and joy through the magnificent use of color.  
The most inventive method for turning your digital photos into canvas prints is split canvas printing. You may now adorn the wall by cutting up a single image or placing several images on canvases of various sizes. 
Contemporary pop art canvas often reflects society, and most works created at a given time share a common topic. Pop art may be created using famous and well-known pictures to provide a special present for Black Friday. 
The best materials and most recent technologies are used to create 3D picture prints. You will receive a gorgeous three-dimensional reproduction in a premium frame. This is the kind of joyous moment present that you might give on Black Friday. 
You may now print your favorite panoramic images that give the wall uniqueness for use as wall art and as a unique Black Friday gift for family and friends. 
The perfect present for Black Friday is a set of photo wall tiles, which are thin and stickable picture frames that let you adorn your walls without risking harm from nails. 
Decorate your house with a masterpiece of wall art that features your unique images. A variety of canvasses, posters, and framed prints they prefer. Giving them a personalized piece of wall art for Black Friday will wow them. 
These L-shaped frames with no rebates are canvas floating frames. They're made to exhibit your canvas with a slight gap, which is unusual, and portray the artwork in a way that makes it appear floating on the wall within the frame, making them a special gift for this Black Friday. 
Make personalized memory mazes at home by printing your favorite digital photos on canvas. For this Black Friday, canvas prints are the simplest and most popular method to turn your favorite images into enduring keepsakes. 
The simple and most popular approach to making enduring emotions is customising your image into a shaped canvas format with all the available shape prints. A shaped canvas print as a gift on Black Friday is overwhelming. 
Making and sending out beautiful Thanksgiving Day posters to friends and family on Black Friday is a wonderful way to spread holiday cheer. We feel joy creating our own Thanksgiving Day poster and presenting it. 
By displaying a lovely banner, you may express your thanks and honor the holiday spirit. The best way to communicate your feelings and ideas is to design a Thanksgiving banner for your events and festivities on Black Friday. 
Imagine the iconic antique bus or tram wheels traveling through the locations you have been to or are going to during your vacation! A retro present for the holiday of Black Friday. 
Are you looking for the ideal oil painting on canvas to give the walls in your living room or bedroom a remarkable makeover? The best digital oil painting that satisfies all of your aesthetic and taste standards is the perfect gift to offer on Black Friday, so you're on the right path. 
Decorate your wall with personalized quotes on canvas that inspire you and your family members. This a special and thoughtful way to offer Quotes on canvas during this holiday season of Black Friday. 
Allow the words to describe your sentiments with lyrics written on the canvas. Each image may represent a myriad of emotions and tell a different tale. Bring them out by using custom song lyrics printed on canvas. This would be a great gift for Black Friday. 
Your personal experiences captured on picture calendars may add color to your house or office. A personal touch for your workstation is always a good idea! For your workstation, create a calendar with a theme. Add images, sayings, and personalized inscriptions to this Black Friday gift to improve your day. 
Decorate your walls with a custom wall calendar that expresses your ideas and reminds you of the occasions and dates that are significant to you. Giving a wall calendar as a gift on Black Friday is easy and inexpensive. 
Every month is filled with events that leave us with good memories. Utilizing poster calendars, make sure these memories are remembered over the whole month. A fresh and original concept for your poster calendars is a custom poster design, which you can gift to your pals on Black Friday. 
Many people like designing their homes' walls but lack the skills to do it. You can give Black Friday gifts to your friends using Custom Double Layer Acrylic. It would be the most imaginative and distinctive method to create a wall covered in photos of your family. 
This transparent acrylic frame on the wall provides a perfect clear appearance. The fact that you can select the layers for both is a nice feature. It may be a single hue or perhaps a distortion in a reproduction of the front image. Giving this as a gift on Black Friday is a creative idea. 
Black Friday Day Gift Ideas for Table Décor 
Many employees have historically enjoyed Thanksgiving holiday as a holiday. Usually, the day is spent doing plenty of specialty shopping. It was a lovely Black Friday, one that everyone could enjoy. 
These lovely magical photo mugs are appropriate for any celebration or occasion. When a secret picture is exposed, make sure your family and friends are always with that mug. Use magic to delight them! for this Black Friday. 
Do you worry about water stains and other stains on furniture? You don't need to be anymore, though. You can avoid this in the most captivating way with personalized photo coasters. Giving our coworkers their sets of picture coasters on this Black Friday is distinct from the norm. 
Through the online design tool, you can quickly make mouse pads with as many images as you like. Your hands may directly feel the smoothness of your favorite memories. This Black Friday, create a mousepad for your use or to give as a present. 
The tabletop is instantly customized and crafted by hand in Vermont to your specifications. With top-notch expertise, your unique finish on your tabletop, and a gift to your colleagues this Black Friday. 
Giving a customized picture rock stone and personalizing it using a photo rock stone for this Black Friday is a unique idea that no one else has and is the ideal present for our loved ones. 
Want to surprise someone with a gift? In either case, we have you covered! Custom picture mugs are the new craze. The cool gift on Black Friday is personalized picture mugs! 
A cutting board, which is a kitchen necessity for women and a great way to show your wife or mother how much you care efficiently, would make the perfect present for this Black Friday. 
The typical cup handle is a half-circle, but a heart-shaped handle mug is unique, and giving your wife one of these mugs on Black Friday is a nice idea. 
The ideal moment to celebrate a holiday is with friends. Drinking a little bit makes us feel better quickly and giving your colleagues beer mugs on Black Friday may be a good idea. 
Giving this item as a present on Black Friday is an amazing start since it is made of glass and has a unique surface that is just a little bit opaque, bringing out the colors and intricacies of your designs. 
Giving children colorful or rainbow mugs this Black Friday makes them happy and reminds them of the fun. Mugs are usually the kids' first option for using them for nutritious beverages. 
The finest presents to give your kids or colleagues are always the funny ones. A present like a caricature picture stand will make your friend laugh loudly. Customized caricature picture stands are a unique and entertaining way to connect. Giving them this gift on Black Friday makes them chuckle since it shows your sense of humor. 
Get your images engraved on this exquisite 3D photo crystal cube to enhance their beauty and make a good present for any occasion, such as Black Friday. As you give your loved ones this amazing, unique 3D etched crystal cube, they'll remember you for your thoughtfulness. 
You've come to the right place if you've been seeking distinctive and good presents to wow your loved ones. On Black Friday, a customized 3-D picture lamp will light up! Since you may make it any way you want for the perfect individual, it's far from a pointless present. With this light bulb as a present, you may quickly cheer somebody up for whatever reason. 
The ultimate acrylic mobile stand present for this Black Friday is a durable acrylic panel that molds to the body of your phone, mounts it, and provides the phone with a fantastic appearance. 
Desk calendars featuring your adventures might liven up your home or place of business. An individual touch at your desk is always a good idea! A desk calendar with personalized inscriptions is the perfect Black Friday present to brighten your day. 
Select your preferred song or album or design a unique album cover that perfectly captures the occasion. Get creative and original; the cool thing about this Black Friday gift is your own Spotify love plaque. 
 Get to dedicate your favorite memories to a personalized moon lamp and celebrate even the small events of life with a moon in your hands. You can create a gorgeous night lamp with the moon lamp for any room, desk, or shelf! By gifting it to your beloved on this Black Friday holiday. 
A unique heart-shaped moon lamp is the best way to declare your love. With this adorable yet enchanting nightlight, you can easily distinguish it. It will make the recipient happy as well as you. It is a fantastic holiday present for your family. 
To give the photograph a finishing touch, the canvas tabletop is up to date with current fashions. Giving a canvas tabletop to your loved ones on Black Friday will give their home a high-end, distinctive appeal. 
In search of acrylic table tops nearby? This Black Friday, you may give your family or friends the most unique, personalized, and handcrafted acrylic tabletop items. 
Giving your buddies a metallic tabletop for Black Friday is a special way to refresh their dining room decor while giving them the most durable item they can get. 
Black Friday Photo Gift Ideas  
The countdown to the holidays has begun, with Black Friday just around the corner. Here's your opportunity to choose personalized presents and avail yourself of unbeatable discounts on certain exceptional items. 
Turn your favorite photos or your best memories into beautiful small photo magnets to stick on your fridge and cupboards. Get your memories of your loved ones printed on the fridge magnets customized according to your size and shape.  
This small, adorable jewelry would be the best gift to remind your loved ones of you. Get your photos printed on the ornaments and gift them so they can wear and remember you. Customize the ornaments to fit the size and shape that you want.  
Customize your tote bag with your photos or any memories that you want to get printed on your bag. Easy to carry, highly versatile, and the best gift you can give your loved ones any time. Get your spacious and comfy bags and carry anything you want.  
Grab the latest and trending photo books with photos of your loved ones and the best memories printed in a beautiful book. These customized, perfectly bound, and beautiful photo books are printed versions of your online photo galleries. 
Get your personalized diary to give to your family and friends designed to preserve life's moments through writing and images. These quality custom diaries have your photos printed along with quotes and words to remind you of the moments and pen down your feelings. 
Get your best-captured memories printed and gift your family and friends with photo prints to cherish and remind them of the beautiful memories and bonds you share. The photos are beautifully framed and customized according to your needs, size and shape. 
Rubik's cubes can be boring but make it interesting by printing photos on the surface and puzzling your loved ones. Get a fully customized Rubik's cube with photos printed on it and gift these beautiful and adorable Rubik's cubes.  
Select a photo, may it be any personal memory or funny image you want to be printed on the socks. You can get personalized, quality-assured, small, and cute photo socks to gift to your family and friends.  
Make the deck of playing cards more fun and interesting by printing images on the back of the playing cards. These playing cards can be customized with images or texts.  
Enhance the decor by buying these beautiful and aesthetic light switch panels that decorate your walls beautifully. These would be the next exciting gift; you can customize them online and gift them to your friends and family.  
Puzzle your gifts more and make them intrigue with the latest trending photo puzzle. These customizable small photo puzzles convert your photos to puzzles and can be the best gift for your loved ones to solve.  
Regular aprons can be boring. Gift your friends these customized aprons with their names, tag lines, or quotes printed on them. These aprons can be customized according to your required size and colors.  
These trending tabletops are the best gifts for your family or business friends. These are customizable and are available in both plastic and wooden shapes. You can customize them with logos or brands that signify your business.  
Make the regular pillows fun by going for sequin magic pillows. Customize the pillows with any photos or memories you want to print. They are extremely durable and soft, as well as comfortable to hold.  
Gift your travel-loving friend or family member these beautiful and cute luggage tags to distinguish their luggage from others. These cute luggage tags can be customized according to your requirements and are available in all sizes and shapes.  
Gift these affordable and best-quality yoga mats to your fitness freak friend. You can customize the yoga mat with any tagline or quote. These mats are eco-friendly, have perfect cushioning, and are textured.  
These custom aprons can be the next best gift for gifting your chef friends. Print any image or tag lines, customize them as you want, and give them to your friends. These aprons are made of quality materials and can be customized the way you want.  
Regular umbrellas can be boring. But you can add a twist by printing your favorite picture on the umbrella and gifting them to your family or friends. These umbrellas are portable, weather-friendly, and customized according to the size you need.  
Photo bookmarks can be the best suite gift for your nerd friend. Gift a custom-made bookmark with funny quotes or taglines for your friends and gift them. These bookmarks are available in different sizes and printed on glossy paper. 
Power banks can be the best gift for your technology freak friend. These portable, in-built batteries are lightweight and are easy to carry. You can also further personalize them by using any photos or logos.  
A cool custom flash drive with customized text or pictures can be your next gift idea. You can customize them with your logo or brand name and make them your next corporate gift.  
Print any photos or text in different colors or styles and gift them to your loved ones. These photo stones come with detachable stands and are made up of stone. The prints are scratch-proof and water, acid, and alcohol-proof. 
 


Best Black Friday Gift Ideas for Family  
Looking to surprise your family when visiting them during the holiday season? Well choose the best gifts and save more with our Black Friday deals for your family.  
Family prints make a beautiful addition to any home. Get our beautiful and unique hand-drawn portrait created from your photos. Personalize the print with names or quotes on this beautiful print. Perfect Black Friday gift for your loved ones. 
This Hexagon canvas is a unique way to display your favorite family pictures. Send us your favorite photos to create a customized hexagon canvas. The perfect black Friday gift for the home.  
These ceramic personalized tiles add beauty to your home. It can be placed in your bed or living room, creating a pleasant aura in your living space. Personalize this ceramic tile by sending us your desired image to make a unique gift for your loved ones this Black Friday. 
This unique three-dimensional, high-quality, high-quality texture and customizable canvas print make a perfect gift on this Black Friday occasion! This art print is ready to hang and adds beauty to your wall decor. Personalized canvas prints can be delivered to your doorstep, making shopping easier.  
No home is complete without an eye-catching family photo frame adorning the walls. The Black Friday sale is the best time to start decorating your home in a festive holiday spirit. Personalized canvas prints are a perfect way to add beauty to your living space. 
Turn your favorite photos into beautiful pieces of art and add it to your home gallery. Personalized canvas print with name or quote that makes a unique gift for your loved one on Black Friday. 
Add some softness to your living space with this custom-made photo pillow. It can be personalized with names, quotes, and the best gift for your loved ones on Black Friday. 
This personalized family tree collage can be the best family gift idea. Customize the family photo by adding your family name or signing it. This unique and impressive wall decor can be the best gift for your family on Black Friday. 
Looking for some mind games to play on the holiday of Black Friday? Then this unique puzzle game printed with the photo of your choice can make a perfect family game night. Personalize it by adding a family name or message, which can be the best family gift idea.   
Beat this cold with the warm cozy custom photo blanket this Black Friday. A personalized blanket with premium material and a high-quality image print of your favorite family picture can best be a family gift idea on this occasion. 
Give a personalized made=to-order mug to your family by buying it through the Black Friday sale. Customize the photo mug with a text to celebrate a special occasion! This can be a perfect gift idea for your family. 
Gift a family photo album to your loved ones so they can collect all their favorite family memories in one place. Black Friday is the best time to purchase a customised photo item as it is available on sale. 
Create a beautiful customized wooden fridge magnet with the family names carved on it. No matter the size of the family, the shape of the family will be adjustable. Black Friday can be the best time to purchase this as a gift for your loved ones. 
Photos are the perfect way to add beauty to any home. Give your loved ones a double-layer acrylic frame to display unforgettable family memories on their wall. It comes with a durable stand, making it easy to display on the table or in the showcase. 
The end of the year is the best time to buy a calendar for someone. However, giving a customizable calendar available on sale this Black Friday can be a unique gift for your loved ones. You can customize it by adding birthday and special occasion reminders of your special one. 
Black Friday Day Offers
Below are the most exciting Black Friday gift offers we bring for you.  
BOSSBOGO - Buy one get one free

 

B2G1 - Buy two get one free

 

B6G3 - Buy six get three free

 

B9G4 - Buy nine get four free
Black Friday Gift Certificate
Not sure what to buy? Shop for a gift certificate from CanvasChamp and let your loved ones choose something they like the most. Check out our Black Friday gift certificate customization options and get going.  
FAQs on Black Friday Day 
Black Friday is the alternative to savings – yes, you get to save more as several brands each year plan this one of the year's biggest sales.  
Are Black Friday deals better than Christmas sales?

 
Why wait until you can shop now and save more money with Black Friday deals? And whatever you don't get, you can reschedule for the Christmas sale.  
Are there better deals after Black Friday?

 
Once you are done shopping and making the most of Black Friday deals, it is time to explore hot Christmas savings. 
Does Canada have Black Friday?

 
It started with the USA, and Black Friday has become one of Canada's most loved occasions for ultra-savings.  
What are the best sites for Black Friday sales?

 
If you want to buy custom home décor and Christmas gift items, it's time to visit CanvasChamp, where you can easily customize anything and everything online.  
What do you know about Black Friday sales?

 
Black Friday is a chance to save more and buy everything at the lowest price, be it home décor, gift software, tools, cars, or electronics.  
Where do you find your best Black Friday deals for 2022?

 
If you want to save more on Black Friday home décor shopping, visit CanvasChamp, where you get up to 90% off. 
What are the best Black Friday practices for your online store?

 
If you are a seller, try buying bulk items for these mega sales. It will help you save more and, at the same time, offer maximum discounts to your customers. 
How long are the Best Buy Black Friday deals good for?

 
The stock ends very fast during the Black Friday sale, so hurry up and don't wait for too long to choose the best buy Black Friday deals.  
Is Black Friday the best day to shop?

 
After Thanksgiving, Black Friday is the best day to shop for your preferred items.  
Will CanvasChamp Offer Black Friday deals online this year? Yes, CanvasChamp is all set to launch the amazing Black Friday deal and bring 300+ product options.  
At what time should Black Friday sales start?

 
If you are waiting for the Black Friday sale to start and want to know the time – it's just a minute past midnight on a Friday Morning.  
What are the things to look out for in the Black Friday sale 2022?

 
If you want to change the look of your home, get started by choosing custom canvas prints and metal prints, cute photo pillows and more available for the Black Friday sale.  
Which country has Black Friday sales?

 
Canada has the trend of launching Black Friday sales, so we bring you our best buys for Black Friday.