Set up your best photographs for 3D Printing
Let your 3D photo pictures look exceptional for you. And for that, you have first to pick a sizeable 2D photo of yours! Some images look better with 3D effects. Here are a few tips to choose the right picture to bring out a fantastic 3D result.
Mark Those Images That Have Vertical Orientation

Watch Out For Pictures With Depth

Look For Genuine Forefront Lighting
If you want to discuss something about a particular photo, remember that our specialists are standing by to help!
Personalised 3D Pictures
Now you can create a fabulous custom 3D picture from any photo! These fancy 3D personalized picture frames are beautiful and hold out for fifty years or even more. Our 3D printing process presents you a fresh 3D image that appears as if floating in a contemporary black frame.
Gifts

Special Occasions

Just for Fun!
Personalized 3D pictures are a good choice as gifts too for any occasion. How about a 3D gift for the person who means special to you? Customized 3D picture frames make a notable furniture piece to any room or a great decoration for any office. Use our 3D photo picture design tool to create your 3D photos today!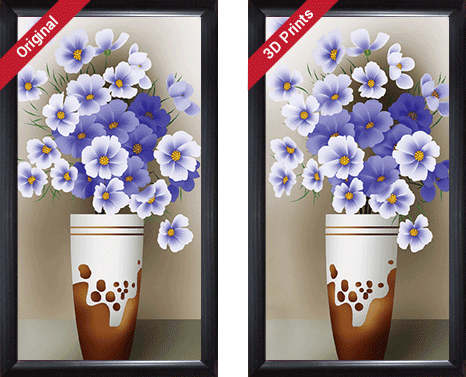 3D Picture Frames Make Your Photos Appear to Alive
Imagine how amazing your photos would look in a smooth, high-tech frame with a mind-blowing effect of 3D! Your pic will seem as if it is floating in the 3D space- what a fantastic way to cherish special moments. Thick, durable frames with customizable sizes up to 24x24-inch would look great in any room. 3D picture frames are truly fresh expressions for your memories.
Features That Magnify 3D Prints
A certain peculiarities make 3D photos the best choice. Here they are
Custom 3D Photo Printing – Now Also Available For Your Home Decor
New methods in print technology have made 3D prints very affordable for any home across the corners of the world. Lentiform printing on high-quality 3D PET sheets with a sleek black frame makes your photo look stunning in jaw-dropping 3D. We also provide edge band protection which makes your images durable and lovely. 3D frames are guaranteed to last as long as 50 years! They are launderable and water-resistant.
It Is 3D! 75-80° Visual Angle
When you see your photos framed in a beautiful 24-inch 3D frame, you won't believe yourself how wonderful it looks! Most 3D photo frames feature a 75-80° visual angle. You will be astonished to see how your image reflects its 3D look. Your photos will seem moving! Convert any of your favourite pictures into a hypnotic image that your visitors won't forget.
Your Favourite Photos Come To Life In Stunning 3D
Come take any photo from standard to spectacular with 3D printing! Your photos will have a new life with an extraordinary 3D finish fixed in a modern black frame. 3D photo frames add a charming decor touch to any room of your home or office. So if you ever felt like your photos on the walls are fading into the woodwork, try 3D images in black frames!
3D Printing From Any Picture
You'll question one thing upon seeing the phenomenal sparkle of a 3D image- Which photo should I choose for this lustrous 3D look??? The excellent news upon it is that 3D printing is very affordable which means you can have an array of 3D photos in your home or office! And at an economical price too! What picture wouldn't look better, more alluring, floating in a beautiful black frame in three dimensions effect? Any image would make a lovely 3D print!
Digital 3D Printing Grabs New Attention To Old Photos
No need for those old photo albums anymore. Select the few best ones you like from them and make them into stunning 3D images! It's like your photo will get a new life with digital 3D printing! The mesmeric power of the pictures will surely attract the attention of guests. And the black frame on it is straightforward to maintain and manage. These water-resistant frames stay classic for more than 50 years!
Personalized 3D Photos Make Incredible Gifts
What makes a genuine gift great? Customized? Life-long? Unusual? Personalized 3D photos are all those things. Lovely black frames upon these photos make it supremely ideal for occasions or gifts for relatives. With our reliable and spectacular 3D printing process, gift your friends and family a 3D photo prints that they will enjoy for years to come. Make your next gift a great 3D photo frame!
Love Our 3d Photo Prints?
Need inspiration or innovation? Check out these great 3D photo ideas from our customers!