60+ Best Gift Ideas for Thanksgiving Day Guide for Canada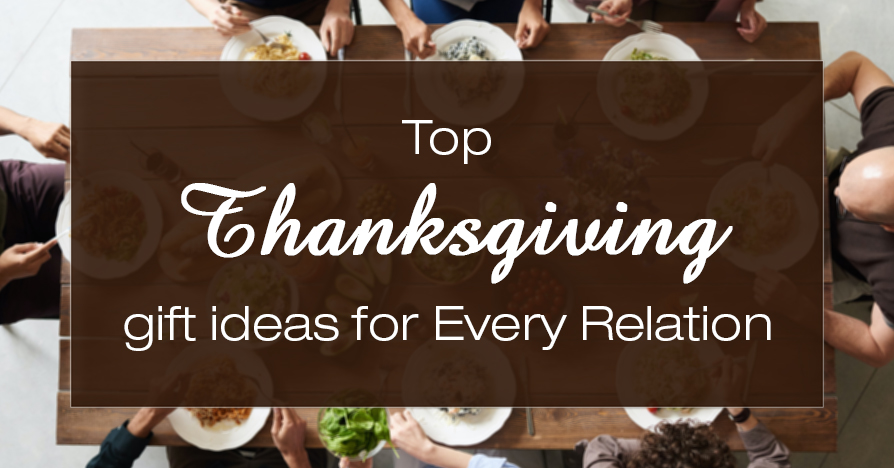 Thanksgiving Day is almost knocking at the doors, and its high time you get out of bed and start making the list of the gifts to be bought. 
It is, and that's where the confusion kicks in. There are so many people you must give the gift to and such versatile options that finding the right Thanksgiving Day gift sounds almost impossible. Besides, getting the wrong gift can put you in an embarrassing situation, especially in front of your neighbor or colleague.  
So, to solve your dilemma, we have listed the best Thanksgiving gift ideas to help you decide what you want to give to your loved ones and close ones on this auspicious day.  
So, to make your decision-making process easier, we bring you a list of 60+ thanksgiving gifts which are divided into the following categories: 
Thanksgiving Day Gift Ideas for Room Decor 

 

Thanksgiving Day Gift Ideas for Wall Decor 

 

Thanksgiving Day Gift Ideas for Table Decor 

 

Cute Photo Thanksgiving Gift Ideas      

 

Best Thanksgiving Gifts for Family 

 

Thanksgiving Gift Ideas for Employees 

 

Thanksgiving Gifts Ideas for Boyfriend or Girlfriend 

 

Thanksgiving Gifts Ideas for Teacher 

 

Thanksgiving Day Devotions and Activities 

 

Interesting facts about Thanksgiving Day
Let us Get Started!
1. Thanksgiving Day Gift Ideas for Room Decor
Above everything else, you need to get some gifts for yourself, and nothing can be as good as the room décor items. So, let's explore some of the best items you can buy for decorating the rooms and making the place and ambiance ideal for Thanksgiving. 
The photo blanket is one of the best gifts you can have for yourself as a room décor item. You can choose any photo of yourself or your loved ones as a single picture or make a collage and have the same printed on the blanket. 
The beauty and elegance of the woven blanket are something you can never compare with something else. So, it's time you get this new blanket for yourself or your family member this Thanksgiving Day and enjoy the cozy winter that will soon come knocking at your door. 
A fleece blanket is so soft and comforting that you can easily fall into a deep slumber once you wrap yourself in its warmth. So, instead of worrying so much about the Thanksgiving gift, get this gift for yourself and start enjoying the coziness it offers.  
Coming directly from the hands of the sherpas, the fleece blanket is the epitome of softness, comfort, and coziness. You can get multiple fleece blankets from the sherpas for each room in your house and living room or lounge.  
The pillow covers are one of the best things for decorating your home for this Thanksgiving party. You can go for the solid ones with vibrant or neutral shades or printed covers that match the interior décor perfectly.  
If you want to do something special this year, forget about the regular pillows. Order a photo pillow with a picture of you or your loved one for the living room or bedroom. 
It would be amazing to have a pet-shaped pillow in the living room or bedroom with which you can cuddle and bask in its comfort. You can get a pillow in dog shape, cat shape, and even your favorite cartoon pet.  
The sequin pillows are lovely as the surface is covered with beautiful and decorative sequins that immediately add glam and vibrancy to the interiors. Ensure the sequin size and color go with your interior décor before purchasing one.  
Last, you can have the throw pillow for home décor this Thanksgiving Day. However, for this, you need to ensure the pillow is light and soft so that you can throw it and enjoy the celebration with your loved ones. 
2. Thanksgiving Day Gift Ideas for Wall Decor
How bad will it look if the walls in the living room or the bedroom do not have anything or is a space? It will look worse, and that's why we have come up with the best wall décor gifts you can give to your loved ones or have for yourself on the most auspicious day of Thanksgiving.  
Nothing can be as good as the photo frames for wall décor. You can have a series of options in hand, from a large landscape or portrait frame to a collection of five, six, or more frames with which you can easily create a gallery. 
If you want to level up the wall décor, you can have a beautiful photo mosaic. It will be formed from multiple pictures to create a complete portrait or landscape. So, it will look amazing on a large blank wall. 
You can easily have wall decals to make the walls look unique and visually appealing. These are beautifully shaped 3D art that you can paste on the wall and fill a blank canvas with something unique other than simple photo frames or wall art. 
We all know photo frames are best to preserve memories and portray your beautiful relationship with others. But these wall arts are in the form of wooden blocks in different shapes on which different pictures will be engraved permanently. 
Canvas is amazing when it comes to decorating walls. But having a framed canvas means you can easily take up the decoration by several notches and add a touch of uniqueness to the entire décor. 
Instead of simply creating a Galleria with multiple photos, you can hang a huge picture on the wall and move from combining multiple images in a collage form, with similar or varied sizes of each photo. 
Another great idea for wall decor this Thanksgiving is to hang a beautiful clock showing the time and delineating your taste in art and interior décor. You can even personalize the clock with a beautiful picture as the background. 
Nothing can be as good as having a metal print if you want something more permanent and glamorous for your walls. The picture will be printed or etched with laser on a metal sheet that you can hang on the wall and fill up the space. 
Another amazing way to decorate the walls is by hanging acrylic prints of different sizes together to create a scenario or tell a story you love the most. You can go for pictures of you with your loved ones or landscape photos. 
How amazing would it be to have a huge canvas printed on the wall? It would be amazing, but you can level up the beauty by splitting the picture into three or more parts and having a separate canvas board for each picture part to create a detached collage. 
If you love pop music from the core of your heart, having canvas art based on this form of music will be amazing for your home décor, especially the walls in your bedroom, study room, or living room. 
You can also have a wonderful 3D photo print of your choice and hang it on the wall in the living room, lounge, or bedroom. Ensure the proper size because the 3D frames usually look larger than the original size. 
If you want a large wall décor but not something like split canvas or particle photo frames, the best option will be to get a panoramic canvas spread. As the name suggests, it will be rectangular, with more length than width. 
Small but cute- this is the exact definition of the photo wall tiles you can have for Thanksgiving. You can have them made of ceramic, metal sheets, or canvas, according to your choice. 
Personalize the wall art with something of your own, like a favorite picture, any beautiful landscape photo you took from your vacation, or anything else, and hang the same on the wall to make your house look more inviting and charming. 
The canvas floater frame will look outstanding on the wall, giving an optical illusion of the frame floating in the air with no support. You can even personalize it with a picture dear to your heart and easily take the wall décor to the next level. 
Canvas is a type of wall art wear the paper or fabric is stretched and glued behind the frame to give a borderless and seamless look. You can have the canvas print of any picture you like the most to decorate the wall and make it visually appealing for every onlooker. 
Although canvas prints are available in a square shape, you can customize the shapes so that the décor item fits the wall and the rest of the interior décor style. The three most popular shapes you can get are round hexagons and an Oval shaped canvas print. 
You cannot celebrate Thanksgiving without the famous Thanksgiving Day poster. Get a unique design and stick it on the wall as a remembrance and a welcoming podium for your guests. 
Another amazing gift you can have for Thanksgiving is a beautiful banner you can mount on the wall right behind the central area of the party. 
Another outstanding idea is to have an oil painting, digital painting to be exact, and mounted on the large wall to create a contrast between the beautiful colors of the painting and the background shade. 
Another amazing thing you can do is have a canvas printed with some beautiful quotes from a popular person or from you. You can design the quote in different fund styles, colors, sizes, and alignments. 
If you love a certain song, specifically a particular stanza, have that printed on the canvas and hang the entire frame in the living room to show how the lyrics resonate with your life or character. 
You can also get a beautiful calendar with photos on each page and keep it on the desk or bedside table. You can even paste the calendar on the wall so that everyone can check the dates along with the beautiful picture. 
Go simple with a beautiful wall calendar with the month and days written fancy and the numbers or dates printed in blocks or any other way. 
Another amazing thing you can have been the poster calendar that will immediately attract the attention of onlookers once you hang it on the wall in your living room or lounge. 
To make the details more prominent and display all the curves and lines of any picture, you can get the double-layered acrylic frame personalized according to your convenience for Thanksgiving. 
Get a transparent acrylic frame to ensure the borders or edges of the picture won't get marked by something else. Besides, you don't have to resize the photo to ensure the frame doesn't block the view. 
3. Thanksgiving Day Gift Ideas for Table Decor
We have explained some of the best gift ideas for table decor. From colleagues to the gamer or nerdy cousin, choosing the best Thanksgiving ideas is challenging. Not only do you have to worry about their hobbies and passion, but you also need to consider their style.  
The magic photo mug sounds the best for your cousins or siblings younger than you. It will slowly reveal the picture you personalized it with as a warm drink is poured into the cup. 
Another amazing gift that you can give is a photo coaster. As the name suggests, it will be a wooden or ceramic coaster with a photo-etched surface. You can choose any picture, either of someone you love or beautiful scenery. 
If the person is a gamer or spends a lot of time on the computer, you can give them a customized mouse pad. It can have any shape according to your toys, with a text or picture printed on its surface. 
This gift idea might sound extravagant, but it is indeed quite appealing, especially if the person you consider is someone you love the most, like your aunties, parents, grandparents, and so on. Just customize the tabletop to fit their interior décor and have a design that can stand out in the crowd. 
As the name suggests, it is a simple stone with a photo paste on its surface. The stone will be available in a more refined and polished form. The rustic and natural beauty will make the picture more daring and closer to the heart. 
You can also give a photo mug where you can choose the picture or text to be printed on the surface. Since it's a ceramic mug, the background can be white, black, or any other color. 
For someone who is a great chef and has always made some amazing dishes for you, a chopping board sounds like an amazing gift, especially on Thanksgiving when everyone loves to taste delicacies prepared by others. 
This mug features a heart-shaped handle and is ideal for fiancées, partners, and anyone closest to your heart. You can even personalize the mug with your choice of picture or text. 
If the person you are talking about loves to drink beer, get this beer mug for Thanksgiving. Besides, no other occasion will be as active as Thanksgiving for drinking chilled beer before winter falls. 
The frosted mug is a unique gift where the surface is lightly cracked to give the frost effect. It is made from glass and can be used in any size, from a small tea mug to a large coffee mug. 
True to its name, this mug is colorful and comes in a wide range of vibrant and bright colors. Giving this to someone you love will help them to add more brilliance to the kitchen island or the cutlery table. 
Thanksgiving is a fun festival, and so is this beautiful gift of a caricature photo stand. It can either have a caricature of you or any other person for whom you want to get this gift. 
This three-dimensional crystal cube will glow once you connect it to the power source. A white LED will illuminate the pictures pasted on all six cube surfaces according to your choices. 
From the name itself, you can understand that this table lamp will have a 3D photo printed on its shade. Once the light is switched on, the image will be illuminated, and a shadow will be cast on the surrounding walls, setting the perfect mood for Thanksgiving. 
A transparent or colorful acrylic mobile stand sound like the best tabletop gift for someone who tends to drop the phone. It can be your mom, clumsy sibling, or office colleague. 
Another outstanding gift idea is the text calendar. It can have different styles and fonts according to your choice, along with a small picture printed on one side of each page. On the other hand, there will be dates according to the weeks of each month. 
This is one of the best gifts you can give your loved ones. It will be based on a Spotify podcast that the person loves to hear every time. It's a kind of plaque where the logo of the podcast or some lyrics will be printed. 
As the name suggests, this moon lamp can be customized according to your choice, like adding a picture on its surface or writing beautiful text. Once the lamp is on, the pictures or the text's silhouette will be seen on the surrounding walls. 
This is also an amazing lamp shaped in the form of a heart. It has a white LED inside that will give artificial moonlight and set the perfect relaxing ambiance in the bedroom or the lounge. 
Transform the tabletop into a canvas of colors, brush strokes, and beautiful figures according to a scenery, portrait, or anything else, and give it to someone you love the most or someone having sheer love with art. 
As the tabletop is made from acrylic, it is transparent and can last long; you can give this to anyone without worrying about the tabletop's cracking or deforming. 
Just like an acrylic tabletop, you can also get a metallic tabletop that will suit a dining table or any other table with a metallic body construction. It will be nice to have a metallic tabletop because it's unique and unheard of. 
4. Cute Photo Thanksgiving Gift Ideas for Friends or Neighbors
If you are looking for the best Thanksgiving gifts for your neighbors or friends, follow this guide to find the perfect option. We have listed gifts covering the preferred choices of people. Therefore, you will only have to look elsewhere to know what you can give to your friend or neighbor. 
The first and foremost gift option for your neighbor or friend will be the fridge photo magnets. They can stick notes, pictures, papers, and other things on the fridge's body. 
The photo ornament is a great gift, whether a heart-shaped pendant or a lucky charm bracelet. You can easily win a person's heart with this personalized Thanksgiving gift.  
Another amazing option you have for giving your friend or neighbor a blasting surprise is through a tote bag. It comes in different forms and sizes, so you can choose the perfect one that will meet the needs of the person you want to give this gift to. 
As the name suggests, it is an incredible gift you can give on Thanksgiving to your friend or neighbor. It is a classic book with pictures pasted inside, like a photo album or collection of photos on every page. 
Get the cover of the personalized diary to play your favorite picture or that of the person on the receiving end and make this a memorable Thanksgiving gift to someone you love the most. 
Another great option for a gift that you have is a photo print. Upload the pictures on the website, and you will get printed copies of different sizes, layouts, and filters. 
From the name itself, you can understand that it is a Rubik's cube with all six faces customized with different pictures. Solving the puzzle and restoring the pictures in their original form will be quite fun. 
You can also give socks with printed photos, just like stickers. These photos will be permanent and won't get washed away after cleaning the socks. 
Playing cards for poker or blackjack will be an amazing gift, especially when you get them personalized according to the choice and taste of the person on the receiving end. 
Although giving someone the light switch panels may sound weird, it is a very thoughtful gift because you can customize it in terms of color, shape, sockets for the switches and the outlets, and so on. You can also add a personal touch by engraving a message on the panel surface. 
A photo puzzle is also an amazing gift option for your friend or neighbor. Once they arrange all the pieces, a photo of what you had chosen the first time while ordering the gift will be revealed. It will be like a jigsaw puzzle. 
This Thanksgiving Day honors the chef in your life who always loves to cook for others and experiment with new dishes with this beautiful custom apron. You can customize its size, color, fabric choice, and even the print or design on the front surface of the apron. 
Getting a tabletop designed beautifully just like a person once will be an amazing option, especially when considering Thanksgiving gifts for friends and neighbors. 
The secret magic pillow will also look amazing, especially owing to the bright-colored sequence arranged differently to form the pillow cover. You can personalize it by ensuring the sequence is set to reveal a picture or a portrait. 
Another amazing gift idea is to give luggage tax to someone who loves to travel now and then. The tags will keep the luggage safe at airports and ensure your friend or neighbor doesn't have lost belongings. 
Customize this yoga mat with a beautiful picture or design and give it to your friend or neighbor who loves exercising, especially yoga. 
You can also give an umbrella with photos printed as patched embroidery work on the umbrella's canvas. Only when the person opens the umbrella will he receive an exciting surprise from your end. 
You can also design a beautiful bookmark by personalizing it and ensuring the picture or photo added can make Thanksgiving more special for the person concerned. 
If your friend travels a lot, you can give them this beautiful power bank so that he can charge the mobile on the go and remain available instead of going off the grid due to zero charge. 
Customize this flash drive with a cute and beautiful picture so that the person on the receiving end can never forget how special he is in your life just by looking at the picture. 
5. Best Thanksgiving Gifts for Families
When finding the best gift for your family on Thanksgiving, your mind can be in a big puzzle. Therefore, to help you out of this situation, we have listed some of the best Thanksgiving gifts you can have for your family. 
The first and foremost is a beautiful canvas print with the family picture. It can be hung on the wall or kept as a photo stand on the side end table or the console table. 
Family Hexagon Canvas Prints

 
Get a hexagon-shaped canvas with a beautiful family print that can be you with your partner, in-laws, parents, pet, children, cousins, siblings, and so on. 
To make this Thanksgiving more special for your family, have these wonderful tiles made from ceramic or stone with pictures imprinted on the surface. 
Family Hanging Canvas Prints

 
Whether you want to use it as a wall décor or a souvenir, getting this canvas print with a hanging mount will be amazing for this coming Thanksgiving. You can choose any picture you want to get printed on the canvas. 
Keep a beautiful photo frame with your family on the desk or the central table in the living room, and let others know how beautiful the bond you share with your family is. 
You can also get this beautiful family wall display with the photo printed on its top. This will help you give up a lasting surprise to your loved ones on Thanksgiving. 
If you want something more exciting, get this beautiful pillow with the family picture printed on its surface. You can use it in the living room as the couch pillow or the throw pillow, according to your convenience. 
Make a collage with your family to make Thanksgiving more special for your loved ones. You can pick almost any image and choose the landscape or portrait orientation for printing the picture. 
From the name itself, you can note that this is a beautiful puzzle with the family picture printed at its top. Once the puzzle pieces are put together, you can see the entire photo and take inspiration from the same. 
Get a large blanket for the coming winter and have a photo printed on its surface. It would be quite amazing to sleep with your loved ones under this blanket which is also a reminder of being a part of such a beautiful family. 
Get a beautiful mug made from ceramic and give it to your parents or siblings. You can personalize it with a picture of your choice. In addition to this, you can also add a beautiful message.  
Create a wonderful photo album that will help you to surprise your loved one on Thanksgiving. This way, you can easily see the beautiful smile on their face.  
Get the fridge magnets customized with mini-sized photos of your family that will look the best when stuck on the door. You can also dedicate each magnet to every family member and create a beautiful gallery.  
Family Double Layer Acrylic Frame

 
Made with double-layered acrylic, this beautiful photo frame can be customized with a photo of your choice. You can keep it on the tabletop, center tea table, bedside table, or even hang it from the wall.  
Another outstanding thing to choose for this Thanksgiving is a wall or desk calendar having a picture on each page of the desk calendar or one on the entire page in the case of a wall calendar.  
6. Thanksgiving Day Gift Ideas for Coworkers or Employees
One of the most important sections of gifts that you need to have been for coworkers or employees. You are highly wrong if you think you think you think you think you think you think you think you think you get them the Best Thanksgiving Day gift is easy. Not only do you have to worry about their usual choices, but also you need to keep up your office ambiance. So, without further ado, let's look at some of the best gifts you can give. 
Ornaments made from wood will be amazing as you can easily surprise your colleagues or coworkers. From a wooden earring set to a beautiful pendant, there is much to choose from for Thanksgiving.  
Another fantastic option for Thanksgiving Day gifts for your coworkers or employees will be the metal ornaments. You can find earrings, pendants, necklaces, bracelets, and many other options in this gift niche. To take it one level up, you can also customize the ornaments. 
You can also give acrylic ornaments that can be transparent or of bright colors like red, green, and so on. These are lightweight and ideal for regularly wearing, especially for any outdoor activity. 
Nothing can be as good as a coffee mug, so giving this to your employees or coworkers sounds great. You can go for a ceramic mug with a personalized picture or company logo on the surface or a metallic mug that will last a long time. 
Give a pair of socks to your employees or coworkers with photos or the company logo printed on its surface like small embroidery patches. It will be a great way to remember some of the happy moments you all spent in the office. 
Since everyone has a habit of drinking coffee or tea in the office, the best option will be to give customized coasters of different shapes and sizes. This way, the tabletop will remain clean, and it will also be a perfect gift on this Thanksgiving Day. 
Get this beautiful diary with the photo printed on the top or used as a watermark on every diary page. Since we are talking about Thanksgiving gifts for colleagues or employees, the photo diary seems ideal. 
You can also give them a beautiful tabletop of different sizes and customize it using a beautiful picture or company logo. It will be an amazing gift on Thanksgiving since they can use it at the office or in their house. 
7. Thanksgiving Gift Ideas for a Girlfriend or Boyfriend
When giving gifts for Thanksgiving to your girlfriend or boyfriend, you always face a dilemma. That's why we have listed some of the best items you can use as a gift for your partner and surprise them on this special day. 
One of the best things you can give for Thanksgiving is a flip-flop customized according to your partner's taste. It will be quite amazing, especially when they wear it every time, inside or outside the house. 
Pillow covers will be an amazing choice for a Thanksgiving Day gift for a girlfriend or boyfriend, especially if the person loves interior decoration. You can either go for a simple pillow cover or a personalized design. 
The Thanksgiving Day bag is also a fantastic option for giving a beautiful gift to your partner. It can have a picture on the surface etched with laser or a beautiful text that will remind you of the person you love the most. 
Get the most endearing photos printed and have them hang on the wall or make a Garland of the same and use it to decorate the bedroom for this Thanksgiving. 
You can also gift customized ornaments with the design you think your partner will value and cherish the most. There are multiple options in this domain, from earrings to necklaces. 
This beautiful heart-shaped mug will make your partner ecstatic and joyous when you give it to them on Thanksgiving. You can choose a combination of white and red or black and red color combination because it sounds quite appealing and apt for the person you are giving the gift to. 
You can also go for the photo socks, where beautiful small photos will be printed all over the socks. Winter is around the corner, so it will be a great gift for your loved one. 
Another outstanding idea is to get a beer mug for your partner. It is usually made from glass, but you can etch any design on its surface to make it extra special. 
This beautiful custom mouse pad is an outstanding gift for your girlfriend or boyfriend. If the person is a gamer or works on the computer for a long time, it will help them to focus on their work while remembering you. 
One of the most outstanding gift options is to give them a photo diary with pictures on the top of the first page representing the want you share with your partner. 
8. Thanksgiving Gift Ideas for Teachers
No other gift will be as amazing as the following ones for your teacher. So, without delay, let's find out what options you have. 
This beautiful golden-colored mug will be an amazing option for your teacher, especially if you personalize it with a text or picture for Thanksgiving. 
If your teacher loves to drink tea often, you can give this beautiful tea mug to them without any hassle. It is quite elegant and a thoughtful gift for Thanksgiving. 
From the name itself, you can understand this is a beautiful silver mug that you can present to your loved one. Silver is the epitome of peace and elegance, and the mug is perfect for your teacher. 
Thanksgiving Quotes on a Canvas

 
Get a canvas printed with thoughtful Thanksgiving quotes from your mind or sayings of great people that your teacher respects a lot. 
Thanksgiving Gift Set or Bundle to Get
There are many things to choose from, from discounts to wonderful gift options. You will get some of the best offers on a Thanksgiving gift bundle or set. Here are the best four discounts that you can avail yourself of.  
BOSSBOGO: With this, you will get one item free on purchasing one. 

 

B2G1: Once you buy two gifts listed under this discount code, you will get one free.

 

B6G3: Here, you can buy six items listed under this discount code, and you will get three items of the same type for free.

 

B9G4: For gifts, you want to buy in bulk, use this code, and you will get an extra four items for free on purchasing nine. 

 
Thanksgiving Gift Certificate
You can also get a gift certificate on Thanksgiving from Canvas Champ. Just ensure to put all the details correctly, as that will be printed on the certificate. 
Thanksgiving Day Devotions and Activities
You can do a lot of activities on Thanksgiving, like: 
You can cook delicious turkey and other mouth-watering dishes. 

 

Cook some outstanding desserts, cookies, brownies, and pastries for yourself and your guests.

 

Arrange a throw pillow game or something like that to spend the time with maximum fun. 

 
Interesting Facts About Thanksgiving Day
Although people eat Turkey during Thanksgiving, according to historians, there is no record of eating this item on this auspicious day.

 

The first Thanksgiving Day parade was held at the Central Park Zoo.

 

Macy's Thanksgiving Day Parade has witnessed Snoopy as a consistent performer. 

 

The mother of Thanksgiving is said to be Sarah Josepha Hale.

 

In 1920, the first professional football game for Thanksgiving was celebrated.

 

The famous Jingle Bells song was initially used on Thanksgiving Day. 

 
FAQ on Thanksgiving Day
What is Thanksgiving Day?
Thanksgiving Day is celebrated as a national holiday in many countries. It is celebrated to show gratitude to others.  
When is Thanksgiving Day?