6 Halloween Custom Gifts Ideas for Everyone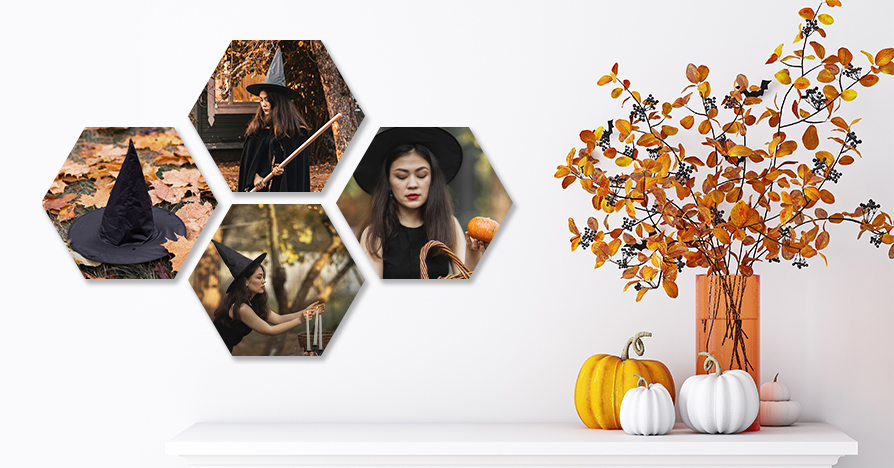 Wow! October is halfway through, which means that Halloween is just around the corner! It is a great holiday for giving gifts and spending time with family and friends.
You may be throwing a party and want to give out party favours, or you may be attending one and want to bring a hostess gift. If you want to make a recipient happy, you need to find a gift that fits the occasion.
This Halloween Canada 2022, you have plenty of gift ideas to choose from. However, you can get a head start on Halloween by checking out this fantastic guide on gift ideas for everyone.
Halloween Gift Idea for Everyone
The Halloween season brings a wide range of fun, spooky Halloween gifts for all of your loved ones, from sweet treats to spooky decor. 
It doesn't matter what the findings are, they must be impressive. All types of gifts are welcome on your spooky list, from tote bags to playing cards to customized pillow covers.
Prepare yourself for the spookily fun holiday with our online Halloween shopping list that has gift ideas that can be used to decorate and, of course, bring laughter.
1. Halloween Gift Ideas for Adults
Choosing gifts for friends or loved ones can get quite overwhelming, especially when it's a festive season like Halloween.
But this Halloween, CanvasChamp got you covered. Give your friends and family a gift specially customized by CanvasChamp as a unique and memorable Halloween gift this year. 
A Halloween theme canvas print with some previous goofy pictures is sure to bring back some old memories, or you can choose to send customized pillow covers and add to their home decor. 
Consider old printing memories on metal prints this Halloween to preserve and cherish old memories.
2. Halloween Gift Ideas for Employees
This Halloween decoration, add more fun to the office hours and make your employee's Halloween memorable by putting a smile on their faces. 
And to do that, shop for a fantastic gift at CanvasChamp with their unique range of customized products like a photo calendar, so they don't miss their family during work hours and are always close to them. 
Or you can give them a Halloween theme canvas print to lighten up their mood during stressful hours. Another great way to add fun and keep them inspired while they work is a customized coffee mug.
3. Halloween Gift Ideas for Girlfriend
The two of you love visiting haunted houses and watching scary movies. You guys are the perfect match, just like these Halloween gift ideas. With these gifts, you and your loved one will be able to make this holiday a romantic occasion.
This Halloween, bring the moon to her bedside by gifting her a Photo 3D lamp or perhaps a Heart-shaped moon lamp from CanvasChamp. 
With customized luggage tags, she becomes her travel and crime partner for life. Or maybe you can give her a customized wall clock, so she remembers you every moment.
4. Halloween Gift Ideas for Boyfriend
A cute excuse for a present is Halloween, which isn't necessary but is still an excellent idea. Celebrate Halloween with your boyfriends with fun activities and a unique gift! 
Add more spark to your relationship this Halloween with a magic mug. Or you can give him all the beautiful moments spent together, clubbed as one with a customized photo album. And if he is a bike lover, give him a personalized keychain reminding him to drive safe and slow. 
Last but not least, you can also go for personalized wearables like a t-shirt, hoodie, or sweatshirt.
5. Halloween Gift Ideas for Students
The holiday season is just around the corner, so it's a great idea to send Halloween gifts to your students. Make sure your Halloween gift lists include a custom pen drive and a power bank for all those young ghouls and goblins. 
Boost their brain power with a customized Rubix cube or bookmark to spice up their hectic schedules. Furthermore, you give them a beautiful pop art canvas print to inspire their creativity or keep them inspired during tough times with a custom canvas print with a motivational quote from CanvasChamp.
6. Halloween Gift Ideas for Teacher
This Halloween, treat your teacher with a thoughtful present. Give them treats instead of tricks. Be thankful to all your lovely teachers for putting in all their hard work and dedication in shaping your future. 
Gift them a large canvas print with some beautiful class moments or a photo book with some lovely personal thoughts from the students. Then, add comfort to their life this spooky season with a custom woven blanket.
Conclusion
With this bit of guidance, you know what to give to your loved ones this Halloween. Give them unique gifts from CanvasChamp and add more fun to this spooktacular fest. 
Overall, Halloween gift ideas for every taste are available here. For instance, Halloween canvas prints and pillowcases are ideal if you got too much on your plate. If, however, you want to get more creative, you can go for a custom photo book, tote bags, etc. 
In addition to looking cool, they're also fun to create with the CanvasChamp online tool, and there's no limit to what you can do!