10 Stunning Personalized Gift Ideas for This Women's Day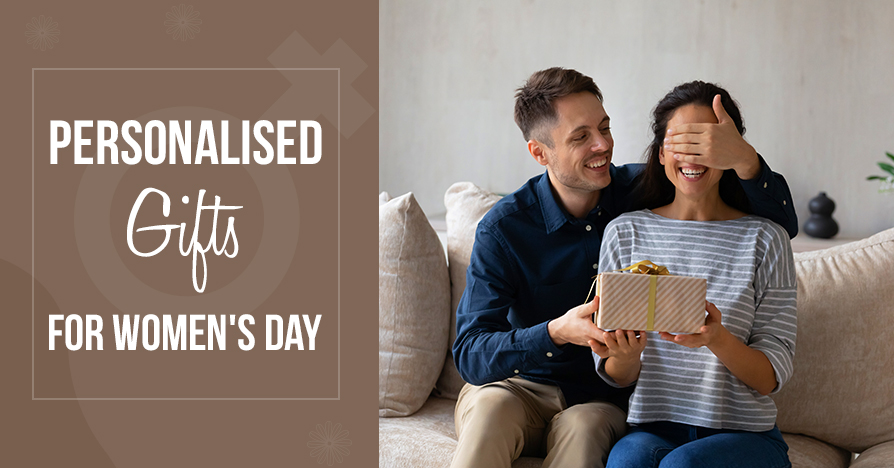 Blink and International Women's Day 2022 will be here, hurray!! 
We know every woman is quite excited to celebrate this great day with a lot of joy and happiness. But do you know why it's celebrated? We celebrate women's day in the honour of her accomplishments and raise consciousness about discrimination. 
Women's Day is as unique as women themselves. You must have planned to celebrate it with all the women in your life, and it could be your mom, sister, wife, daughter, or girlfriend. You may have also decided on a gift for them, haven't you? Well, why don't you decide now?  
Let us see some of the top gifts for International Women's Day 2022 
To make the occasion more fun, why not give something unique to make the experience more fun?  
Best 10 Customized Gifts for Women's Day 2022
Customized gifts can add magic to simple gifts. For example, a mug with a beautiful print always looks better than a simple mug, right? That is why we have curated some best-personalized gifts for this women's day. Pick the best gift that will surely surprise the women in your world.  
1. Photo Mugs
 
Customize a mug with photos or quotes for the women in your life. A coffee mug is something everyone needs; therefore, you can choose a coffee mug and get it customized with lovely photos, women's day quotes, and whatever you can think of.  
If you cannot think of any ideas, just get a lovely picture of her, and customize it on the mug. She would love the gift. A photo mug is a go-to gift for any occasion, so try unique ideas on the mug to make it different.  
2. Cutting Board
 
Cutting boards are something everyone needs in their kitchen, especially those who spend most of their time in the kitchen. That's what makes it one of the best and most astonishing gifts which women of all ages would love to have in their kitchen.  
But why give a simple wooden cutting board when you can customize it with your creativity?  
Give it some colours with beautiful international women's day quotes, and then it is good to go.  
3. Posters
Prints
Capture their attention with beautiful and customized posters. You can either get a picture or a beautiful quote printed on it. Placing these custom posters to the living room or bedroom will be a great choice.  
Your girl can also pair these customized posters with other home décor ideas. For example, you can make 3-4 posters with different messages and pictures for every house corner.  
It looks impressive when you have colourful posters all around your house. Or, as it is women's day, you can also create an international women's day poster for all the women.  
4. Photo Pillow
 
A picture pillow is among the favourite gifts for women. They love them, especially when they have a lovely picture of them. So why not get a fabulous photograph of them printed on a soft pillow?  
The photo pillow can either be put on the living room sofa or the bed. 
You can use your creativity to think of different and unique ideas for these photo pillows. All the women would be more than happy to see their shining pictures on the cushions.  
5. Wooden Engraved Plaque
A wooden engraved plaque would make everyone more than happy. It can act as a showpiece in the living room or bedroom. You can get your ideas customized on a plaque, such as an image of you with your mom, sister, or your wife.  
Or you can add some beautiful lines to encourage them, along with a picture. This custom wooden plaque will be added to her beautiful home décor collection, and she will thank you later.  
6. Photo Frames
 
A photo frame is a wonderful way to preserve memories. A photo frame is a must-have item in a house. Therefore, you can think of giving a photo frame to your beloved ones.  
You can either customize it with beautiful colours and designs or keep it simple. In both ways, the frame would add magic to the photo.  
7. 3D Crystal Cub

e
A 3D crystal cube is unique and different from what you can give this year. There are many types of crystal cubes. You can choose the best one out and customize it with photos on every face of the cube.  
This 3D crystal cube is an excellent decorative item for everyone. You can also add your preferred lighting to these crystal cubes. Surprise ladies with these cubes and add lightning to their rooms.  
8. Caricatur

e
If you do not know what caricature is, it is a rendered image showing features of its subject in a more simplified manner. You may have seen cartoon pictures of politicians, actors, etc.  
That is what a caricature is. So, you can think of customizing a caricature for women. Having this would be a fantastic showpiece and they would earn compliments.  
9. Wall Clock
 
A wall clock is a necessary item in a house. Therefore, you can think of some ways to make it more beautiful. A wall clock can be customized in many creative ways. You can have a picture with a quote or keep it simple with some customizations. It would give a classic look to your living room in both ways.  
10. Fridge Magnet
 
Many people are very fond of fridge magnets. You would find a great collection of magnets sticking to their fridges. Some habits have photos, and some have pictures of places they have visited or any other memory.  
Therefore, you can also give these kinds of customized magnets to those who love to collect them. Adding a beautiful drawing to their collection would make them more than happy.  
Ending Note
First, Happy international women's day to all the beautiful ladies out there. Take some time out and appreciate all the women in your life. Make their day special and have fun celebrating the occasion.