Multiple Personalized Pillow Types to Add Photos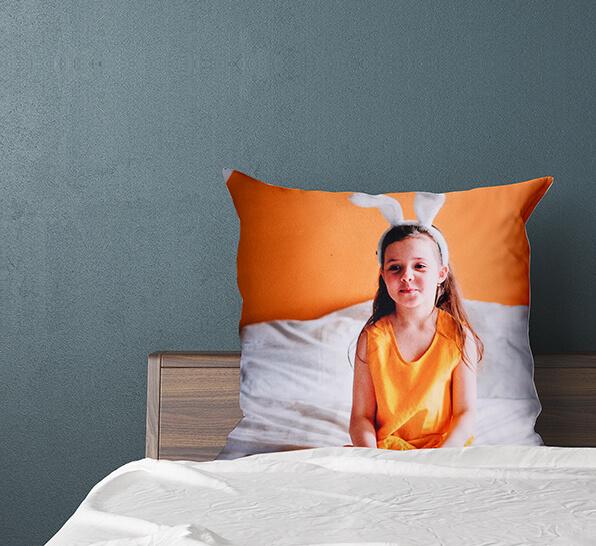 A picture is worth a thousand words, but what if you could hold those words, hug them, rest on them? Welcome to the fascinating realm of personalised photo pillows, where cherished memories and comfort intertwine to create decor items as unique as you are. With CanvasChamp, you can transform everyday pillows into timeless keepsakes, woven with threads of love, laughter, adventure, or whatever story your chosen image tells. From family photos and pet pictures to landscapes and beyond, every picture has a place in our diverse range of photo pillow styles. Let's explore how these customizable pillows can add a dash of personal charm to your home, make for thoughtful gifts, or even serve as promotional items for your business. 
7 Types of Personalized Pillow Types To Try Now 
Photo Pillows 
Classic photo pillows offer the perfect canvas for your favourite pictures. These pillows are all about personal touches and comfort, making your memories a part of your everyday life. With photo pillows, you bring to life a unique blend of comfort and personal connection.  
The joy of reliving precious memories or seeing your favourite pictures as you relax can add a warm touch to your daily life. Perfect for adding a personal flare to your home or giving as a sentimental gift, these pillows can transform any space into an extension of your personality. 
Customisation Ideas of Photo Pillow: 
Choose a picture from a memorable event, like a wedding, birthday, or vacation. 
Pick a beautiful image of your pet or a favourite family portrait. 
Use a stunning landscape from a memorable trip or a fun photo from a friend's reunion. 
Pet Shaped Pillows 
Our Pet Shaped Pillows bring an extra dash of adorableness to any space. Shaped like your furry friend, these pillows are both whimsical and heartwarming. Pet shaped pillows offer a playful yet heartwarming addition to any decor. Perfect for pet owners, animal lovers, or anyone seeking a touch of cuteness, these pillows are shaped to resemble your pet, making them a joy to see and hold. 
Customisation Ideas: 
Use a cute picture of your pet in their favourite pose. 
Try a funny or unusual photo for a laugh-out-loud reaction. 
Pick a photo where your pet is wearing a costume or their favourite accessory. 
Sequin Pillows 
Sequin Pillows add a touch of glamour and surprise to your decor. With a touch of glamour and a dash of fun, sequin pillows allow for an interactive way to display your favourite images. Swipe the sequins up or down to reveal or hide the printed photo, creating a fun, interactive element. You will love your Sequin magic pillow when you see that your photo is revealed or concealed by the swipe of your hand, adding an element of surprise and entertainment to your decor. 
Customisation Ideas: 
Use a photo that evokes surprise or joy, enhancing the sequin-swipe reveal. 
Pick a picture that matches the sequin colours for a cohesive look. 
Choose a romantic photo for a lovely surprise for your partner. 
Custom U-Shaped Pillows 
Combining comfort and customisation, travel U-shaped pillows provide neck support during journeys while allowing you to bring a piece of home with you. This custom neck pillow serves as a constant companion, reminding you of loved ones, favourite moments, or places you'd love to visit. 
Customisation Ideas: 
Use a photo from a previous trip to inspire your travel adventures. 
Print a picture of a dream destination as a goal reminder. 
Choose a calming or joyful image for your custom travel pillow to create a sense of comfort during your travel. 
Custom Bolster Pillow 
With their unique shape, Bolster Pillows offer a different dimension to display your photos. They're perfect for a lounge, kid's room, or as a stylish accent on your bed. Offering a different shape and aesthetic, bolster pillows lend themselves to a variety of customisation options. Whether they're used as support during sleep, as a couch companion, or a decorative piece, their unique shape provides a creative twist to photo display. 
Customisation Ideas: 
Select a panoramic or landscape-oriented photo to fit the pillow's shape. 
Use an image of your child's favourite cartoon character or artwork for their room. 
Print a beautiful pattern or abstract art that complements your room decor. 
Photo Pillow Case 
One of the easiest ways to refresh the look of a room without making drastic changes is by updating your pillow cases. Custom pillow cases, designed with your choice of images or text, can drastically alter the aesthetic of your space, breathing new life into it. Whether it's to align with a room's colour scheme or to exhibit a collection of cherished memories, custom pillow cases can make a significant impact. They offer an easy solution to keep up with changing trends, seasons, or personal preferences, ensuring your decor is always uniquely you. 
Customisation Ideas: 
Use photos that match or complement your room's colour scheme. 
Choose a series of photos for a coordinated set. 
Print a monogram or name for a personal touch. 
Custom Throw Pillows 
Custom Throw pillows are small, decorative soft furnishings that can make a big impact on the ambiance and aesthetics of your living space. They're perfect for adding a splash of colour, pattern, texture, and of course, personality to your home decor. Available in a variety of sizes, these versatile pillows can fit into almost any design scheme, adding depth, contrast, and a level of comfort that is both visually and physically appealing. 
You could choose to feature a series of pictures from your family album, turning your couch or bed into a canvas of cherished memories. Alternatively, you could display a favourite quote or artwork that inspires you, adding a reflective or motivational aspect to your decor. 
Customisation Ideas: 
Use vibrant, abstract designs or colourful artwork for a striking look. 
Pick family photos or memorable events for a personal touch. 
Choose seasonal themes to keep your decor fresh and updated throughout the year. 
Gift the Combo of Photo Pillow and Photo Blanket 
A personalised photo pillow paired with a matching or complementing photo blanket makes for a truly thoughtful gift. Whether for a housewarming, anniversary, or birthday, this combo bundle is a heart-warming present that wraps your loved ones in fond memories. 
Choose photos that resonate with the recipient – a family portrait, a memorable moment, or even their pet's picture. The goal is to create a gift that provides not just physical warmth but also the warmth of cherished memories. 
Steps to Customise Pillow Online on CanvasChamp 
Creating your personalised photo pillow with CanvasChamp is a simple and user-friendly process: 
Visit the CanvasChamp website and find the "Photo Pillows" category. 
Choose your desired pillow type and click "Start Order". 
Select the size, image layout, and other custom options. 
Upload your chosen photo and adjust its position, add filters, or insert a message. 
Preview your design, add to cart, and checkout. 
Wait for your unique pillow to be delivered! 
Conclusion:   
In conclusion, the beauty of customised pillows lies in their ability to transform ordinary items into extraordinary, personalised treasures. They offer an innovative way to cherish memories, showcase your style, and make a statement. Each pillow type, with its unique shape and utility, provides a different canvas for you to express yourself. 
Whether it's a photo pillow laden with precious memories, a pet shaped pillow showcasing your furry friend's charm, a sequin pillow adding a touch of glamour, or a throw pillow creating a visual impact, the power to design is in your hands. With CanvasChamp, the process is simple, fun, and rewarding. 
Don't just dream it, design it! Head over to CanvasChamp today, choose your favourite pillow type and start crafting your personalised comfort piece. Your memories, your style, your pillow - made easy and hassle-free with CanvasChamp. It's time to add a personal touch to your spaces or give the most thoughtful gift ever, a token of love in the form of a custom pillow. Let's turn your favourite photos into a hug-able memory today at CanvasChamp.