Graduation Pictures Printing on Canvas: 101 Guide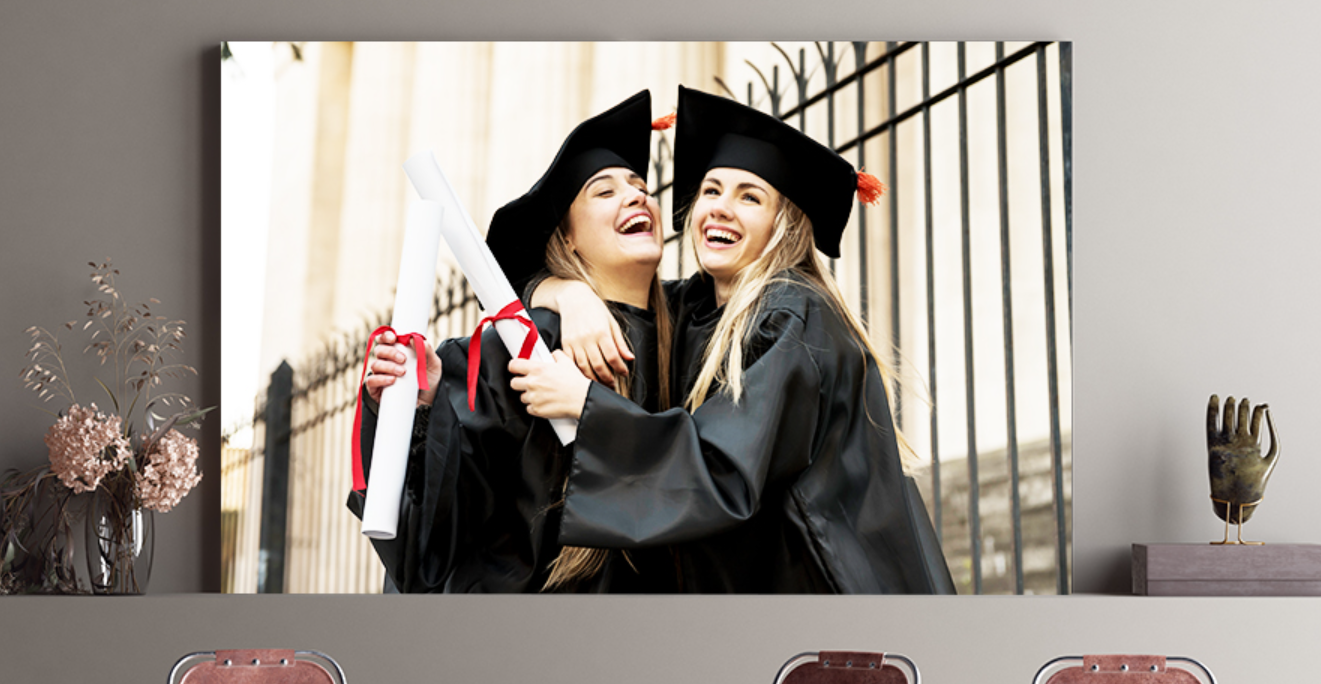 Graduation day is a momentous milestone, marking the culmination of years of hard work, perseverance, and personal growth. As such, preserving memories of this day is essential, and what better way to do it than by choosing to print graduation pictures on canvas? 
CanvasChamp, a specialist in custom canvas prints, brings you this comprehensive guide to get you started on creating a lasting memento of your graduation day. Read on to explore the journey from a digital image to a beautifully mounted canvas print that perfectly encapsulates your achievement. This is a great graduation gift idea too! 
Why Print Graduation Pictures on Canvas?
Before we delve into the "how," let's explore the "why." Why should you print your graduation photos on canvas instead of traditional photo prints? 
Durability: Canvas prints are incredibly durable and can last for many decades without fading, maintaining the quality and vibrancy of your graduation memories.

 
Aesthetics: Canvas prints give a painting-like quality to your pictures, adding a classic touch to your modern photos. This makes them an excellent choice for graduation wall décor.

 
Versatility: They can be customized to fit any space and style, thanks to the various sizes and framing options available.

 
No Glare: Unlike glass-framed photos, canvas prints don't reflect light, ensuring a clear view from all angles and lighting conditions.

 
A) Choosing Your Graduation Picture
The first step in creating a canvas print from graduation pictures is selecting the perfect picture. Choose a picture that best represents your graduation day. Here are a few options, 
Cap and Gown Portraits: Classic, formal photos of the graduate in their cap and gown, posing with their diploma, are a timeless choice to print graduation pictures on canvas. These can be either full-body shots or close-ups.

 

Candid Shots: Capture the real, unposed joy of graduation day. This could be a photo of you throwing your cap in the air, hugging a classmate, or laughing with your family. Candid shots provide a glimpse into the day's emotions and celebrations, making them ideal graduation photos on canvas.

 

Group Photos: Photos with your classmates, friends, or family can be an excellent choice for your graduation memory on canvas, particularly if you want to remember the people who supported you throughout your academic journey.

 

Campus Landmarks: A photo of you at a well-known spot on campus can bring back memories of the time you spent there. This could be a picture of you by the university sign, in front of your dorm, or at your favorite study spot. These photos also make a great graduation wall décor piece.

 

Degree Display: You can have a photo of your degree certificate professionally taken and printed on canvas. This could be a fantastic addition to your home office or study room, or even a great graduation gift to yourself.

 

Event Shots: If you have photos from the ceremony itself or the post-graduation party, these can make for lively, atmospheric prints that capture the day's excitement, perfect for preserving your graduation memory on canvas.

 

Creative Shots: If you have unique graduation photos—maybe you decorated your graduation cap, held a themed photoshoot, or took a picture in a special location—these can be fantastic choices for canvas prints.

 
Ensure the picture is of high resolution to get a sharp, clear print. A picture with at least 300 DPI (dots per inch) is ideal. CanvasChamp's software will warn you if the resolution is too low, ensuring you don't end up with a blurry print. 
B) Customize Your Canvas
for Graduation Pictures
Once you have your photo selected, it's time to customize your canvas. Here are some elements you can tailor: 
Select Canvas Size: From small desk-friendly canvases to large wall pieces, choose a size that suits your space and preference, perfect for graduation wall décor.

 

Select Frames: Choose between gallery wrap (image wraps around the canvas edges), mirror wrap (edges are mirrored from the image), or color wrap (edges are a chosen color).

 

Add Effects on Picture: Apply black and white, sepia, or other effects to your photo for a unique look.

 

Add Text on Canvas: Add a caption, your graduation year, or a memorable quote to personalize your canvas further.

 
C) Placing Your Order
CanvasChamp's user-friendly platform makes the ordering process a breeze. Upload your chosen picture, customize your cheap canvas prints, preview it, and place your order. This could be a wonderful way to gift someone the joy of their graduation memory on canvas. 
D) Care for Your Canvas Print
After receiving your canvas print, ensure you care for it properly. Hang it in a spot away from direct sunlight and high humidity. Dust it regularly with a soft cloth to keep it looking its best. 
Printing graduation pictures on canvas is a great way to celebrate and memorialize one of life's significant milestones. It's not just a photograph; it's a piece of art that captures a proud moment in time.
With CanvasChamp, you can be sure of top-notch quality, vibrant colors, and a product that stands the test of time, just like your achievements. Why not consider this as a heartfelt graduation gift for a loved one, or even for yourself?