The 10 Best Canvas Ideas For Modernizing Any Room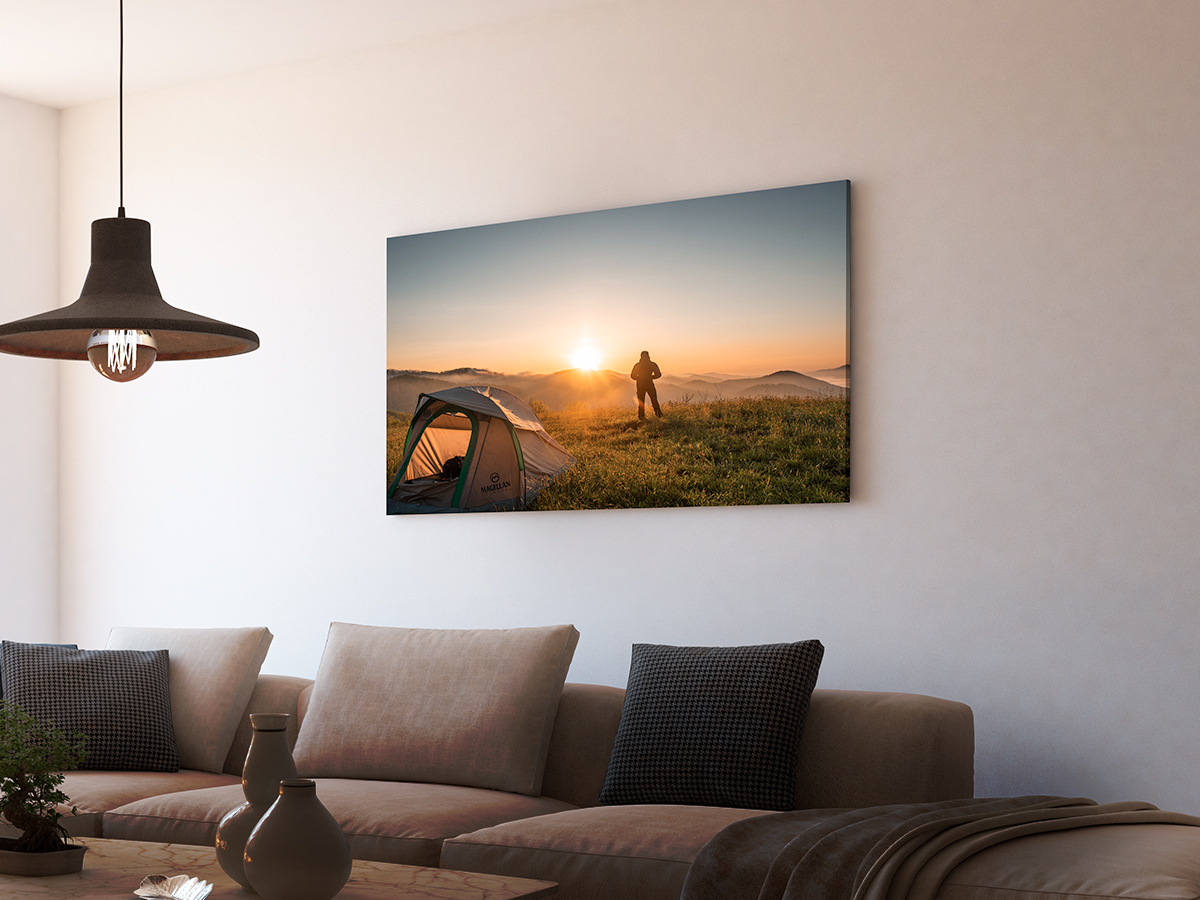 The look and feel can change with just a few simple furniture additions and a stunning custom canvas in a room. If you, too, are looking to decorate your home with classic canvas prints, this blog is the perfect place to find the best ideas to modernize your place. 
Try the below-listed wall art and canvas print ideas that have the power to change the aura and style of any room. And the best part is that you can customize your room canvas online on CanvasChamp and deliver these custom canvas prints in Canada within a short period. 
This blog covers the following canvas in room ideas:
1. Canvas Ideas For The Bedroom
2. Canvas Ideas For The Bathroom
3. Canvas Ideas For Living Room 
4. Canvas Ideas For Office Cabin
5. Canvas Ideas For Dining Room
6. Canvas Ideas For Lounge Room
7. Canvas Ideas For Laundry Room
8. Canvas Ideas For Toddler Room
9. Canvas Ideas For Grandparents' Room
10. Canvas Ideas For Newlyweds' Room
Let's get started!
Check Out 10 Ideas of Canvas In A Room :
1. Canvas Ideas For The Bedroom :
A bedroom is a place to sleep, spend quality time with yourself or with your partner, and the only place to relax when you are tired after a long hectic day. Because of that, this place should always be kept neat, clean, and beautiful. 
So, if you are thinking of how can I decorate my master bedroom with canvas, the below-listed ideas can help you get the job done:
a) Beautiful Canvas Prints
Decorate your bedroom with custom hanging canvas prints to add some rustic charm to some of the most precious and timeless memories. You can even create an eye-catching display by hanging multiple canvases with photos of your partner, parents, kids, and furry friend.
b) Heart-Shaped Photo Collage 
A 40-photo heart-shaped photo canvas print will be the best idea to make your room a place where you store all your happy memories. To add more charm, gift this heart-shaped canvas collage to your partner and spend time together hanging it in the room. 
2. Canvas Ideas For The Bathroom :
Thinking about how you can make a bathroom look more appealing - well, try placing some beautiful canvas art prints, and the place will turn out to be excellent. You can turn even a tiny bathroom into a luxurious bathroom with the following canvas print ideas. 
Some suggestions for choosing the best canvas prints for your washrooms:
a) Mini Canvas Prints
Design square or rectangular canvas minis on CanvasChamp for your bathroom, and your place will feel cozy when you go for a shower after waking up in the morning. 
b) Emoji Canvas Prints
It's time to turn your text messages which you want your guests to know when they use your washroom into art via emoji canvas prints. It will make the experience more entertaining and bring a smile when they leave the restroom.
3. Canvas Ideas For Living Room :
Let your guests feel amazed and show them how creative and artistic you are by placing your most liked picture on canvas. Your living room is the most visited place in your home and decorating it with your memories gives you refreshment and inspiration like never before. A feeling of love and joy fills your heart and gets you ready to take on the world.
Try these two modern living room canvas art and get ready to take compliments from everyone:
a) Large Canvas Prints
Add life to your modern living room's wall and print your most cherishable memories on large canvas prints. The size and appearance of this canvas print make it elegant and striking so that no one can resist themselves to compliment the wall and the overall look.
b) Split Canvas Prints
If you are an experimental person and always want to pick something unique for your home, split canvas prints are made for you. Just split your picture into different formats and print it on canvas in your preferred size to decorate your sofa back and any other space in your living room. 
4. Canvas Ideas For Office Cabin :
Usually, people think that the office space is a sophisticated place where decorating it would distract employees. But today, things have changed so much. 
A healthy and welcoming environment leads to more outstanding work efficiency and enjoyment at work. Decorate your office cabin with canvas prints and make your walls more striking and appealing.
Following are a few ideas for choosing the best canvas prints for the workspace:
a) Corporate Art
Enhance the look of your business space and print exclusive and elegant corporate art on canvas. Convey your brand and value and show your work ethics by printing the most desirable picture on canvas and hanging them on walls.
b) Custom Canvas Banners
Communicate your company's information and print about your offerings, events, and product launch on custom canvas banners and flaunt them at your workplace later. These banners are designed creatively and have enough space to put all information in an eye-catching way.
5. Canvas Ideas For Dining Room :
The dining room is where you eat your favourite meal and socialize with your family, friends, and loved ones. We often neglect this area of our home because of its distinctiveness, but now it's time to decorate it with some of your most unforgettable memories printed on canvas that looks perfect on your walls.
The following canvas print ideas may help:
a) Hexagon Prints
Try this unique and creative shape of canvas print and engrave the most liked picture that makes you full of life. Printing it on a hexagon canvas and hanging it in the dining area must be a great move to memorizing it again and again.
b) Bus Rolls Canvas
Reading the goal of your life every morning with breakfast fuels you to work hard and makes you stay energized all day long. Print your most inspirational quote or plan of your life on bus rolls canvas and read it every time to stay focused and positive throughout the day.
6. Canvas Ideas For Lounge Room :
Have a lounge room where you spend most of the time with your friends and arrange special parties? Well, it's time to turn this most relaxing and intimate space beautiful and cozy with unique lounge room canvas prints. 
Try these ideas:
a) Pop Art On Canvas
Turn your creative pop art portrait designs into a pop art canvas as they will help you feature your lounge room walls. Make the space beautiful with the Lichstyle pop art canvas, Glo Portrait, or Andy Warhol as the customization option is endless to match your taste. 
b) Famous Artists Canvas
If you seek inspiration and motivation while spending your alone time in your particular lounge room, it's time to make it look stunning with several famous art canvas prints. You can choose the most famous artists for your canvas prints are Leonardo da Vinci, Vincent Willem van Gogh, and Salvador Dalí. 
7. Canvas Ideas For Laundry Room :
Although laundry is a mundane and time-consuming task, you don't have to dread yourself there. Instead, try spicing up the room with your favourite memories printed on canvas for the laundry room, and let every day be a fresh start. 
Add some colour to the laundry room with these popular canvas prints:
a) Facebook Canvas Printing
Pick a particular Facebook photo and turn them live on a canvas print. Then hang this beautiful canvas in your laundry room to make it a pleasant place. There are several filters available that can be added to your photos to make them stand out.
b) Instagram Canvas Printing
Let your laundry room be a full-fledged artistic gallery with beautiful Instagram canvas prints. You can pick the best quote you found on Instagram or the first picture you posted when you moved into a laundry store and met someone special. Make your laundry room brighter by hanging them in there.
8. Canvas Ideas For Toddler Room :
Positive surroundings contribute significantly to the intellectual, emotional and mental development of your toddlers. Try to be creative and add a personal touch to their room to feel protected and safe to play and work. Print your memories or any other intellectual and mental tricks that keep their minds busy and enhance their room's look.
Try these canvas prints for toddler room decor ideas:
a) 5 Square Photo Collage
Print your holiday vacation picture on a 5 square photo collage canvas and put it on the walls of your toddler's room. You can also print your kids' first drawing, letter or age-wise picture to make the space more lovely.
b) Digital Oil Painting
If you are looking for a different style to flaunt your kid's picture, then do try this digital oil painting canvas print. This canvas print looks great on walls and shows every detail of your picture that ultimately looks adorable, making your kid's room unique and personal to your kid.
9. Canvas Ideas For Grandparent's Room :
Just like you take care of your kid, it's your responsibility to keep your parents happy too. So, if your parents or your grandparents live with you (or even live far away), it's time to ask your kid to help decorate your ageing parent's room. Start with picking their best memories which you can hang above their tall beds. 
The following ideas can brighten up grandparent's room:
a) Mosaic Canvas Prints
Select a primary photo and pair it with hundreds or even thousands of tiny images to create a mosaic canvas print. Not only will this bundle of love remind them that they have so many special memories to relive, but it will also allow them to smile when they see that you have put all the special events in their lives into one mosaic canvas print. 
b) Personalized Rolled Canvas Prints
Frame the memories your kids have spent with their grandmother and grandfather with beautiful pictures and text messages. And once they see custom rolled canvas prints on their side table, they will surely enjoy seeing them. 
10. Canvas Ideas For Newlywed's Room :
The importance of a newlyweds' room is irresistible for a couple because it is the place to relax, to understand your partner. This room is filled with the aroma of romance and love that is always close to your heart. 
Decorate it with your love-filled memories with:
a) Lyrics On Canvas
Print your wedding song on canvas and hang it on your room's wall that stays in your heart forever. You can also engrave the first words and song lyrics sung by your partner for you that are imprinted in your heart, mind and soul.
b) Panoramic Canvas Prints
Wedding pictures have a panoramic view, and printing them on ordinary canvas can be difficult. So instead, try a panoramic canvas print and engrave your most loved wedding picture on canvas and decorate your room with it.
Conclusion
No matter which room you choose, decorate it with style and uniqueness. Don't rush while picking the best decorating materials for your room, office or home. Just give some time, think twice and fill every corner of your area with love, joy and positivity. 
Do you need more ideas on how to decorate your room with canvas prints? Check out other popular custom canvas prints Canada ideas on CanvasChamp. With these unique canvas prints, you can enhance the beauty of your memorable pictures and create an ambiance of warmth and kindness in your home.