Top Thanksgiving Gift Ideas for Every Relations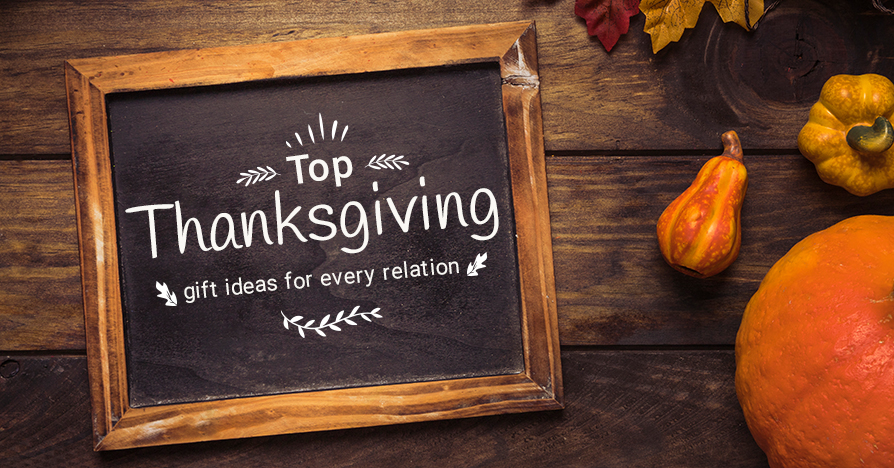 Friends and family enjoy Thanksgiving together, which is an exciting time. Additionally, it's the perfect time to express your love to them by giving them gifts. For ideas on what to give your family and friends, you can check out the different Canva thanksgiving templates. 
Be it your coworkers or families; everyone would appreciate a little sign of thankfulness this holiday. Wondering what to give them, though? Here are some ideas for you. 
A) Thanksgiving Gift Ideas for Family :
Let's start with those closest to you, i.e., your loving mother and father or your fun-loving brother and sister. They live with you every day, so showing them your adoration with gifts would touch their heart. But, of course, if you are currently not in the exact location, the effort would count even more. 
Here are some of the best thanksgiving gifts for parents and siblings you should check out. 
1. Photo Wall Tiles: Here, add pictures of you with your sibling or parent and provide that as a Thanksgiving gift. You can add a picture of a memorable moment or a funny picture of them in the custom photo wall tiles for a fun touch. 
2. Custom Apron: If your mother or sister loves cooking, you can buy a custom apron for them. These are useful for long-term use, and a customized photograph on the apron would surprise them adequately. 
3. Rubik's Cube: This works in many ways, like placeholders or showpieces at home. So, give it to your family. Add images of them, unique photos of you together, and other notable moments of their lives on each side of the Custom Rubik cube. 
4. Photo Mosaic Collage: With the right designer's help, you can create a mosaic canvas print with images of your loved ones in each hexagonal piece. Choose a bigger model to put on your home interior wall as a display piece. 
B) Thanksgiving Gift Ideas for Employees and Coworkers :
Show your appreciation to your workers with gifts this Thanksgiving. Then, for the thanksgiving gift ideas for employees, you can buy some in bulk for all your staff or plan personalized items. 
1. Small Printables: You can order printables like customized photo coasters or wall arts for your employees or people you work with. 
2. Personalized Gift Baskets: You can create gift baskets with fruits, chocolates, and soaps for your coworkers. Some platforms offer such personalized options in Canada that you can check out. Add printed thank you notes on them as well. 
3. Planted Pots: One of the best options for gifting when you plan to give them to your coworkers is potted plants. They can keep it near their cubicle or on their desk. Plus, if you are gifting as an employer, decorate the rich green plants in the communal space. This would add to the ambiance as well. 
4. Mugs: Printed custom photo mugs are another choice for a gift that works for employees and employers, or clients. They can use it in their home life or at work. 
C) Thanksgiving Gift Ideas for Your Female Superiors :
Here are some thanksgiving gift ideas for teachers and bosses that you should look at. 
1. Tote Bags: You can opt for customized tote bags as a gift for your teachers or superiors in your professional line. Add personalized quotes or their name for a unique touch. 
2. Luggage Tags: There are custom tags for luggage and bags available that you can opt for as a gift choice. Adding custom messages on it like thank you notes would make them feel appreciated.  
D) Thanksgiving Gift Ideas for Your Clients :
Gifting something to your client is an additional service that would improve your business relationship. So, you should consider that as well. 
1. Muffins: You can prepare homemade muffins for your clients and provide them as gifts. They would appreciate the effort, and your client-brand relationship in the future would improve.
2. Printed Photo Magnets: Another good choice for Thanksgiving gifts are photo magnets. While this works for personal connections better, you can add selfies taken with your customers. 
E) Thanksgiving Gift Ideas for Your Friends :
For your friends, whether for years or someone you recently connected with strongly, try out the following thanksgiving gift ideas for friends. 
1. Photo Collage: Collect the memorable moments of your journey with your friends and create a photo collage. Choose images from when you first met them up until you are together now. You and your friend can reminisce about your old memories and bond over them during the holiday. 
2. Wooden Frames: This works well as showpieces at home, and you can deliver that to your friends as a Thanksgiving gift. Either you can choose pictures of you both together or select a positive image of them alone to print on wooden photo frames. They would get to admire the wooden frame every day. 
F) Thanksgiving Gift Ideas for Your Lover :
Make your partner feel special with the right kind of product that they would enjoy. You can choose something that you both can use as well as a type of gift. Here are some suggestions. 
1. Love Plaques: For your boyfriend, girlfriend, husband, or wife, spotify love plaques are excellent choices. Here, you can add love messages, your dedicated song for them with special dates or pictures as the main design. 
2. Photo Pillows: Provide printed pillows with thanksgiving quotes for boyfriend or girlfriend. If you want, you can print a picture of you both on the pillows as well. The images can be displayed on the living room couch or arranged in the bedroom. 
3. Magic Mugs: You can opt for a printed him-and-her photo magic mug set, custom printing it with images of each other. Your partner would appreciate the gesture. 
4. Wall display: Improve your home décor with canvas wall displays and surprise your lover this Thanksgiving. You can include different pictures of your special moments together in each image slot. 
Conclusion :
Overall, have a budget in place. Also, list out all of the people you are planning on giving the items to. Then, consider their preferences and your relationship with them when choosing a gift. 
You can choose products that work best for more than one relation. However, you can give personal things to your close acquaintances but cannot do the same to someone like your boss. So, plan and buy gifts accordingly. 
Learn how you can utilise Canvas Prints to gift on Thanksgiving Day 2021 - Read Now