Cyber Monday Gifts Ideas For Every Relation 2022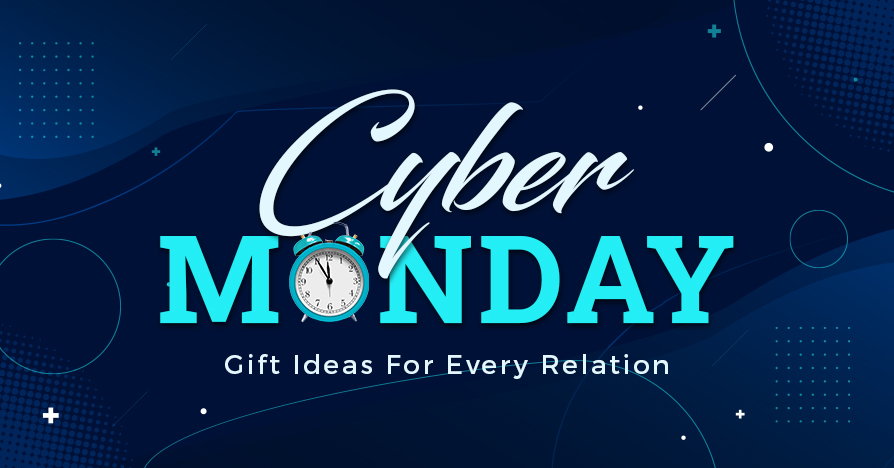 Gift-giving is a secret love language. When you give your loved ones gifts, they will stay with them for a long time. So, Cyber Monday, the first Monday after Thanksgiving, is an excellent time for you to start your gift shopping. So, on this Cyber Monday sale   2022 make sure you get the best out of the fantastic deals offered by CanvasChamp.
Get the perfect customized gifts for every relationship, whether your girlfriend, wife, or mother, with CanvasChamps custom-made gifts. We have made gift shopping painless with our one-stop store with the best gift ideas for every relationship. In addition, you can customize gifts for both men and women with the Cyber Monday deals for men and the Cyber Monday deals for women.
Is Cyber Monday an excellent time to shop?
With the Cyber Monday sale, you can get fantastic deals and offers for your custom gifts. Some of the popular offers you can avail of are our free shipping, 'Buy 2 and Get 1 Free offer on mugs, photo pillows, canvas prints and acrylic block prints.
To help you get some clear ideas for the best gifts for every relationship, we have made a list of gift ideas for you to choose from. Here are our top choices for you this Cyber Monday sale:
Top Cyber Monday Gift Ideas For Every Relationship:
CanvasChamp offers a wide variety of customizable products, from custom acrylic prints to personalized coffee mugs with your memories printed on them for you to choose from. In addition, you can shop from the comfort of your house on mobile, tablet or laptop; just open our website and enjoy shopping from the Cyber Monday gifts.
1. Custom Canvas Prints
Parents love to display family photos and memories all over their walls to remember them forever. So our Custom Canvas print with your family photo printed on it may be the best Cyber Monday gifts for moms and dads. Aside from your parents, your significant other might also appreciate a canvas print with your romantic memories printed on it to give your bedroom a personal touch.
2. Custom Rubik's Cube
Have fun with your family and learn to solve the Rubik's with this fantastic Cyber Monday gift idea. Custom Rubik's cube itself is a great gift for every puzzle lover out there, and now with CanvasChamp, you can also print your photos on your cube, giving it a personal twist. It can help your loved ones get rid of their boredom while reminiscing sweet memories.
3. Custom Tote Bags
Every time you go shopping, you will carry bags, giving a valuable and memorable custom tote bag. You can use them daily, and your loved ones will remember you each time they go out with the bag. Custom handbags could be a great Cyber Monday gift for girlfriends, and they come with plenty of space to carry everyday utilities while looking chic.
4. Personalized Magic Photo Mugs
With the winter season nearing, custom magic photo mugs can make a great gift. A personalized magic photo mug with your chosen photo can be used every day and will be well received by your loved ones. It can be the perfect Cyber Monday gift idea for them according to your needs. Find high-quality custom magic photo mugs on CanvasChamp at a great price only on this Cyber Monday sale.
5. Custom Photo Throw Pillows
Beds are comfier with throw pillows, and this Cyber Monday sale, you can make custom photo throw pillows for your loved ones. Print high-resolution photos on your pillows to make excellent home decor and the sweetest gift. Custom photo throw pillows can be great Cyber Monday gift ideas for girlfriends and boyfriends to remind them of you every night and day.
6. Custom Heart-Shaped Lamp
A heart-shaped lamp with your photo or desired text can make your room shine brighter day and night. As a gift, you can give it to your partners and keep it as room decor in your bedrooms. Using this gift, your loved ones can work late at night or study for their exams. The lamp has a USB cable to retain the lamp's charging and stay lit for over 12 hours.
Get Ready For Cyber Monday This Season :
Our list may end here, but the possibilities are endless. So enjoy your Thanksgiving meal, and then shop for gifts from the comfort of your own home during Cyber Monday! With the online editing tool on the CanvasChamp website, you can create many custom photo gifts and get them at the best price.