10 Summer Photography Tips You Will Just Love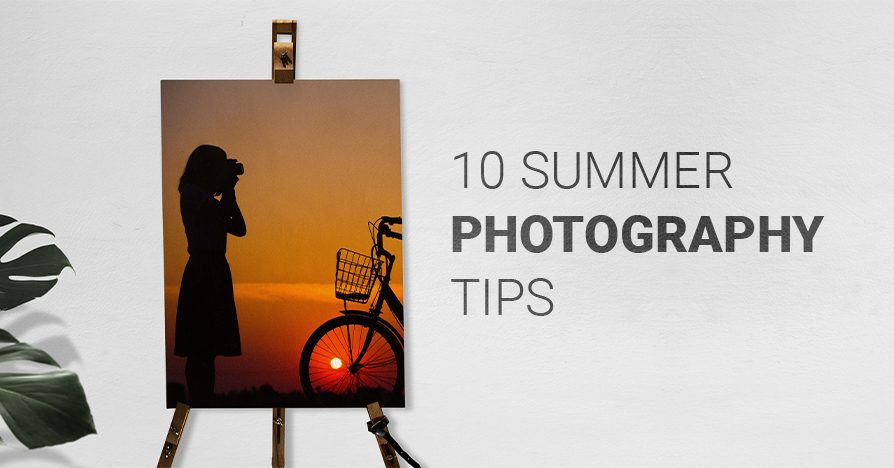 Capture your photos under the beautiful sunshine, fresh flora and fauna, and enchanting beauty of water. And add a pinch of our latest summer photography tips and ideas and see how the magic starts. You will love the refreshing photography ideas, and we will help you create masterpieces.
Get started with some trendy yet straightforward photography tips and ideas to amplify your photography game this summer. Then, implement these classic and exciting ideas to create awestruck photos easily.
Here Are Few Summer Photography Tips That Will Add An Oomph Effect To Your Pictures:
1. Photography Is A Game Of Timing
It is always believed that sunrise and sunset are gorgeous times for photography. But let us not forget the time before nightfall, i.e., the blue hour. 
This hour too can be great for photography, especially in summer. While photographing every moment can be made creative and beautiful, it is the perfect timing that matters. You can frame those pictures and decorate your wall by showcasing your work at your photo studio.
2. Digging Your Childhood Memories
Hearing the name summer brings back the memories of childhood. So, why not indulge yourself in recreating the childhood memories? 
Click images that will take you back through the lane of childhood. Then, recreate the memories with a perfect camera at your favourite childhood places, ice cream parlours, gardens, etc.
3. Using Flare For That Magic
Give your photos a new effect and take your photography skills to another level using flare magic. In a flare, the light source directly shines on the lens, creating an impact. 
Flare will add depth and dimension to your photos by making them more genuine and creative.
4. Being Specific With Details
Detailed images never fail to catch attention. It is always said that good ideas always win hearts. So, why not create one? Capture the pictures of little cute things you came across.
And as beauty and happiness lie in little things, try to use them in your props. It may be a lemonade, salt pepper holder, a sea shell, or maybe a snail. Click and cherish.
5. Crowds Are Not That Bad
Many people look to capture at less crowded places, but this time, try to capture a picture when in the crowds. And when done correctly, they are not as bad as you once thought. Crowd images will make you feel part of that picture. Still, thinking How do you take good summer pictures and have canvas prints, I now enhance the look by using portrait mode.
Try grabbing the moments of the crowd at beaches, malls, roads, enormous traffic and print them by CanvasChamp. But take all the necessary precautions before getting in touch with the public.  
6. Find Some Shade

As we all know, summer is all about sunshine and bright light. So then, why not go a little different? Find some shade under beautiful trees or huge buildings, monuments, or maybe a tent to give you a softer light for great photography. 
If you are not able to find a shade, just create your shade using an umbrella. 
7. Drama With Pop Colors 
Lit up your summer photography with bright pop-up colours. Pop-up colours always tend to add life to dull photography. 
All you need to do is add bright neon colours that instantly lift the mood to your photography area. Those bright colours will give a dramatic effect that is enough to capture many eyes.
8. Get Comfortable In Uncomfortable
Slipping away from your comfort zones is the best idea to get great pictures. Look for the things you won't do, like getting dirty in the sand or holding a fish or a crab.
All you need to do is get yourself comfortable with the uncomfortable things to raise your excitement and creativity level.
9. Look For Fun
The golden rule for a good photograph is having fun while being photographed. Use the camera to capture the exact things you are connected to. 
For example, laughing children, melting ice creams, freestyle dancing, playing with your child by making different faces. 
These all activities will show the real you, and you will feel more connected to it. We are sure you are going to relish each moment you capture.
10. Stand Out
How about the black and white images in this hot summer? Though the summer is about bright colours and sunrises, why not stand out our pictures with black-and-white effects? Shoot a colourful picture in black and white and let the image create its aura in the viewer's eyes.
Conclusion :
The above ideas are enough to make your summer pictures more stunning and mesmerizing. These ideas of photographs will aid in creating highly creative and innovative images. Tell us more about how do you take good summer pictures.
 And yes, you don't take a photograph; you make it.