Multiple Usage Areas of Custom Canvas Prints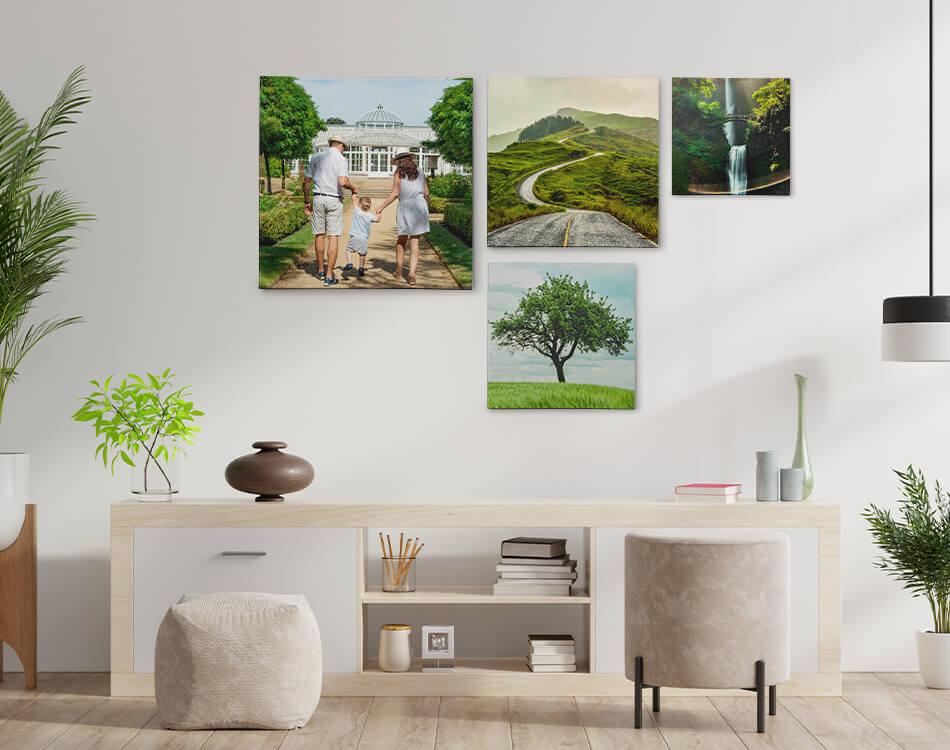 Imagine transforming your mundane spaces into captivating displays, where each corner tells a story, narrated by you. That's the magic of custom canvas prints. 
These personalized living room canvas prints are not just confined to your living room walls anymore; they are spreading their charismatic charm everywhere, from your home office to even your favourite local café. Custom canvas prints add a unique touch of personality, serving as the perfect décor for various spaces while showcasing your favourite memories or designs. Buckle up, because you're about to explore a world of possibilities with us, where we reimagine spaces and redefine art through the multifaceted utility of custom Gallery canvas prints. Let's turn ordinary into extraordinary! 
Shaping Spaces with Different Styles of Canvas Prints 
Step into a world where art is no longer confined to museums, where your spaces become the gallery and custom canvas prints the masterpiece. Our myriad canvas print styles are the keys to your creative freedom, perfect for transforming any room into an aesthetic haven. Ready to transcend traditional boundaries of design? Discover various styles of canvas print and say hello to a revolution in interior décor. Get set to spark creativity and inspire conversations!  
Single Print Canvas  
A Single Print Canvas is a stylish decor piece featuring one image stretched across a single frame. It's a sleek and modern way to showcase a treasured memory, a beloved portrait, or a striking piece of art. With its simplicity and elegance, a single print custom canvas effortlessly commands attention and becomes the focal point of any space. 
Unique Ideas To Hang Single Print Canvas:   
Classrooms: Inspire students by hanging a custom canvas print with a powerful quote, an important historical moment, or figures from literature or science. 
Store Sections: For larger stores or departmental stores, single print canvases can help define different sections - 'Women's Wear,' 'Kids' Toys,' 'Electronics,' and so on. 
Menu Boards: In restaurants or coffee shops, a single custom canvas print featuring the day's specials, signature dishes, or drink options can create a more visually appealing and memorable customer experience. 
Round Canvas:   
A Round Canvas print is a unique and modern alternative to traditional rectangular or square canvases. This style of canvas prints takes your chosen image and stretches it onto a circular frame, providing a dynamic and visually engaging perspective. 
Unique Ideas To Hang Round Canvas:   
Baby Nursery: A round canvas print featuring a cute animal or a fairytale character would be an endearing addition to a baby's room. Its soft canvas edges make it a safer choice for spaces occupied by little ones. 
Bathroom: Who says art can't go in the bathroom? A round canvas print of a serene ocean scene or a lush tropical landscape can enhance the relaxing ambiance. 
Hotel Lobbies: Create a striking first impression in hotel lobbies with large round cheap canvas prints featuring local landmarks or culturally significant artwork.  
Triangle Canvas:   
A Triangle Canvas print offers a unique variation from traditional canvas shapes. This edgy, three-sided style of canvas print showcases your chosen image on a triangular canvas frame, adding a striking geometric element to any space. 
Unique Ideas To Hang Triangle Canvas:  
Music Room: Complement your musical space with triangle canvases displaying musical notes, instrument images, or iconic musicians to inspire creativity. 
Boutiques: Showcase the essence of your brand or the latest fashion trends through triangle custom canvas prints in your store. 
Entrance Hall: Create an impressive entrance by pairing triangle office canvas prints of varying sizes together, presenting a captivating arrangement for guests as they enter. 
Heart Canvas:   
A Heart Canvas is a charmingly unique style that stretches your chosen image onto a heart-shaped frame. This style of canvas print is a perfect way to celebrate love and affection, lending an air of sentimentality and warmth to any space. 
Unique Ideas To Hang Heart-Shaped Canvas: 
Wedding Venue: Hang a heart canvas featuring the couple's engagement photo or a candid moment, creating a romantic focal point at the reception. 
Counselling Centers: In spaces where emotional healing takes place, heart canvas prints featuring calming or inspirational images can foster a warm and nurturing environment. 
Romantic Restaurants: Create an intimate ambiance with heart canvas prints that feature romantic imagery or poetic verses. 
Oval Canvas:   
An Oval Canvas is a charmingly vintage twist on traditional canvas prints, featuring your selected image stretched onto an oval-shaped frame. This elegant format adds a classic touch and soft curves to any space. Such canvas prints for home are an ideal pick for those looking to combine traditional design with a modern twist. 
Unique Ideas To Hang Oval Canvas: 
Victorian Style Homes: In homes with traditional or Victorian architecture, an oval canvas print of a classic painting or a family portrait can complement the décor. These are wonderful canvas prints for home, particularly if you appreciate classic aesthetics.  
Dressing Rooms or Walk-in Closets: An elegant oval canvas print featuring fashion-inspired artwork or a chic design could add a stylish element. This style of canvas prints is particularly suited to areas where fashion is the focus.  
Lounge Areas: Living room canvas prints like large oval canvases of abstract or modern art can make a stylish statement in a lounge or chill-out zone. These prints provide an opportunity to showcase your personal style in a common area of the home.  
Wall Display Canvas: 
Wall Display Canvases are arrangements of several canvas prints of different sizes, creating a visually striking gallery on your wall. They allow you to tell a broader story or showcase a theme, adding depth and drama to any space. This style of canvas prints offers a dynamic way to express a narrative or a concept through multiple images, creating a comprehensive visual experience.  
Unique Ideas To Hang Wall Display Canvas: 
Movie Theatres: Lobbies can feature wall display canvases of movie posters, iconic film scenes, or cinema history to build excitement among movie-goers. 
Corporate Offices: In the reception area or boardroom, a wall display custom canvas print showcasing company milestones, mission statements, or images of team activities can create a motivating environment. 
Community Centers: A wall display canvas showcasing images of community events, historical landmarks, or local heroes can foster a sense of pride and connection. 
Photo Collage Canvas:  
A Photo Collage Canvas combines multiple images into a harmonious arrangement on a single canvas print. It allows you to create a rich visual narrative by displaying a variety of moments, expressions, and subjects in one place. These custom canvas prints are a creative, visual smorgasbord that beautifully captures a range of moments, themes, or subjects in a single piece. 
Unique Ideas To Hang Photo Collage Canvas: 
Hobby Rooms: In your hobby or craft room, a photo collage canvas displaying your various projects or creations can serve as both inspiration and a celebration of your work. Such canvas prints for home also offer a unique and personalized touch to any living space. 
Sports Clubs: Display a photo collage canvas featuring action shots, team photos, or victorious moments to inspire team spirit and pride. 
Food Trucks or Pop-up Stores: A canvas showcasing a collage of your best-selling items, customer reactions, or fun moments can attract potential customers. 
Hexagon Print Canvas:  
Hexagon Canvas Prints add a modern and geometric edge to your decor. These style of canvas prints feature your chosen image on a six-sided canvas, providing a unique and versatile way to showcase your favourite photographs or designs. With their geometric charm, Hexagon-shaped custom canvas prints can transform any space into an eye-catching and modern setting. 
Unique Ideas To Hang Hexagon Print Canvas: 
Science Classrooms or Laboratories: Hang hexagon canvas prints featuring scientific concepts, images of notable scientists, or inspiring quotes to stimulate learning and curiosity. 
Art Galleries: Hang a collection of hexagon-shaped Gallery canvas prints showcasing different art styles or themes to create an interactive and visually engaging exhibit. 
Garden Sheds or Greenhouses: A hexagon canvas print showcasing plant or flower images can add a vibrant touch to your green space. 
Split Canvas:   
A Split Canvas print divides a single image across multiple canvases, creating a striking visual effect. When these individual pieces are hung together, they form a dramatic ensemble that commands attention. This is a bestselling style of canvas prints because it provides a unique and dramatic way to display a single image, making it an ideal choice for those seeking to make a bold visual statement. 
Unique Ideas To Hang Split Canvas: 
Automobile Showrooms: Use a split custom canvas print to feature a close-up of a popular model or a classic car, adding a stylish touch to the showroom. 
Museums: A split canvas featuring a significant artifact, painting, or historical image can create an impactful display and engage visitors. 
Dance Studios: Split a captivating image of a dynamic dance move across multiple canvases to inspire dancers and create a vibrant atmosphere. 
Photo Mosaic Canvas:   
A Photo Mosaic Canvas is a captivating piece of art that combines hundreds or even thousands of tiny images to compose a larger, single picture. From a distance, you see one image, but as you get closer, you discover the multitude of photos that make up the mosaic. 
Unique Ideas To Hang Photo Mosaic Canvas: 
Fitness Centers: Use a photo mosaic canvas in the workout area, where the larger image motivates fitness goals, and the smaller one's capture snapshots of members' progress or activities. 
Photography Clubs: You can creatively use this style of canvas prints for multi-photos. Showcase a photo mosaic canvas composed of various club members' photographs to demonstrate the diverse talent within the group.  
Coffee Shops: A mosaic canvas featuring a coffee cup or a coffee bean, composed of various snapshots of patrons enjoying their coffee, can add a personal and warm touch.  
Lyric on Canvas: 
Lyrics on Canvas is a personalized style of canvas prints where you can immortalize your favourite song lyrics, quotes from musicians, or even your original lyrics on a canvas print. These prints combine the power of words with visual art, creating a deeply personal and inspiring decor piece. 
Unique Ideas To Hang Lyric on Canvas: 
Band Rehearsal Spaces: Display a Custom canvas print with your band's original lyrics to remind you of your artistic journey and keep your creative spirit ignited. 
Master Bedroom: Choose lyrics from a song that you and your partner consider 'yours' or a song that captures the essence of your relationship. This canvas print for home can serve as a daily reminder of your bond. 
Nightclubs or Bars: Lyrics from popular party anthems or songs that define the vibe of your club can create a lively and engaging atmosphere. 
Digital Painting Canvas: 
Digital Painting Canvas brings the contemporary world of digital art to the timeless appeal of canvas. This style of canvas prints features vibrant, digitally created artworks that can be customized and easily replicated, offering a modern twist on traditional canvas prints. 
Unique Ideas To Hang Digital Painting Canvas: 
Co-working Spaces: Hang a digital painting canvas with an inspiring or innovative design to stimulate creativity and foster a modern work environment. 
Art and Design Schools: A canvas featuring digital artworks can inspire students and highlight the exciting possibilities of digital art techniques. 
Contemporary Homes: For a modern, minimalist, or industrial styled home, digital painting living room canvas prints with abstract designs or modern subjects can enhance the aesthetic. 
Quotes on Canvas:    
Quotes on Canvas features motivational, humorous, inspirational, or personal sayings on a canvas print. These quotes can speak volumes, uplifting your mood, sparking creativity, or simply bringing a smile to your face. This style of canvas prints is a powerful way to personalize your space. They not only enhance the aesthetic of the room but can also inspire, motivate, or make you ponder. 
Unique Ideas To Hang Painting Canvas: 
Home Libraries: Display office canvas prints with an inspiring quote from a favourite author or a timeless literary quote to enhance the reading atmosphere.  
Personal Workspace or Home Office: A canvas print for home that carries a quote which motivates you or speaks to your work ethic can provide a little boost during a challenging workday.  
Art Studios: A gallery canvas print featuring a quote about creativity, art, or expression can inspire artists and stimulate the flow of ideas.  
Canvas Bus Roll:   
A Canvas Bus Roll is a contemporary, stylized piece of wall art that draws inspiration from the traditional rolling destination signs found in older public transport vehicles. In the realm of decor, these custom canvas prints are often customized to reflect personal journeys, interests, or significant life events, making them a unique and meaningful addition to any space. 
Unique Ideas To Hang Canvas Bus Roll: 
Event Venues: Highlight a list of significant events on this style of canvas print that have taken place at your venue, from concerts to weddings, fostering a rich historical narrative. 
Student's Room: Display a bus roll featuring the courses they've taken, their favourite subjects, or future study aspirations. 
Startups or Tech Companies: Use a bus roll to list the iterations or major updates of your product, important project code names, or even the company's core values.   
Canvas Banner:  
A Canvas Banner is essentially a long, vertical custom canvas print that serves as a versatile platform for showcasing personalized art, text, or imagery. It's a great medium for adding a creative touch to a variety of spaces due to its unique format and customizable nature. 
Unique Ideas To Hang Canvas Banner: 
Hair Salons or Spas: Hang a canvas banner with motivational beauty quotes to create a soothing atmosphere or print store offers to attract more customers. 
Craft or Sewing Room: Display a canvas banner with sewing patterns, DIY craft ideas, or motivational crafting quotes to inspire your creative process. 
At-Home Workout Space: Create a custom canvas print banner with your workout routine, motivational fitness quotes, or images of your fitness goals to keep you inspired. 
Pop Art Canvas:    
Pop Art Canvas is a personalized style of canvas prints created in the style of the Pop Art movement. This art form is characterized by its bold and bright colours, simple images, and its incorporation of commercial and popular culture subject matters. Images of your choice are transformed into a vibrant, colourful, and often simplified design. This results in a one-of-a-kind piece of artwork that is both personal and artistically intriguing, ready to be printed on high-quality canvas for display. 
Unique Ideas To Hang Pop Art Canvas: 
Fashion Retail Stores: Hang pop art custom canvas prints that pay homage to iconic fashion moments or designers to enhance the trendy atmosphere. 
Game Room or Entertainment Area: Hang a Pop Art style of canvas print of vintage arcade games, favourite movie characters, or music icons to amp up the fun factor. 
Cafes or Eateries: Choose pop art images related to food and beverages to add a fun twist to your dining area. 
Word Art Canvas:    
Word Art Canvas is a style of canvas prints that focuses on text as the primary element of the design. The "custom" aspect allows you to choose the words, phrases, or typography that hold special meaning for you. This kind of custom canvas print could include a meaningful quote, a family name, significant dates, or even a single word that resonates with you. These words or phrases are artistically arranged and stylized to create a visually appealing piece of art.  
Unique Ideas To Hang Word Art Canvas: 
Master Bedroom: Use a romantic quote, song lyrics, or significant dates (like the day you met your partner) to add a personal and intimate touch with this kind of canvas prints for home.  
Pet's Corner: Have a dedicated space for your pets? A Word Art Canvas with a quote about pets or their names would be an endearing addition. 
Tree House or Playhouse: A Word Art Canvas in your children's playhouse or treehouse with fun sayings, rules of the clubhouse, or their favourite children's book quotes can add an imaginative touch. 
Budget-Friendly Custom Canvas Deals  
Having journeyed through the compelling world of CanvasChamp's unique style of canvas prints and the array of creative ideas to display them, it's time to turn these inspirations into reality. We're excited to present an offer designed to fill your spaces with more beauty, more expression, and more personal touch. 
Here's a sensational deal for those seeking cheap canvas prints: Buy 2 canvases and get the 3rd free! Use the coupon code 'B2G1' at checkout to take advantage of this offer. It's the perfect opportunity to infuse your spaces with the personalized touch of CanvasChamp's quality canvas prints. Whether it's to uplift your own space or gift someone with a touch of artistic personalization, this offer makes it even more rewarding. Start exploring, curate your collection, and let the magic of '3' custom canvas prints transform your home with CanvasChamp! 
Canvas Wrap Types  
Just as the cherry tops off a sundae, the perfect wrap type adds the finishing flourish to your custom canvas prints. We've traversed the diverse styles of CanvasChamp's offerings, showcasing how they can inject personality into any space. Now, let's shift gears and talk about the unsung hero of the canvas world - the wrap type. 
Think of the wrap as the frame of your story, holding together your cherished memories, favourite quotes, or striking images. Your perfect canvas masterpiece isn't complete without the perfect wrap. So, let's unravel the world of wrap types - a seemingly small detail that makes a world of difference to your custom canvas prints. 
Mirror Wrap: With a Mirror Wrap, your chosen canvas print style wraps around the canvas frame as if mirrored on the edges. It comes in two thickness options - 0.50" or 0.75", safeguarding those crucial details near the canvas edges that might otherwise get cropped with an Image Wrap. 
Image Wrap: Often the go-to choice for canvas edges, the Image Wrap extends the image over the sides of the canvas frame by either 0.50" or 0.75". Keep in mind, this stylish wrap may slightly trim your image on the front. 
Custom Colour Wrap: The perfect pairing to any interior decor, the Custom Colour Wrap lets you choose a colour from our palette that aligns with your wall colour. This results in a seamless integration of your custom canvas print into your room's aesthetics. 
White Border Colour: Opt for a white border to infuse a dreamy quality into your custom canvas prints. This style causes your artwork to seemingly levitate off light-coloured walls, an ideal pick for photos rich in lighter tones. 
Black Border Colour: For a sleek, timeless appeal, the Black Border Colour wrap holds the key. This style frames your image with a solid black edge, keeping your artwork in the spotlight and transforming your prints into enduring canvas art pieces.  
Conclusion:   
As we wrap up this exploration into the diverse world of custom canvas prints, one thing becomes undeniably clear - the possibilities are virtually endless. From Single Prints to Wall Displays, from Lyrics on Canvas to Digital Paintings, and with the myriad of unique wrap styles, there are countless ways to breathe life into your spaces through these versatile style of canvas prints. 
Your home, your office, your store, or even your personal corner can be transformed into a reflection of your personality, your tastes, and your stories. The power of custom canvas prints lies in their ability to encapsulate memories, aspirations, and expressions in an array of styles and displays, enriching your spaces and creating visually appealing focal points. 
So why wait? Unleash your creativity, shop at CanvasChamp and start your journey in the enchanting world of custom canvas prints today. Let every corner of your space narrate a tale that is uniquely yours with CanvasChamp. Remember, the only limit is your imagination!