Everlasting Photo Gifts to the Special Women in Your Life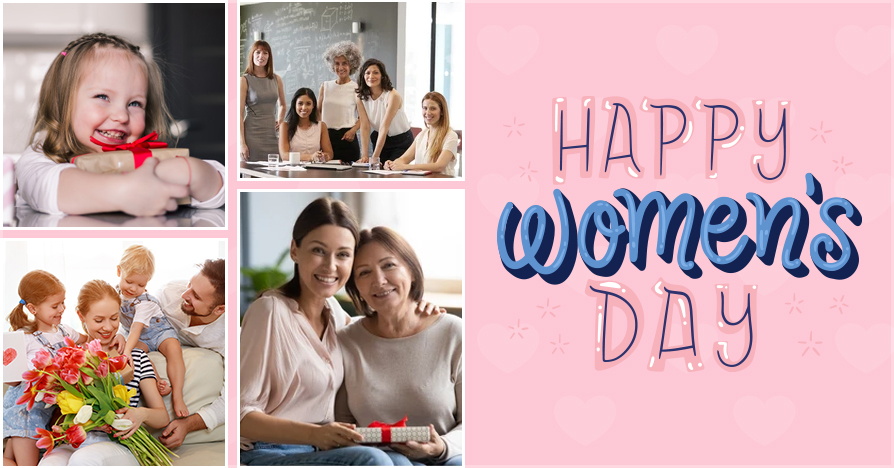 International Women's Day celebrates the everyday struggles and sacrifices of the women in our lives and world. We know that just one day of dedication to women's infinite contributions does not even begin to show our respect and love for them. But it is a milestone to cherish anyway.
With this one of the most celebrated days in the world around the corner, you can make personalized gifts to special ladies in your lives. These ladies, from your mom, better half, sister to your daughter, and from your friends to teachers or co-workers - all deserve to be pampered and appreciated for the joys and love they bring to your lives.
If you are a woman, then it is one of those rare occasions when you must gift yourself something special. You matter.
Memorable Personalized Custom-printed Women's Day Gifts
Many gifts last only a few days, or in some cases only a few hours. Also, most of those gifts, from a staycation to flowers or from a spa appointment to chocolates, cannot have an imprint of a very personal moment on them!
So, at CanvasChamp, we have some great and personalized custom-made gift options for all those special ladies that you adore, love, and respect.
1. Custom Aprons
Even though you may want your mother or grannies to go out and celebrate, dance, and have fun, their idea of celebrating every occasion surrounds their kitchen. They love to make delicacies, dishes, and food for their children and loved ones.
They have their knives in hand and don aprons all day to work in the kitchen and fill their families' hearts with sumptuous dishes. Most likely, even on Women's day, they'll not let you eat out, the order in, or even take on the role of the home chef! Cooking is their passion, and no one can take from them.
So why not print their happiest of moments with themselves and family on their aprons that they can proudly don all day long.
Or if you and other male members of the family plan to cook for them on that particular day and to continue later, you can get a custom apron printed with their smiling faces on it. When you use that apron while bringing her a hot cuppa, or a refreshing juice, she'll beam with a smile and joy.
Add some witty lines to the print like "Baking is Meditation" or "Every problem has one solution – Cooking & Eating!" and make her laugh.
2. Personalized Moon Lamp
Moon lamps add elegance and elan to any setting – an elegant living room, on the bedside table, or in a landscaped garden. They come in many sizes to fit a small shelf or to be hung from the ceiling. You can have moon lamps shine in white or have them with a golden yellow glow.
Custom Moon Lamp symbolizes the love, affection, and cosines of a well-lit full moon night with your loved ones on a beach or a hilltop. When you gift the ladies a moon lamp printed with their beaming faces, you want to tell them that they are your fairy queens or princesses from Cinderella stories.
It shows your love and respects you have for them. When the lamp is lit, it would mean that they are your guide and shining light, you find support in them, and you look up to them!
3. Personalized Mugs
One of the most common and yet still most coveted gifts that any person can have is a personalized mug with radiating faces printed. Add a witty line or a motto, and you are set to go and announce how much you love your ladies.
It is also a very persuasive and personal gift that you can give to your female boss, teachers, co-workers, and friends. It does not scream that you are crossing your limits without being too personal and still conveys how much you respect and care for them.
No doubt, whenever they'll have tea or coffee in those personalized mugs, they'll recall and remember you. You can be a part of their everlasting memories. When they'll have their first shot of energy in the mornings, seeing their lovely faces will make their day.
4. Framed Photo
Photo frames will never be passé and will continue to adorn our walls, tables, and lives for as long as we can think of. Therefore, if you already have a photo, pinup, or a collage of memories in print or plan to do so, you need the perfect frame to showcase your art.
Framed photos handcrafted with love and care come in all sizes and add to the picture's glory. With the perfect choice of frame body, material, color, and finish, you'll have the picture-perfect gift for that special lady!
You can select from the modern & sleek black frames, eternal classic golden brown frames, to a clean golden frame, a rustic maples frame, and to the traditional formal black curved frames to adorn your pictures. You can also have a set of images set in a geometrical array of frames to make a living room showpiece.
5. Photo Pillows
What do you do when you have the rush of that feeling of love, affection, and coziness? You embrace your loved ones, or when they are not around you, hold tight the softest thing that feels like hugging a person – a pillow.
No imagination, having the print of your lovely wife or daughter's face on the pillow covers and then hugging them. Isn't it wonderful to even think about it!
You can now liven up all rooms with our custom photo-printed pillow covers and cushion covers. The material of the pillow covers is soft to touch, easy to wash, and comes in all standard sizes for pillows and cushions.
Add a dash of colors, some memorable lines, and turn your pillows into a photo frame you can hug anytime.
6. Custom Table Top
Photo frames, lamps, and mugs can break, pillows can fade or tear, aprons will get soiled with regular use, and your most adored albums remain on shelves or in your phones. So, what can be there that can last longer and be out in the open for everyone to cherish?
It is table tops with custom prints of your ladies' special moments of victory, achievements, and most intimate moments. Tabletops are artistic and allow you to share your memories with your friends without the problems of care and fear of breakage.
Custom Table Top comes in four stylish options to suit your style and with a different texture to the - canvas prints tightly pasted on a metal frame, direct on metal prints, acrylic prints, and engraved plaques on metal plates or wooden frames.
Why Gift from us?
Each piece is made with love and care!

Best quality materials to last long.

Quality craftsmanship in photo printing and framing.

An amazingly vast selection of styles, colors, templates, and designs.

Fast shipping to any zip code in Canada.

We guarantee satisfaction – you get what you order.

Most competitive rates for single pieces and bulk discounts available.