10 Creative Ideas To Decorate Kids Room With Canvas Prints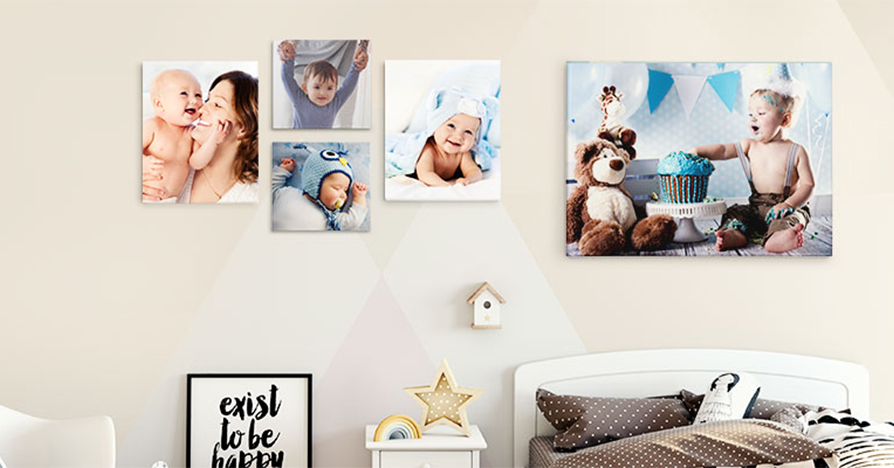 Children are born dreamers, where one aspires to be an astronaut or maybe a space cowboy they saw on the television that night or perhaps an elegant ballerina. Our job as parents is to foster a child's imagination without interference. 
Parents can encourage their children to fulfill their dream by remodeling their child's rooms and using fantastic canvas print for kid room decoration. And a well-decorated and organized room indeed enhances their productivity and creativity.
From inspirational quotes and personalized typographic prints to dancing ballerinas and dreamy landscapes, there's a print or poster ready to grace your child's nursery or bedroom. Unfortunately, with so many options available, it becomes quite confusing to choose the right one.
That is why we have prepared a list of the ten best creative ideas to decorate your kid's room. So, Join us on a journey of beautiful wall art ideas and discover what catches your eye!
Here Are Ten Canvas Print Ideas To Try:
1. Photo Blanket
2. Wall Display
3. Digital Oil Paintings
4. Photo Magnet
5. Photo Boards
6. Photo Collage
7. Quotes on Canvas
8. Canvas Prints
9. Split Canvas Prints 
10. Bus Rolls
Canvas prints make perfect kid's decorations! Check out the latest canvas print for kid room decoration:
1. A Photo Blanket of Comfort
Children enjoy their pastimes. Every time your child cuddles up in a photo blanket, they will be reminded of what they enjoy doing. 
You may, for example, print a photo of their football, handball, or field hockey team, or simply a photograph of them that they are particularly proud of, on the blanket. And once done, set them up for a good night's sleep, cover them with a custom photo blanket and read them their favourite storybook. 
Together, you will be able to select the print that will delight your child.
2. Wall Display For The Junior Artist Within
Design a custom wall display with a collection of your kid's favourite cartoon, creatives, actors, etc. and allow your kid to use the spare wall display for their creativity. 
Here's how to design a child's room wall displays so that they may be creative. First, cover one wall with chalkboard paint and spread a broad wall display on the wall. 
Your youngster will have a large area to practice sketching skills and realize their ideas for children's room wall decor. A large dry-erase board made of acrylic or PVC is another option.
3. Digital Oil Painting, Something That Never Ages
The delight of watching your child grow up cannot be conveyed in words. There are countless unique events in your life! From the moment a newborn is brought home from the hospital to the day she takes her first walk, the day she turns five, and the day she graduates, there are many memories to treasure! 
Don't you believe they are the kinds of memories that should be right in front of your eyes, rather than sleeping lazily in a picture album that you only look at once in a while?
Now turn all your favourite photos into gorgeous custom digital oil painting canvas! In the kid's room, your child will find love, colour, and inspiration, all in one place. As a result, your favourite memories are there in front of you.  
4. Photo Magnet: Artist always-on display
Art is constantly present in the lives of children. Kids tend to draw and play games after school, and you should motivate them too to give time to their hobbies and be involved in curricular activities. 
But soon after the first drawing of your kid trends on social media, it finds its way to the cloud. Or, many of these pieces are usually stored beneath drawers or lost drawing books.
Instead, making picture magnets from these projects might be the most convenient method to store and exhibit your children's artwork. Further, it can also be a fantastic way to inspire them to produce more. 
Their artwork cum custom photo magnet may also be a lovely present from the children to their parents and grandparents for any upcoming birthdays or special events.
5. Photo Boards: Always cherishing the moments
Photo board designs blend the beauty of wall décor with the practicality of photo frames, making them one of the newest and oddest additions to the family of wall art. A photo board wall décor generally consists of a large tree with numerous branches, each with built-in frames or specific slots for affixing images.
If you're seeking children's room ideas to bring some of your child's most treasured moments to life, the photo board wall decoration is a new and creative option.
6. A Photo Collage: Keeping Memories In A Single Frame
Bedrooms are a safe sanctuary and a place to unwind after a hard day. Vacation photos, images of your children, and gorgeous artwork are lovely ways to add dreamlike scenes into the atmosphere of your bedroom.
Get started with picking a theme of your kid's choice, then arrange photographs from past family trips, birthdays, school activities and achievements, and more. Next, use CanvasChamp's design tool and customize a photo collage online.  
7. Quotes on Canvas: Keep Inspiring
Carefully picked children's art has the added benefit of reminding your children of the inspiring teachings you are putting in them.
Repetition helps with learning, especially when it comes to language. By putting inspiring quotations in your child's environment, you improve the possibilities of understanding and comprehending something new.
8. Canvas Prints: Let the Explorer Out
Exploring the Earth and its mountains and oceans is thrilling. But, still, there's more! With kid's bedroom wall art ideas portraying astronauts and celestial objects, you can let your children's imaginations fly through the entire cosmos! 
Who knows, maybe one day they'll be able to travel through space and time to alter the course of history. Canvas prints would be an excellent alternative for this concept.
9. Split Canvas Prints: Live memories Grand Size
Those seeking a low-cost and unique method to alter their walls might consider split canvas printing, which involves simply dividing your favourite image across many canvas panels.
Split canvases are classified into two types: triptych canvases and diptych canvases. Triptych refers to dividing your selected photo into only three panels, whereas diptych refers to dividing it into two.
Like a traditional canvas photo, the outcome is both eye-catching and stunning, adding some individuality to your walls and home décor.
10. Bus Rolls: A journey Down the Memory Lane
Create a beautiful word art of places you have visited with your baby and club it with some of your favourite quotes, and your lovely-looking bus roll canvas is ready to hang. 
Custom Bus rolls let you experiment with your creativity and enable you to create a wall art reflecting your personality. You can choose several options for colours and background. For aesthetic purposes, bus rolls have an incredible vintage similarity to modern living room décor.
Conclusion:
Decorating a child's bedroom is enjoyable. However, the most exciting aspect is the wall décor since walls are like large blank canvases to add vivid colours and distinctive motifs.
The above-mentioned decorating ideas for the children's room are illustrative. You may utilize all of the concepts described above and customize them on CanvasChamp. Further, you can even check out our wide range of personalized kid's products, including photo umbrellas, square-shaped sequin pillows, custom magic mugs to creatively do something unique for your child's room.
Have fun with your kid's room decor!