10 Types Of Personalized Metal Prints To Make A Perfect Gift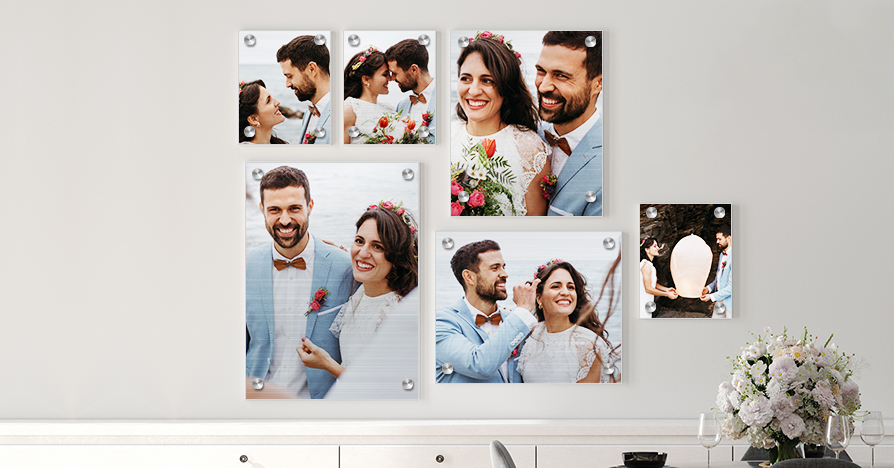 Who doesn't like to take snaps on vacation, celebrate birthday parties with much-loved selfies and click Insta pictures at the office get-togethers? 
But, when it comes to printing these pictures, paper prints fail to retain the original shine and spark of the images. 
Now, be it your nature shots like ocean surf, sweeping landscape or streaky clouds rolling over the mountain or your portraits, metal prints will never let the beauty of your click fade away. 
Metal prints add extra charm and shine to your picture of nature, people or place and illuminate any area where you place them.
What is a Metal Art Print?
Metal art prints are those wall art pieces that are printed on aluminum. These custom metal prints provide a clean, modern, and high-definition look to your picture. They can be used inside or outside of the house because they are fade, moisture, and water-resistant, making them last longer with your perfect image printed on them.
10 Different Types Of Metal Art Prints in 2021
Your imagination is the only limit because the creativity is endless with so many metal print options. You can choose from different styles of collages to make your artwork personal and add a different tone of originality using several customization options. Or simply engrave your picture on metal art prints and decorate your area using various sizes and styles.
1. Single Metal Prints
Why not showcase your favourite picture with your loved one, family, friends or colleague, uniquely? Try printing it on a single print style frame and let your living area look stunning.  You can also elevate this single print by adding a border of your choice.
2. Wall Display on Metal
Collect the photos that tell a story about your family love, romance or kid's growth and get it printed on the metal photo prints. This wall display metal prints allow you to print many pictures with specific sizes; you can also resize, rotate or crop your images as per your desire.
3. Photo Collage on Metal
Pick all your favourite and cherishable memories and create a photo collage with metal photo prints.  These personalized metal prints display your photos in different layouts to not skip cherishing any special memory. It also helps you to recall your beautiful times whenever you see them.
4. Split Photo on Metal
Show your creative snaps of nature which has a comprehensive view with split metal style. If you click the panorama images of the landscape, split it into parts and print it in split metal style. Hang it in a living room and be ready to take compliments from your guests.
5. Photo Mosaic on Metal
A photo mosaic is a unique style to create a big picture by assembling small photos. It is ideal for capturing moments that can be adored throughout your life with your family and friends. Just choose a picture of your choice which you want as a final photo mosaic and let small images become the base of your final picture.
6. Song Lyrics on Metal
Engrave your very first song sung by your loved one and make it everlasting by printing it on metal prints. You can also print the lyrics of a prewedding, wedding dance song, first marriage anniversary song or any other poetry that has an essence of your love.
7. Photo on Digital Metal Prints
Are you always ready to experiment with your pictures? Then, you can give some special effects to your image and flaunt your creativity in front of others using a unique digital print style on metal frames. All you need to do is choose the oil, charcoal, knife and comic effect and customize your picture differently.
8. Quotes on Metal
Sometimes you need some positive vibes that throw your sorrows away and fulfil your heart with joy and love. Print quotes close to your heart on metal prints and read them when looking out for some motivation. Quotes give you a kickstart, and when you engrave it on a metal print, it reminds you to stay positive.
9. Bus Roll on Metal
Set your small goals and print them step by step on custom metal prints. You can also make a list of good habits and engrave it on a bus roll and gift it to your lazy friend to wake up and route themselves accordingly.
10. Word Art Printed on Metal
Uniquely display your thoughts by printing them on the word art. This type of metal print comes in different shapes, including heart, diamond, home, and round so that you can express your feelings distinctively.
How to Hang Metal Photo Prints in 2021?
Hanging metal photo prints is a pretty complex process, but the CanvasChamp team has made it easy for you. Just use hardware hanging tools like:
Front mount

Back mount

Easel 

Easel stand 
Show your creativity without worrying about the hassles of hanging metal prints.
In Final Words:
Create a wall full of creativity by displaying an extensive gallery of your memories, songs, quotes and words curated by your loved one in metal prints by using our simple designing tool. Use it for yourself or give it to anyone to celebrate their moment.
Check Out Our Top Canvas Products: