Wood Prints to Make Your Space Warm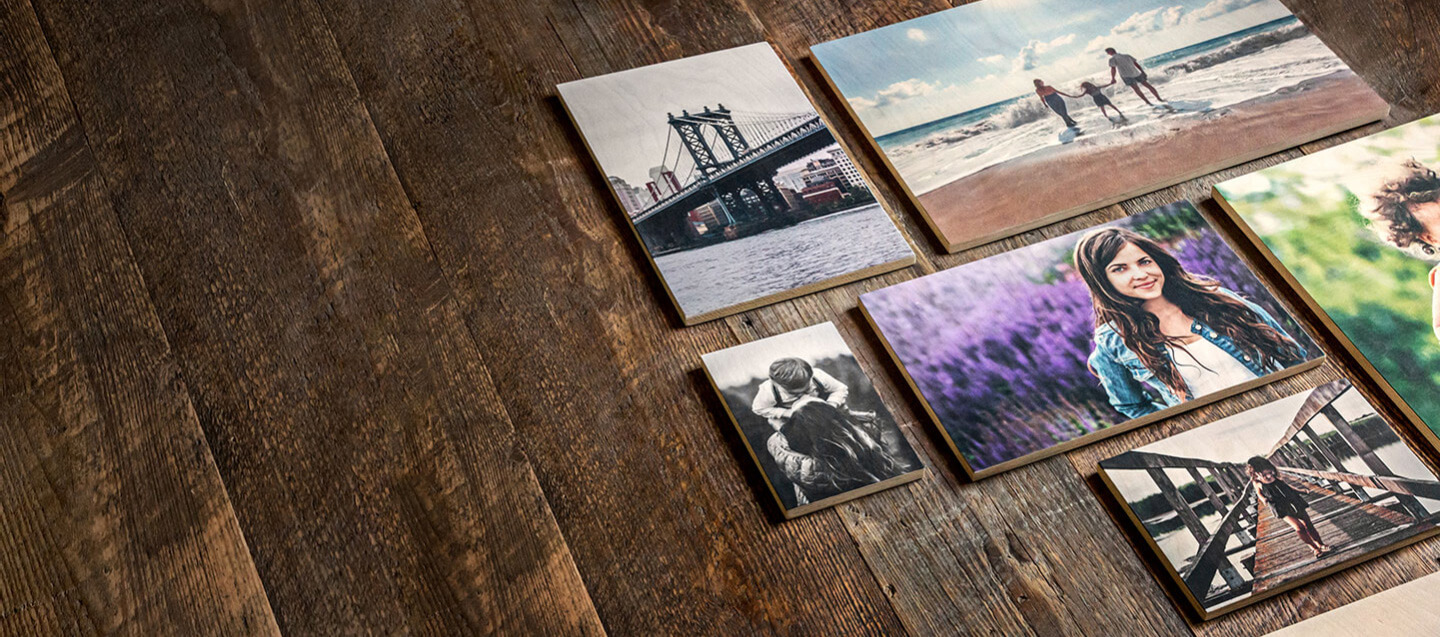 The texture of the wood is just right enough to add some dimension to the picture. And it comes with proper hardware that lets you unbox it as a ready-to-hang piece and enjoy. You will love seeing your kids prints in large size with such a high-quality product.
In the past, you may have had smaller wooden products at some point of time and would end up disappointed with how either the texture of the wood gets worse or the photos in it start to look fuzzy.
But you would be really pleased with custom wood prints from us that have a sharpness and great clarity of the images. You wouldn't even have to sharpen your image before sending off the print to us, and it still will be printed with perfect sharpness.
Also, because of the wood medium, you might get worried that your image might turn out to be too warm. But, that's not the case with wood prints actually. When we receive your photos just as they are, we cool it slightly in terms of colours.
But that colour adjustment negates with the warmness of the wood, and makes the photos of the colours come out just as it is! You can even handle colour management on your own while designing the picture on our website editing tool.
Ordering from CanvasChamp is incredibly easy too! You don't have to download any software or any extension to work out your photos for wood printing online. You can directly order from the website; it's simple, fast and easy that way. And they don't even cost more even if you choose a large size.
If you are not a big fan of canvas prints, then custom wood prints are a perfect alternative for you. You will love printing your artwork and can have photos of your kids at the same time all over your walls. You can even add smaller framed prints around a large-sized wood print to create a mini-gallery wall. It will create an excellent focal point for the room.
Or, even maybe from next year or from the start of the holidays, you can start gifting custom wood prints to your family, friends, colleagues or even clients. Make a gift timeless and modern while also making it personalized to suit any occasion.
Since wood printing online gives you a warm golden appearance to your photos, they would be perfect to gift during the Christmas Holidays. Hang gorgeous work of art on your walls or offer them to your friends and family as a unique and personalized photo gifts. Show how good an artistic eye you have by virtually pleasing printing photos.
 We hope these quick tips on having wood prints as gifting or for personal home decor will help you decide on what kind of wood art to purchase. If you are still confused, then please don't hesitate to contact us through email or customer support. Make the most out of your desire to decorate your living space with us. Visit CanvasChamp today for good deals and offers.