Canvas Prints - Why and From Where?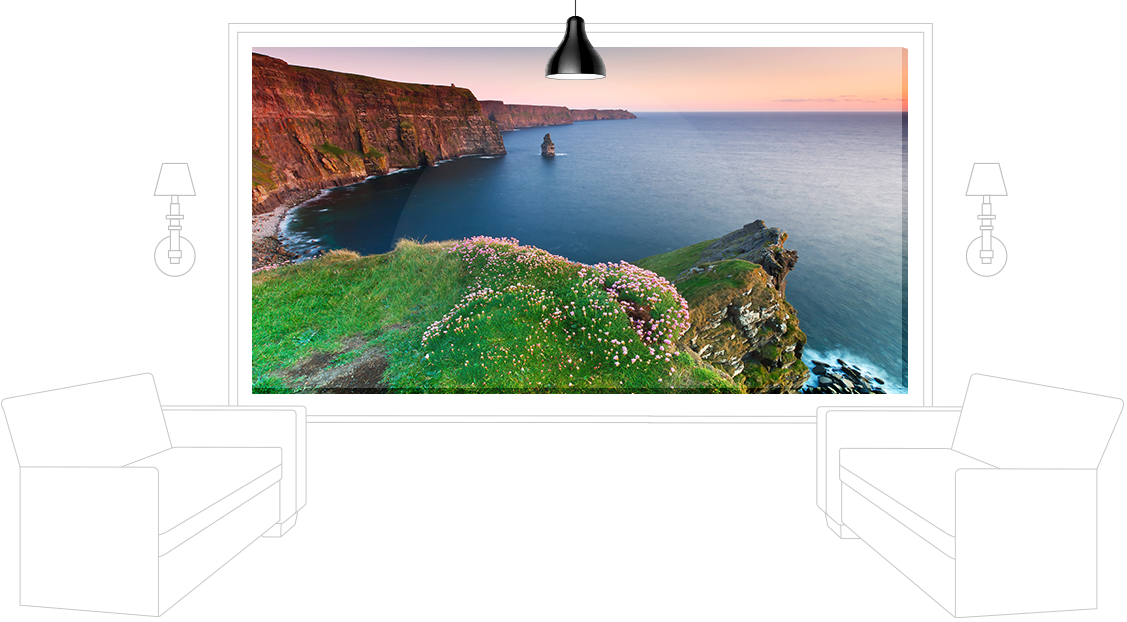 Canvas Prints are all the trend at the moment, with many buying them as gifts for loved ones. Artists such as Andy Warhol and street artist Banksy have greatly influenced design and fashion trends, with many top interior designers using Canvas Prints in their models.
As a result of this increase in popularity, many have turned to canvas printing as a way of creatively decorating their own homes and offices.
Creating your very own personalized canvas print is very easy, and is the ideal way to display and present your favourite family photos.

Traditionally, photos were displayed on a glossy finish paper and hung in frames while canvases were mainly used for decorative paintings.
But now, whether a picture reveals a scenery or a family portrait, photos are art. They should be displayed in a way that preserves the beauty. Canvas photo prints have many advantages over traditional images.


We at Canvaschamp provide unique and custom canvas printing services to display as artwork in a variety of settings such as home, office, or even educational environments.
The photographs of your choice can range from scenery, events, promotional items, and company logos.
Teaching materials, abstract art for aesthetics or personalized artwork for themes and many more to mention as the list goes on. Personal pictures of places and people can be printed onto the canvas as well to emphasize accomplishments or create a pleasant moment.


1. Professional Appearance

Canvases can give the feeling of the painted effect of any art. The professionals in a canvas workshop will always make sure that the photo looks fantastic.
Even the flaws in your image can be repaired by applying stylistic techniques. And since there's no glossy finish to maintain, spectators can focus only on the details of the photo without getting distracted.

We all take photographs of beautiful and awe-struck sceneries or people that we love. Some office spaces even prefer to use such images to keep away from using stock images, which can be cold and uninviting.
Personalized canvases allow original artwork of photographs to be showed in an elegant and eye-pleasing way. Let us know what type of exquisites your space uses, and we will help you create works of art accordingly that will increase the visual aesthetics of your office.

2. Durability

This is the best attribute of canvas photo prints. The materials used in canvas prints are stronger than paper. Archival canvas and inks will assure your works of art will last for years to come.
We also apply a clear coat on all of our canvas prints to make sure it won't be damaged easily. You can make use of a soft, damp cloth to wipe away dust on the canvas.

For instance, schools utilize artwork and pictures in a variety of ways such as; original artwork by students and staff, photographs of events at the school, accomplishments as well as quotes and motivational message prints.
CanvasChamp can provide quality products to increase the value of artwork and pictures that are more personified and customized to your satisfaction.
Students and staff will love seeing their work printed in a highly elegant and eye-pleasing artistic way.

3. Easy Editing

All photos are editable to achieve the look you desire. We have a website built-in design tool that lets you edit your artwork or image in whichever the way you want.
We have options of lamination, minor photo retouching options like red-eye removal, dust/scratch removal, enhance colour, date stamp removal and lighten/darken the image.
For major photo retouching, we give a box to explain to us what exactly the changes you need, and we will work on it 100% with you. If your photo is spoilt, we also offer photo restoration.
You could even get inventive and make odd sizes to create a unique piece of artwork or add a border around the photo's margins to build your frame. We offer many styles of edges and also wraps for your canvas prints.
4. Larger Images

We provide canvas prints in a range of sizes, from 5' × 5' to 54' × 54'! This makes it easier to display a large photo print on canvas on any given sized wall.
You could also split the photo into three or more panels and hang them side by side to create an even more significant dramatic effect.

5. Weighs Less

Frames can get heavy at times(depending on the type you buy of course). But, a canvas will weigh less than a framed photo. You can carry, hang, rearrange, roll or store them without the hassle of lifting too much weight.