7 Heart Warming Ideas For Personalized Canvas Prints With Text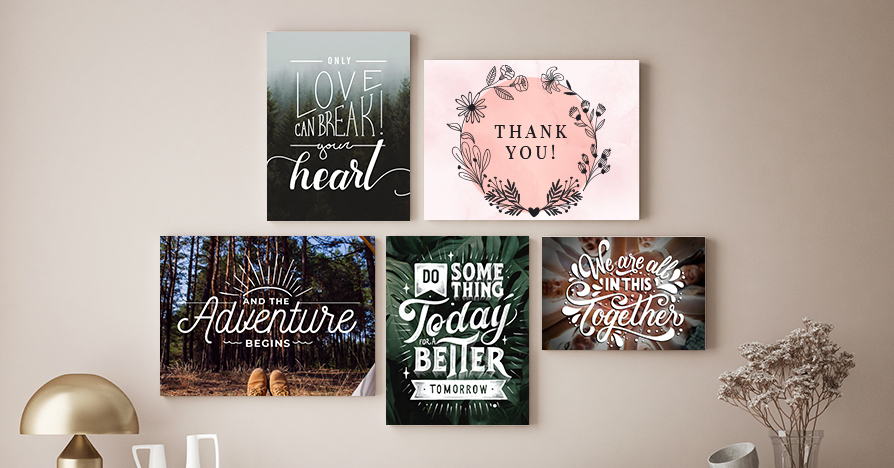 Leave those times behind when you used to spend hours in a store to find something special for your loved ones. And eventually, you end up buying something that has no personal touch of your love and feelings. 
Now it's time to customize a gift that uniquely conveys your emotions and thoughts, and the receiver can keep it forever. Try out the unique personalized canvas prints with text, which you can design online and deliver to your loved ones. 
Looking for ways to creatively and differently personalize canvas prints with text? Let's uncover here in this blog:
7 Ideas You Can Print on Canvas With Words
1. Print motivational quotes on canvas
2. Print leaders words on canvas
3. Inspirational quotes on canvas
4. Love quotes on canvas
5. Print family rules with names on canvas
6. Print Thank You messages on canvas
7. Print your business goals on canvas
Here are the seven ideas of personalized canvas printing with words that cherish your moments.
1. Print Motivational Quotes On Canvas
Sometimes we all need some motivation in life. And that's why printing quotes on canvas can be the best way to have it from the walls. A canvas print with motivational quotes hanging on a wall will always be a great reminder to stay positive. 
You can also print your most encouraging quote on canvas and give it to your loved ones to create the clarity and serenity they need.
2. Make It more special With Famous Canvas Sayings
Everyone follows an outstanding personality in their lives and loves to read the words from that person. There must be someone whose life journey inspires you the most, and you want to walk on their footprints. 
Now, give this desire a soul and print words from famous people on Canvas and hang them on your office, living room, and bedroom walls. 
You can engrave your ideal person's most famous and striking quote on canvas and give it to the one who shares the same thought.
3. Motivate a Friend by Printing Inspirational Quotes On Canvas
Do you have a friend who thinks that they lost everything or is feeling low? 
Now, print the most inspirational quote on canvas. And give it to your friend on special occasions or when they need you. 
This gift will help them see the different angels of life and reaffirm to stay positive and move on.
4. Express The Feeling of Falling In Love With Printing Love Quotes On Canvas
Are you planning to tell her or him about your feelings and looking for a creative way to propose to the one you love? 
Print your most loved love quotes on canvas and express your feelings to your beloved one and feel the most intense and emotional experience you have ever got.
5. Print Family Rules, Family Tree with names
We all love to give freedom to our kids so that they can enjoy their childhood. But for classifying what's wrong or right, we have to make some family rules that allow kids to learn how to behave. 
Now, print all your family rules uniquely and playfully with canvas prints and make sure your kids strictly follow them. 
And, you can also print a family tree with names and let your kids enjoy some fun time. 
6. Print Thank You Messages on Canvas and Appreciate the one who stood by you
Show your gratitude and strengthen your relationship by sending a Thank You message printed on canvas to the person who always stood with you.
Because not everyone wants an expensive gift, they just need thoughtful and emotion-filled appreciation words that create a sense of worthiness and loyalty from you to them.
7. Print Your Business Goals, Personal Aspirations on Canvas
Setting personal aspirations and business goals helps you become a better version of yourself and keep you focused. 
When you print it on canvas, then it creates a sense of urgency to move forward and achieve them.
Are you excited to print a canvas with text? Try gifting them on unique occasions.
Occasions When Canvas Prints With Words Will Melt Anyone's Heart:
1. New Year Day 
2. Easter Monday
3. Thanksgiving Day
4. Remembrance Day
5. Mother's/Father's Day
6. Friendship's Day
7. Family Day
8. Baby Gender Revealing Day
9. Valentine's Day
10. Birthday/ Anniversaries
Whatever the event it is, you can make it memorable by conveying a personal message to your family, friend, or loved one by designing personalized canvas prints with text.
How to Print Words On Canvas?
You just need to help us choose a few things, and your personalized canvas prints will be out for delivery to your loved one. Here are the things you need to decide:
1. Choose your Canvas design for printing.
2. Handpick your favorite memory with your loved ones that you want to share. 
3. Select your perfect size for decorating up your walls.
4. Pick the wrap and border you are most comfortable with, and it is a perfect fit with home decor.
5. Hardware and finishing will help you deliver a perfect gift for your particular person.
6. Last-minute changes for retouching or making any special adjustments to your Canvas prints
Conclusion:
Once you have placed your order, just sit back and relax for your order to reach you. We will send your personalized canvas prints with text Canada as soon as possible to your doorsteps. Help us with feedback or review as soon as you receive it.
Check Out Our Top Canvas Products: