101 Guide: St. Patrick's Day Gift Ideas, Activities & More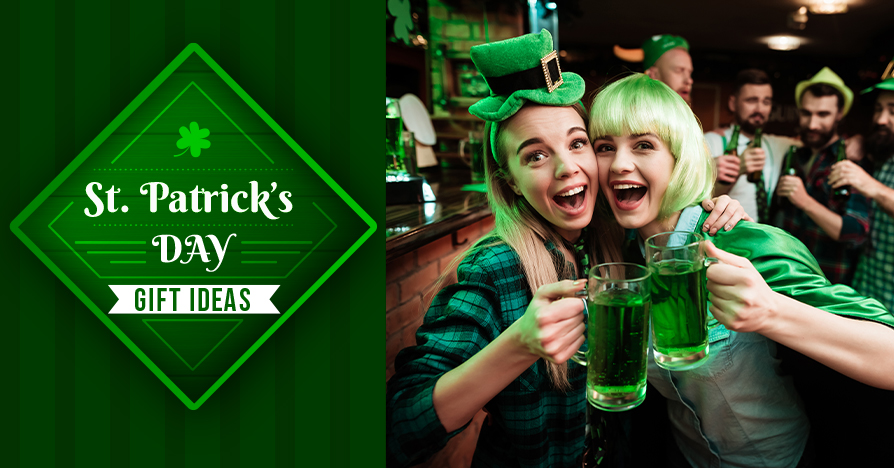 Saint Patrick's Day is a time for celebration and adorning yourself in beautiful shades of green kissing Irish people, and getting drunk outside. It is commonly considered a drinking holiday in Canada, but indeed, if a saint is in the holiday's name, it has some history.
What Is St Patrick's Day?
Saint Patrick's day is a global celebration of Irish culture that falls on March 17th every year. The day especially highlights the great Saint Patrick, but you need to know that he wasn't Irish as Saint Patrick grew up in Roman Britain but was captured by Irish Raiders as a young man while forced into slavery. He escaped after years and returned to Britain to enter the church like his forefathers. However, after his missionary life, he ended up returning to Ireland.
1. Photo Mugs
When your friends and family see the photo mark you gifted, they will surely start missing you. The customized photo mugs make great gifts for Saint Patrick's day. Saint Patrick was a great leader indeed, so you can give this to someone and allow them to start their day with motivating messages, logos, or quotes on a ceramic mug. 
Since the custom photo mugs are top-notch printed, the photos will remain bright and distinctive for a considerable length of time. Everyone loves custom mugs over typical boring mugs, so it is the perfect choice for recollecting happy times each morning with your tea or espresso.
2. Tote Bags
You can print any picture of your choice with a customized tote bag. The bags are printed with permanent ink, which makes them pretty durable. The printing technology used is sublimation that makes the print permanent, and you can wash the bag easily. You can gift the customized bag to anyone so they can hold their belongings in style. 
You can visit our website and design the stylish customized tote bag with our design tool. The bags are unique yet full as whoever you give this back to can take it for a shopping party, picnic event, or college as tote bags have multiple uses. 
The canvas material of the bag makes them look very stylish. All you need to do is upload the image of your choice, adjust the text and message as per the requirement and finalize the placement and lastly, make the order.
3. Photo Magnet
You can create a unique photo magnet with wood, acrylic, and metal. To customize your favourite photos, you can choose from squares, hearts, or rectangles. There is no better day than Saint Patrick's Day to give a personalized magnet to your loved one. 
You can get Saint Patrick's court printed on the magnet, or you can also get some unique messages that will keep your loved one going throughout the hustle-bustle of life. These magnets are not only valid for the fridge but can also be used on drawers, cupboards, or any other place they want.
4. Photo Frames
Do you know any Saint Patrick fans? If yes, you should not look any further to give them something special on Saint Patrick's day, as photo frames are your go-to option. You can use Saint Patrick's picture to create a unique and beautiful frame print with black or white paper for the décor. 
We have at least 12 options in frames to choose from to display your love and affection for Saint Patrick in any space of office or house and customize the photos on the framed Prince. 
Our photo paper printing and framing quality are top-notch so that your images will shine right through their frame and display the story of Saint Patrik like he's in front of you.
5. Custom Posters
On glass or matte paper, you can create beautiful custom posters of any picture. It is one of the best St Patrick's day gift ideas. Saint Patrick is an inspirational person to follow, so a poster print is a perfect gift for your friend on Saint Patrick's Day. The one who has gone through many things in life often knows the valley of little things and often knows the value of little things. 
So whenever your loved one feels low or gloomy after a long day, they will feel cheered in no time whenever they look at the poster having a personalized court or a photo of Saint Patrick. While they look at the poster, they will think of the positive vibes and motivation they get from the superhuman.
6. Photo Coasters
We are quite concerned about water and other marks left behind on the furniture. Well, you don't need to stress anymore, and neither do the loved ones have to worry about the watermarks anymore. Our customized photo coasters can help you prevent this situation in a significant way. 
You can choose from several options; making custom coasters with us is most exciting. A photo coaster makes a simple gift ideal for Saint Patrick's day. Personalized photo coasters with quotes from Saint Patrick's life can be a thoughtful gift for your loved one.
7. Wall Art
Walls should never be left empty as they should have all the beautiful moments from your life. Even if you don't want to portray your memories, you can indeed have quotes or messages from your mentor or the person who inspires you to get going. You can self-design customized texture wall art with your graphics or quotes or anything you like.
The wall art is a perfect gift for Saint Patrick's day as it will allow your friend to give their space a new look. We have different types of paper for wall art. You can choose any that you like.
As Saint Patrick's Day is just around the corner, don't wait for the right moment. Instead, visit CanvasChamp now and choose a perfect gift for your loved one.