Top 10 Cool Photo Book Gift Ideas To Try Right Now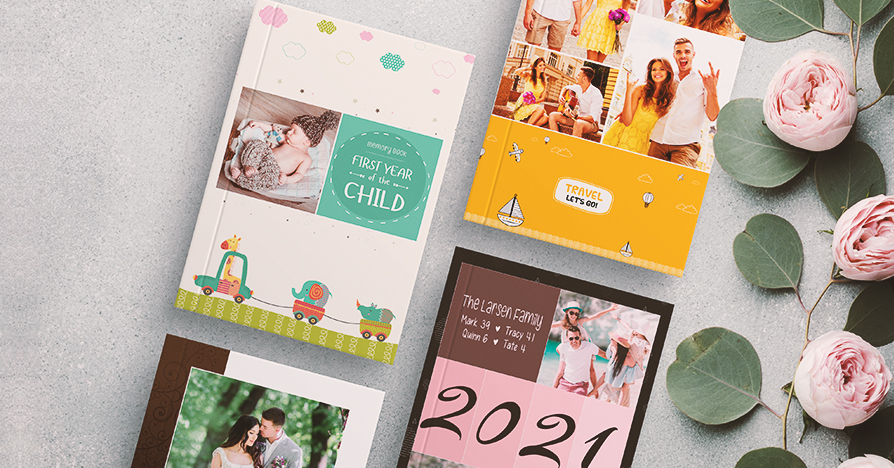 Photo Books are like time capsules that you can visit every time you wish to rekindle a beautiful memory, share love, and bond. These Photo Book page ideas will help you keep all stories and moments safe within themselves for years to come. 
Many will ask why we should create a photo book? And the answer is simple, narrate stories, relive moments, make new memories, and smile. Check out the list given below:
Top 10 Trending Cool Photo Book Gift Ideas 2021 To Capture Your Memories:
1. Vacation Photo Book
2. Best Friend Photo Book
3. Father's Day Photo Book
4. Mother's Day Photo Book
5. Brother and Sister Photo Book
6. Graduation Day Photo Book
7. Newly Born Baby Photo Book
8. Year in Review Photo Book
9. Pet Memories Photo Book
10. Couple Photo Book
1. Vacation Photo Book
Went on a vacation to Canadian summer getaways like Quebec City, Whistler, Algonquin Park, or had fun at international destination coloured sand beaches like Star Sand Beach?
Every vacation trip to an exotic destination must include photos like group photos, selfies, and family photos that should be stored in your photo book of vacations. Let your fun-filled memories find a place in your photobook.
2. Memories With Forever Friends
It's said, as we grow old, our friends' list shrinks. So, it's time to surprise your besties by inserting your group photos into the cool photo book gifts.
Make this photo book and gift them to your friends on their birthdays, college reunions, or say thanks for being there on Thanksgiving.
3. Every Girl's First Love - Her Father
It's said that the heart of a father is the greatest masterpiece of God. And you may not every day say to him, I LOVE YOU DAD, but you can express it with a photo book. 
Take out your dad's cool dude images with his college friends, and hunt for your childhood pictures with your dad. That's it, and you are all set to please him on Father's Day with a personalized photo book or his birthday.
4. A Title That's One Notch Above The Queen - My MOM
It's said, the best place to cry and show out every emotion is a mother's lap. Now, it's time to do something special for the person who always stands up for you. 
Bundle up all your memories with your mother and make a sweet photo album for the woman who will always be proud of you! 
And every page which she will turn, she will burst with joy for the lovely photo book gift ideas you planned for her.
5. Brother and Sister Photo Book Page Ideas
Brother and Sister photo book page ideas can be the most excellent way of saying, they thought we behave like Tom & Jerry, but yeah, we can't live without each other. Well said, different flowers from the same garden.
You can individually pick many photographs and turn them into cool photo book ideas because siblings are that part of childhood that can never be lost.
6. Graduation Day Photo Book
From going to school to becoming a Graduate, you have worked too hard every day to stand on your own feet. Now, it's time to fly high and look for your sky because the real journey begins now!
But before you are all set to enter a different phase of your life altogether, why not cherish the best time of your life? Make a photo book album with your school time and college time memories, and one day, this book will help you find where your roots initiate. 
You can even try implementing these best photo book gift ideas for your friends and siblings graduating this year.
7. Newly Born Baby Photo Book - The God's Best Gift To You
No matter how old a child grows, a baby is always a baby for every parent. And what better could be than a photo book page idea having the first picture of your baby. 
Make a photo album and include your baby's first-day pictures, the first time your husband took the baby in his warm hands. The baby's first day at home, the toys his uncle and aunt gifted. 
And when your baby grows old, you both can sit together and tell your experience as a story with a lovely photo book.
8. Year in Review Cool Photo Album Ideas
With every passing year, we get new experiences, share new memories, find someone special, and celebrate small milestones. Yes, a lot happens each year, so why not record it in a photo book?
You can send this year's photo book to your friends, grandparents, and other distant relatives and tell them how your year went. This will help you strengthen your bond with the one you care about most.
9. Pet Memories Photo Book Because You Love Your Furry Friends Just Too Much
A house is never lonely if you have a furry friend waiting for you! Yes, a pet has the power to make you whole. That's why they deserve a photo book with all their fun times. 
And, if you have a friend whose most fabulous friend is a furry one, a pet photo book gift idea will be the best thing that you can ever do for them. Try out on CanvasChamp and find it for yourself.
10. Couple Photo Book Page Ideas - In Love Forever
Being in a relationship is not just about the love you have for each other, but it's how well you continue building it for the rest of your life. Plan a photo book that has photographs of you and your partner. 
Uniquely revisit them and remind each other how beautiful you look when you hold each other's hands. It's time to celebrate your relationship, anniversary, partner's birthday and make your bond even more substantial. 
Summaries:
Many photo book page ideas and photo book gift ideas like anniversary photo books, family memories photo books, etc. You can try depending on the occasion you are planning to celebrate. These cool photo book ideas will not make you happy for just one day, but these heirlooms will help you club a series of happy memories that will last forever. 
Are you thinking about how to make a photo book that is exciting, beautiful, and colourful? Visit on CanvasChamp's design tool, add your favourite photos, add messages. That's all, and we will deliver your photo book to your doorstep.
Check Out Our Top Canvas Products: