Take Your White Room to the Next Level With Large Canvas Prints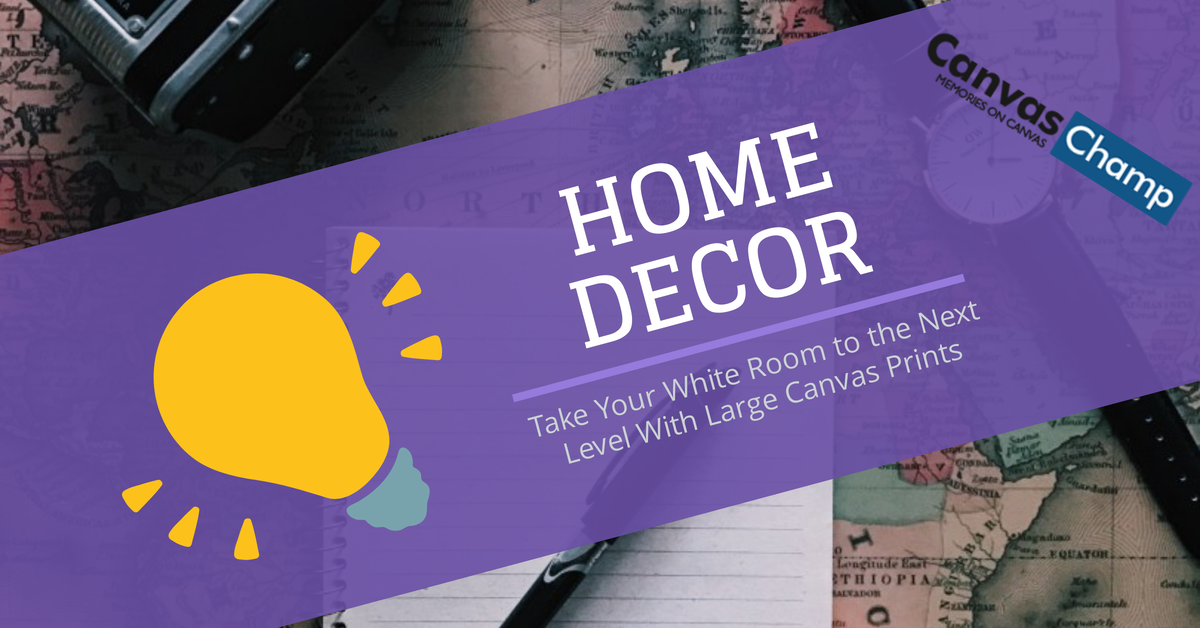 Big and spacious rooms challenge you to think a lot of ideas in decorating them. Since generally all homes - whether owned or rented, come with whitewashed walls, then it becomes even more challenging to make the area cozy and exciting.
CanvasChamp thankfully has amazing photo products for you to help you fill the vastness of your white rooms and still keep them spacious enough to put up furniture. One of the best ideas is mounting large canvas prints for your white room to give a stunning decorative style to your home. Here are a few ideas for you below to help you deliver more imagination to improve your concepts:
Showcase living room brightly
Big white rooms look fantastic when the seating is put in the arena-style. You can use a blend of sofas and single seats in tone-on-tone fabrics to give a center to your room. Generally, living rooms can look better with such a setting. Adding brightly coloured custom canvas prints to such space will make it look only out of the world.
Pure cooking on a white kitchen
If you are lucky to have a white kitchen area, then you cannot make it sound simplistic and yet attractive without adding any thoughtful details on how to decorate the space. The most appealing idea would be to print custom large canvas prints displaying food photography to get the appetite going!
Be a minimalist and posh with your guest room
A white guest room may be perfect to showcase your minimalistic lifestyle to your guests. But if you do not have the right texture and tone of the furniture to complement it, the room might not look that appealing to your visitors. Putting up large canvas prints showing floral or abstract prints that showcases eye-catching colours will undoubtedly make a guest feel posh during their stay in the room.
Make your laundry area look spacious
Laundry rooms can be white too, but since they are smaller in space, they might look big vertically and daunting to be in the first place. Canvas prints showcasing fresh coloured photos or paintings might do an excellent job of refreshing the space, depending on your furniture tone in the laundry area.
Lively bedroom speaks in itself
Give a visual texture to your bedroom with large canvas prints right above either your bed wall or in front of the bed wall to wake up to the best photo/s you love. Generally, canvas prints in a bedroom work as a vision board, hence put up something on it that you would want your subconscious to reflect upon every day.
Complement furniture with your bedroom
Another opinion on bedroom decor could be custom canvas prints showcasing complementary colours. Giving a character to your white room with accent colours might make it easy to make it a focal point if your furniture is older in the bedroom. This might give a spectacular look to your bedroom.
Hallways or staircases should speak to you
Your hallways or stairs are too white to even go through every time without a good mood? Showcase your cool scenic photos from vacations on custom large canvas prints. One of the best advantages of having white walls is that you can emphasize more on the pictures by mounting on those walls. You can even showcase your colourful artwork, family photos on custom canvas prints to let the white walls finally talk to you.
Allow no distractions in your study room
Study rooms always look better when they are roomy because our minds work more concentratedly and superiorly on any given tasks when the walls are spacious around us. Go minimal with your artwork on custom canvas large prints to let the photo blend with the white walls and remove any distractions from your work.
CanvasChamp is here to fulfill any needs and sizes of canvas prints to help you decorate your white rooms with your pretty concepts. Check out our website to find amazing discounts on all shapes and sizes of canvas prints.