Photo Magnets: A 3-in-1 Personalized Decor Item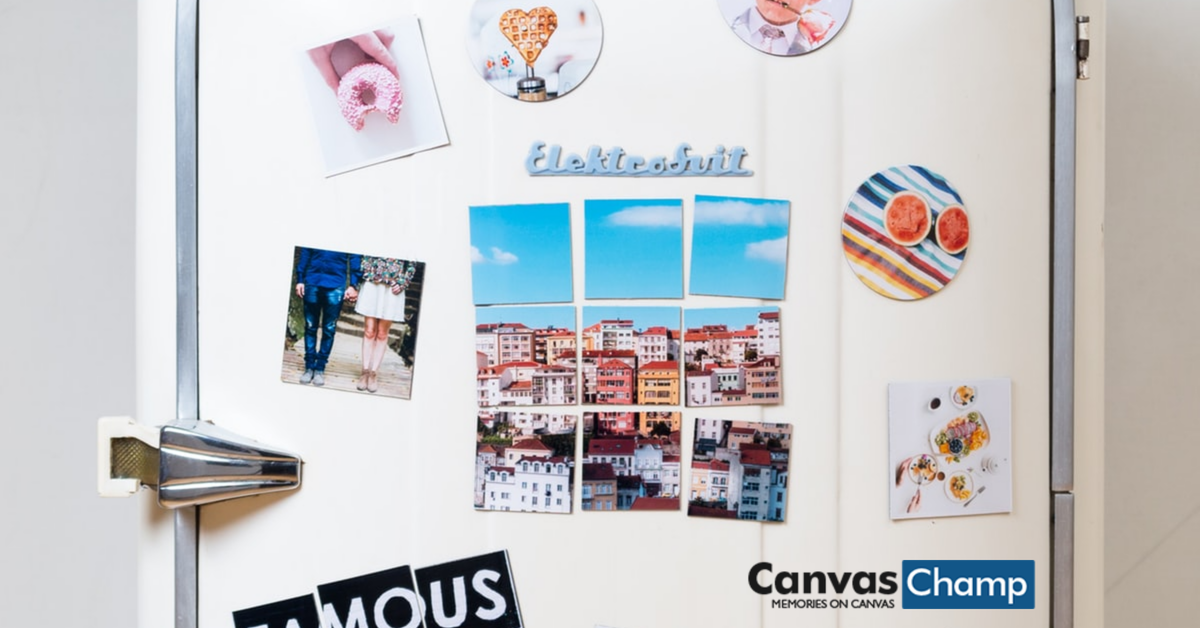 Alphabet fridge magnets and state souvenirs have become too mainstream when it comes to decorating the fridge nowadays. But thanks to their durability and portability, they are still a craze for their utility in helping us hold up our bills and important notices before we forget to pick up our laundry again. Now, fridge magnets no more stay all about being alphabetical or showcasing what state have you been. CanvasChamp will showcase you how photo magnets are replacing the old boring fridge magnets into new fun somethings!
Personalize Temporary Spaces
Office space, dorm rooms, apartments or even studios can feel suffocating to a decorator-at-heart if posters and wall frames aren't allowed when it comes to drilling holes or sticking anything all the walls. Luckily, in such temporary spaces, you can easily and quickly decorate your surroundings with customizes photo magnets on any metal surfaces to give a homey touch or to at least banish a little bit of corporate (or academic) uniformity. You can have fun adding your favourite photos on the lockers, cabinets and even drawers instead of stickers without having to scrape them ever. Students can decorate their lockers in the lockers and their dorm rooms that way. Artists can display their artwork on the photo magnets or their favourite inspirational pieces to keep them motivational throughout their creativity everywhere in their studio.
Learning and Play Tools for Young Children
Young children tend to learn things faster with visual stimulation, which is why magnet boards are useful learning tools for them. Kids who are late-speakers can strongly benefit from being able to see words and objects in a pictorial form since they are learning to grasp meanings. Use bright colours of their favourite items to design photo magnets for them and put it at places where it will help them allow to look frequently and express themselves more easily. Magnet boards are cool with daily scheduling activities too. You can print out photos of actual places and the people that your child encounters daily to create a magnet board of it to help ease anxiety in meeting people.
Ideal for Seasonal Decorations
Why buy too many large-scale arts and cover your walls with chaos when you can affordably fit all your pictures in a collage format in photo magnets? Get to arrange your favourite photos in various layouts by creating a collage in a photo magnet and decorate your space according to the season! Is spring coming? Design a few easter bunny photo magnets and stick them everywhere in the house! Is Summer here? Clip art some cool shades, beach and slippers on customized photo magnets to bring the sunny days indoors!
Easy and Inexpensive
CanvasChamp offers a fantastic collection of various shapes, sizes and materials for customized photo magnets to your decor needs. Find your photos shaped in square, round, heart or rectangle in either metal, wood or acrylic material shining your beautiful memories back at you. So head over to our photo magnets section and get started with your creative concept today!