Personalize Your Space With Peel And Stick Prints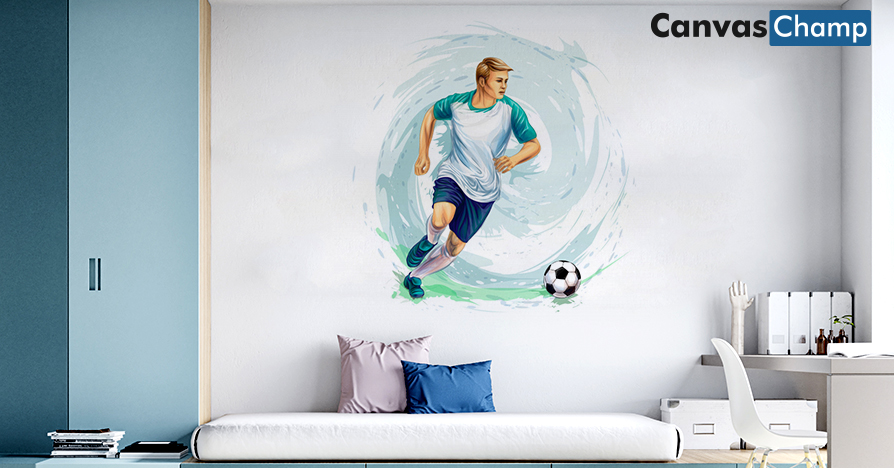 The peel and stick wall decals offer you an excellent opportunity to add colours, fun, and creativity to your walls, giving them a fabulous makeover. And the best part about these is that the peel and stick wall posters are cost-effective compared to traditional wall decor. Thus, with immensely productive capabilities and a great look, these peel and stick wall decals prove to be a fantastic tool to transform your wall into a masterpiece.
So, let's get into some titbits of these innovative decals in the following sections.
Why Choose Peel and Stick Wall Decals?
You must not miss the chance to grab these fantastic decals as  -
These are entirely personalized.

These are cost-effective.

They would not cause damage to the walls, wall paint, or leave holes on the wall.

The custom prints can be applied to all types of surfaces.

The prints can be repositioned multiple times according to your preference.

The prints do not fade away for decades.

They don't crack, peel, or wear off.

They are easy to apply without getting stuck to themselves.

The adhesive does not leave any unwanted residue on your walls.

The decals are made with safer inks that do not contain any harmful toxins or unpleasant smells.
Some of The Common Varieties of Custom Wall Decals 

There's plenty of available options for the peel and stick wall posters to choose from. Here you are about to discuss some of the popular and readily available ones for your quick assistance.
Quote Wall Decals:

Quote Wall decals are the all-time favourites of customers of varied age groups. These decals not only add a modern touch to your walls but also deliver some meaningful lines or quotes that can prove to be a significant boost to start your day.

Floral Wall Decals:

The floral wall decals add a soft and soothing touch to your walls as well as your entire room. These come in multiple colours and perfectly accentuates all types of walls.

Abstract Wall Decals:

If you are about to become the next trend-setter in showcasing your wall decor, then the abstract wall decal is the perfect one for you. These consist of various abstract figures or motifs that are unique and laudable.

Sports Wall Decals:

The sports wall decals are a sportsperson's hot favourite. These decals consist of pictures of various sports. These are great for adorning the room of a sports enthusiast.

Black Wall Decals:

Blacks never go out of trend. Thus, these black wall decals are mesmerizing for every wall. With a black-coloured base, these decals can drastically change the mood of your walls.

Multicoloured Wall Decals:

The splash of multiple colours in these types of decals not just brings life to your walls but also in your life. The bright hues and the rainbow effect of these decals prove to be a powerhouse of happy vibes all the time.

White Wall Decals:

White symbolizes peace - the peace of mind and soul. And the same is true for white wall decals as well. These decals add peace and serenity to your walls, giving them a sober look and a subtle feel.

Blue Wall Decals:

The blue wall decals are one of the best picks in the market. The enchanting blue base decals add sheer elegance to your walls, giving them an overall new look. 

Gray Wall Decals:

If you want to stand out amongst the crowd, the gray wall decals can be a great choice. These decals break the monotony of the conventional bright wall decals giving your place a unique and sophisticated matte look. 
The Peel & Stick Wall Decals in a Nutshell
So if we are to quickly wrap-up everything about the peel and stick wall decals, we infer the following:
Economical

Of superior quality

Available in various sizes

Non-toxic and completely safe

Customizable

Reusable

Can be repositioned multiple times

Do not cause damage to wall or wall paints

Do not fade

Available in different colours and prints

Easy to use and handle

Modern, stylish, and great for home & office use
Final Thoughts
No matter what kind of walls your room possesses, the custom wall decals can indeed transform even the most mundane interiors into a glorious miniature paradise.