How to Print Your Instagram Photos on Canvas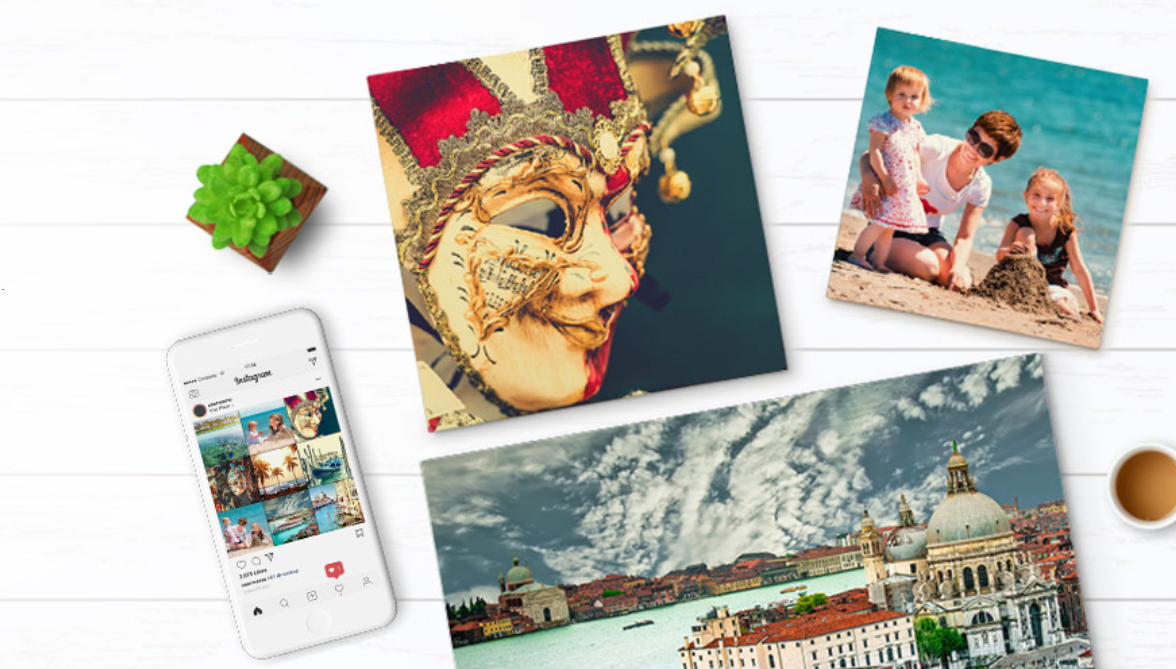 With CanvasChamp, it's now effortless to transform your favourite Instagram memories into stunning canvas prints that you can display in your home or office. It's time to let your digital snapshots leap into the physical world, and we're here to guide you through the process.   
Start by clicking on 'Create Canvas' on our site - this is your gateway to print Instagram photos on Canvas.   
Step 1: Upload Images  
Once you've clicked 'Create Canvas,' the option to upload images appears. You have the convenience of directly linking your Instagram account to our platform. Just hit 'Instagram' under 'Upload,' connect your Instagram, and select the images you want to bring to life as canvas prints. Remember, you can adjust your photo within the print lines by clicking and dragging until you're satisfied with the composition.   
Step 2: Select Size of Canvas
Moving on, it's time to select the size of your Instagram photo printing on canvas. Given the square format of Instagram images, we suggest a square-shaped canvas. Sizes range from a petite 8" x8" to a grand 45" x45", catering to your every need. However, custom sizing is also available if you desire a larger scale.   
Step 3: Wrap & Border  
When it comes to gallery wrapping your canvas, you can select from four appealing options: Canvas Lite (0.50"), Thin Gallery Wrap (0.75"), Thick Gallery Wrap (1.5"), and Hanging Canvas. For a more precise understanding, click on the 'i' symbols adjacent to each choice.   
Next, define the border of your Instagram memories on canvas prints. You have three creative options: Mirror Image, Image Wrap, or Border Color. To complete this step, select the type of frame you'd prefer - Standard, Premium, or Floating frames.   
Step 4: Hardware & Finish  
Under the Hardware option & style, select one of the four options that suit your preference: Ready to Hang (Free), Hooks for Hanging (Free), Sawtooth Hanger ($3.99), Easel Stand ($49.99), or Dust Cover Back ($9.99).   
Then, if you're looking to enhance the aesthetic of your Insta photos on canvas, choose from Optional Color Finishing like Original, Sepia, or GrayScale.   
Step 5: Options  
Would you like your canvas to have a laminated finish? Just let us know in this step.   
At this stage, we also offer minor photo corrections such as Red Eye Removal, Dust/Scratch Removal, Enhance Color, Date Stamp Removal, and Lighten/Darken Images. If your image needs substantial retouching, mention it in the comment section. We'll ensure to accommodate your request, if possible.   
Remember, we're happy to send you design proof before the canvas goes into production to guarantee you're pleased with the result.   
Step 6: Add Text on the Canvas
Add a personal touch to your canvas by adding text. Various fonts, sizes, styles, and colours are available for you to choose from.   
After designing, take a look at your creation through our room view, 3D view, and 360-degree view. If you're thrilled with your Instagram photo printing on canvas, add it to your cart and proceed to purchase.   
There you have it! A simple and fun way to print Instagram photos on Canvas. Create and order your own personalized canvas today and relive your Instagram memories on canvas prints with CanvasChamp.  
Now, let's dive into some creative ideas on how to use these personalized Insta photos on canvas prints.  
Ideas To Use Insta Photos on Canvas:  
Travel Photos on Canvas: These can be a vibrant reminder of your adventures and explorations. Landscapes, architecture, local culture, and unique moments from your journey can bring a canvas to life. 

 

Family and Friends on Canvas: Photos that capture special moments with your loved ones can make heartwarming canvas prints. Birthdays, weddings, anniversaries, graduations, or candid moments can become treasured keepsakes. 

 

Portraits on Canvas: Whether professional headshots, artistic selfies, or casual snaps, portraits can look stunning on canvas. Black and white photographs can add a touch of timeless elegance. 

 

Pet Photos on Canvas: Your furry, feathered, or scaled friends can take center stage on your canvas print. 

 

Nature and Wildlife on Canvas: From stunning sunsets to a close-up of a flower in your backyard, nature photos can create a peaceful and calming atmosphere. 

 

Food and Cooking on Canvas: If you're a foodie, why not showcase your culinary achievements or most memorable meals? Make sure these are high-quality images so the delicious details are not lost. 

 

Art and Creativity on Canvas: Your own drawings, paintings, or digital art can be printed on canvas to personalize your space. 

 

Inspirational Quotes on Canvas: Combine your favourite quotes with a visually appealing background to create a canvas that motivates you.  

 

Astrophotography on Canvas: Bring the cosmos into your home with photographs of stars, planets, or phenomena like the Aurora Borealis. 

 

Macro Photography on Canvas: Close-ups of everyday objects, insects, or textures can make for striking, abstract canvas prints.

 
After exploring creative ways to utilize your Insta photos on canvas prints, let's shift our focus to a specific group of individuals who can derive immense benefits from this feature – Instagram influencers. So, if you're an influencer or aspire to be one, here's how canvas prints can significantly bolster your online presence.  
The Beauty of Canvas Prints: A Boon for Instagram Influencers
The magic of transforming Instagram photos into canvas prints isn't just limited to personal use. This exceptional feature can be a game-changer for Instagram influencers, bridging the digital and physical worlds.   
As an influencer, your Instagram photos mirror your style and creativity. By printing Instagram photos on Canvas, you create a tangible portfolio of your work. Whether for a meeting with a potential client, a brand collaboration, or just for your personal creative space, these Insta photos on canvas are a compelling visual representation of your online persona and achievements.   
Merchandising Opportunities  

 
For influencers with a significant following, creating Instagram memories on canvas prints can be a lucrative additional income source. By selecting your most loved and engaged-with posts and printing these Instagram photos on canvas, you create a line of custom merchandise. These canvas prints, acting as limited-edition art pieces, can then be sold to followers eager to own a piece of the content they admire.   
Hosting a meet-and-greet, attending a convention, or participating in an influencer event? Instagram photo printing on canvas provides personalized, engaging decor. These Insta photos on canvas decorate the space and offer an instant conversation starter, enabling you to connect with your followers on a deeper level.   
Giveaways are a common practice among influencers. What could be a more personal and thoughtful gift than a canvas print of a favourite post? Transform your Instagram photos into canvas prints - they could be a landscape from your travel series, a quote that resonated with your audience, or a special behind-the-scenes shot. The possibilities are endless when you turn Instagram memories into canvas prints.   
Finally, these prints are an excellent way to enhance your personal brand. You can create a distinct and cohesive brand aesthetic by adorning your workspace or filming a background with canvas prints of your Instagram photos.   
Printing Instagram photos on Canvas is simple, affordable, and delivers high-quality results. For influencers, Instagram photo printing on Canvas provides a fresh, innovative means to grow their brand, connect with their audience, and create new income streams. It's time to take your Instagram content off the screen and onto your walls, immortalizing your Instagram memories on canvas prints!  
Conclusion
:  
The ability to print Instagram photos on canvas opens a world of creative and professional possibilities. Whether you're looking to deck your home with personalized art, share your cherished Instagram memories on canvas prints, or are an influencer seeking to expand your brand beyond the digital landscape, CanvasChamp provides a simple and affordable solution. Our process ensures high-quality results that do justice to your favourite moments captured on Instagram.   
So why keep your precious memories confined to your phone screen? Bring them to life, adorn your walls, and let your Instagram photos speak volumes about your journey, all through the magic of canvas prints. Don't just share your memories—preserve them, showcase them, live them. After all, a picture is worth a thousand words, but a cheap canvas prints of an Instagram photo can tell your entire story.