Canvas Art Painting Ideas for Beginners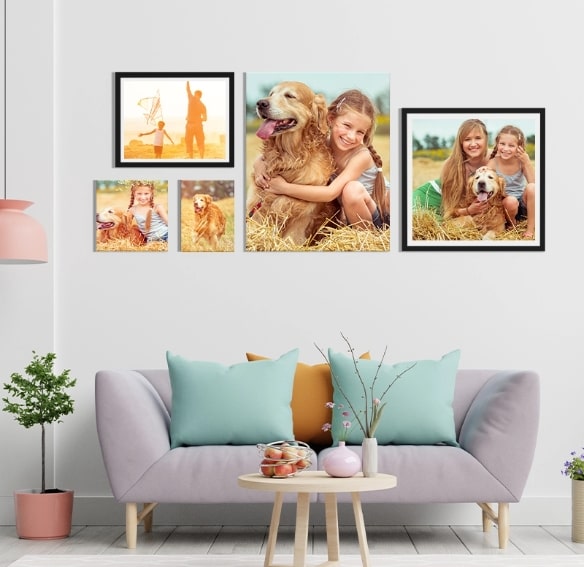 Ready to embark on an artistic journey being as a beginner? Whether you're a complete beginner or just looking to explore your creative side, canvas art painting offers a world of possibilities. From brush strokes to color palettes, each canvas becomes a blank canvas waiting to be transformed into a masterpiece. 
In this blog, we'll dive into a collection of inspiring and beginner-friendly canvas art painting ideas that will ignite your imagination and help you unleash your inner artist. Get ready to dip your brush into a world of creativity and let your imagination soar. It's time to make your mark on canvas!  
10 Unique Canvas Art Painting Ideas for Beginners:
Idea 1: Cute Animal Paintings
On Canvas
Choose a cute animal like a panda, bunny, or kitten, and paint its adorable features on canvas. Focus on capturing their playful expressions and soft fur texture. 
Idea 2: Flower Paintings
On Canvas
Select your favorite flowers, such as roses, sunflowers, or daisies, and paint a bouquet or a single bloom. Experiment with different brushstrokes and colors to bring out the beauty of the petals. 
Idea 3: Favorite Cartoon Painting
On Canvas
Paint your beloved cartoon character, whether it's Mickey Mouse, SpongeBob SquarePants, or Pikachu. Capture their unique features and recreate their whimsical world on canvas. 
Idea 4: Scenery Painting
On Canvas
Choose serene scenery like a tranquil beach, peaceful countryside, or a majestic mountain range. Practice creating depth and capturing the natural elements of the chosen landscape. 
Idea 5: Moon and Stars Painting
On Canvas
Create a dreamy nighttime scene with a glowing moon, twinkling stars, and a serene landscape or silhouettes. Experiment with blending dark shades and adding highlights to create a magical ambiance. 
Idea 6: Food Painting
On Canvas
Explore the world of food art by painting a delicious dish or a bowl of colorful fruits. Focus on capturing the textures and vibrant colors of the food items. 
Idea 7: Sunrise and Sunset Painting
On Canvas
Depict the beauty of a sunrise or sunset with a warm color palette. Experiment with blending shades of orange, pink, and purple to create a captivating sky. 
Idea 8: Bird Painting
On Canvas
Choose your favorite bird species and paint their graceful forms on canvas. Capture their unique feathers and features and bring them to life with vibrant colors. 
Idea 9: Aquatic Animals Painting
Dive into the depths of the ocean and paint fascinating aquatic creatures like dolphins, sea turtles, or colorful fish. Experiment with capturing the underwater world and the play of light. 
Idea 10: Trees Painting
On Canvas
Paint a tranquil forest scene with tall trees and a serene atmosphere. Experiment with different brush techniques to depict the textures of leaves and branches. Once you have your painting ready, you need the right accessories for making your canvas painting stand out. Here is what you need. 
Canvas Painting Accessories to Unleash Your Creativity
Canvas painting accessories such as stretcher bars, pre-stretched canvases, or canvas panel boards provide support and structure to the canvas. They ensure that the canvas remains taut and prevents it from sagging or warping during the painting process. They come ready-made and save time and effort that would otherwise be required to stretch and prepare the canvas from scratch. This is particularly beneficial for beginners or artists looking for a hassle-free painting experience. 
By having these essential materials for canvas printings, you can unleash your creativity and bring your artistic vision to life. Whether you're a professional artist or an enthusiastic beginner, these materials will empower you to create stunning canvas prints that inspire and captivate. To embark on your canvas printing journey, you'll need the following essential materials and accessories. 
Blank Pre-Stretched Canvas

:
Blank Pre-stretched canvases are ready-made canvases that come already stretched and mounted on wooden frames. They provide a convenient solution for creating canvas prints for beginners. These canvases often come with a hanging wire or D-rings already attached to the back, making it easy to hang on the wall your first painting printed on canvas. 
Features of Blank pre-stretched canvas:
Kiln-Dried Pine Wood:

The frame of our pre-stretched canvas is made from kiln-dried pine wood, ensuring stability and durability. This wood is carefully dried to remove moisture, preventing the warping or cracking of the canvas over time.

 

38 mm Thickness:

Our pre-stretched canvas boasts a sturdy frame with a thickness of 38 mm (approximately 1.5 inches). This thickness provides excellent support for the canvas and adds a substantial feel to your artwork.

 

Gallery Wrapped:

Each canvas is gallery wrapped, meaning that the canvas is stretched and secured around the edges of the frame. This technique creates a clean, professional appearance and allows your artwork to be displayed without the need for additional framing.

 

Triple Primed:

Our pre-stretched canvas is triple primed, providing a smooth and even surface for your paints to adhere to. This priming process prepares the canvas for optimal paint application and longevity of your artwork.

 

Available in Multiple Lengths:

We offer pre-stretched canvas in a variety of lengths to suit your artistic needs. Whether you require a small canvas for a delicate painting or a large canvas for a bold statement piece, we have you covered.

 
Canvas Stretcher Bars

: Stretcher bars are wooden frames specifically designed to stretch and hold canvas securely and are made from Kiln Dried Pine, a strong and sturdy wood with rounded edges. They provide the structure and support for your canvas prints. These bars come in various sizes and depths, allowing you to choose the appropriate one for your canvas.

 
At CanvasChamp You Can Get:
Blank Canvas Panel Board

: Canvas panel boards consist of a canvas sheet mounted on a firm panel. They offer lightweight and rigid support for your canvas prints. These panel boards typically have pre-drilled holes or hooks on the back, allowing you to easily hang them on nails or hooks. Polypropylene (PP) Sheets are specially designed for artists seeking a fine work of art. Here's what makes these blank canvas PP Sheets stand out:

 

Various Sizes Available:

Our PP Sheets come in a range of sizes to suit your artistic needs. From the smallest size of 6x8 inches to the largest size of 36x48 inches, you can choose the dimensions that best accommodate your artistic vision.

 

Consistent 1/8-Inch Thickness:

All our PP Sheets have a consistent thickness of 1/8 inch. This thickness provides stability and durability for your artwork, ensuring that the sheets maintain their shape and quality.

 

Non-Acidic and Archival Quality

: Our PP Sheets are non-acidic, ensuring that your artwork remains protected from acid deterioration over time. They are designed to preserve the integrity of your paintings, making them suitable for long-lasting masterpieces.

 
Wooden Easel Stand

: If you prefer a freestanding display for your canvas prints, a wooden easel stand is a great option. These stands provide a stable base for showcasing your artwork on a tabletop or floor.

 
In addition to these materials, you will also need high-quality printing equipment, archival-quality inks, and a suitable image or design to be printed on the canvas. Choosing a reliable and reputable printing service that can ensure the best results for your canvas prints is important. 
Canvas painting accessories are crucial for providing support, convenience, display options, versatility, preservation, and enhanced artistic expression. They enhance the overall painting experience, allowing artists to create stunning artworks while ensuring the longevity and proper presentation of their creations. 
Turn Your Paintings into Canvas Wall Art Prints
The first painting should always be memorable and so you must save your first canvas art painting forever. You can do this by printing your canvas art on a wall canvas painting. All you need to do is click a photo of your painting, upload it on CanvasChamp design tool, select the shape, size of a canvas print, add a text (like it is my first canvas painting) and place your order. We will deliver your canvas painting print to your preferred location in Canada. You can make multiple copies and gift it to your friends, family, and loved ones. 
CanvasChamp provides a wealth of inspiration and resources for beginners exploring canvas art painting. With a wide range of ideas to choose from, such as cute animal paintings, flower paintings, favorite cartoon paintings, scenery paintings, and more, beginners can easily dive into the world of canvas art. 
Choose CanvasChamp as your partner in the world of canvas art painting. With our extensive range of materials and printing options, as a beginner you can explore your creativity, showcase talent, and create captivating canvas wall arts that bring joy and inspiration.