5 Most Popular Canvas Prints Sizes Styled At Home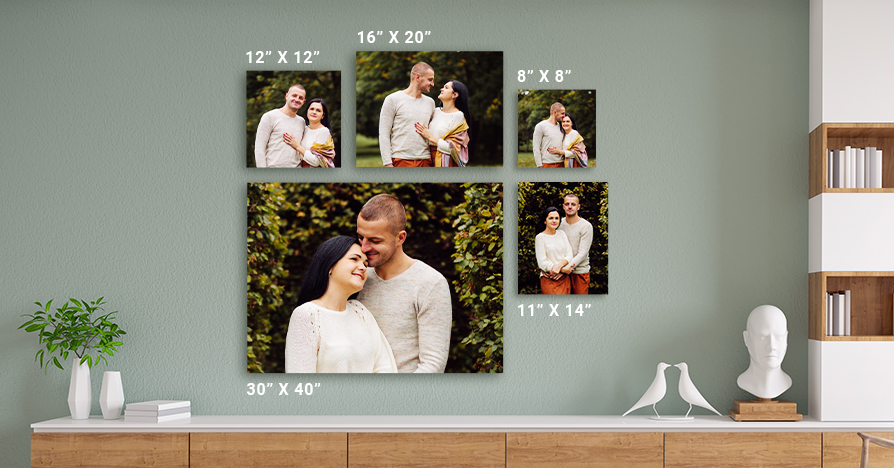 When it comes to giving something to your loved ones, canvas prints are the best bet because everybody loves custom-size canvas prints in Canada. It is possible to personalize them with your photos or memories, best memories or maybe a motivational thought and use them as gifts or wall accessories. 
Now you might wonder that customizing these canvas prints is going to be a big task. Not anymore; now, with CanvasChamp's online tool, customizing canvas prints is easy as a cakewalk. You can customize them as per your requirements online and get them delivered to you.  
At CanvasChamp, we offer the best quality canvas prints ranging from 5*7 to 54*54 inches. You also have the option of default size prints and custom-sized prints. But in doing so, the quality of our work and image is never compromised because quality is the central policy of Canvaschamp.
Now you want to decorate your house with fantastic canvas prints but don't know which size fits your need/requirement.
To keep you from confusion, we have put together the four most popular sizes of canvas prints that are the top choice of customers at Canvaschamp. Not only this, but we will also shed some light on where you can use those custom-size canvas prints to grab the attention of your guests.
5 Most Popular Canvas Prints To Try Now
1. 8X8 Canvas Print
Make your loved ones fall for you again. Whether you have words or pictures to celebrate your moments, print them on an 8x8 size canvas print with CanvasChamp. You can print your most precious memories of 2021 on an exclusive and premium quality 8x8 canvas print. 
Are you ready to see the dazzling smile on your favourite person's face - get one with custom canvas print!
Almost everyone knows that a smile can heal anything! So why not see a smiling picture on an 8X8 canvas print and keep it on your desk to stay happy forever? It will give you the strength to live happily and worry-free.
You can also print your Christmas memories, stylish pose shots or even candid pictures on it and give it to anyone close to you.
2. 12x12 Canvas Print
This size is the most popular and the most beautiful canvas print choice for our customers. This square canvas print is best suited for people who want to cherish their special moments and memories. 
When placed in your bedroom, this size canvas print will add a royal charm. In addition, this canvas print size will always look elegant even when used as a standalone piece to make a bold statement or placed among several canvas prints on a photo wall.
3. 11''x14" Canvas Print
Adding canvas art to a room imparts a rustic yet contemporary feel and is easily incorporated into every decor style. In addition, canvas prints of size 11*14 are compact and easy to transport. 
Various images look great on this size canvas, whether it's a portrait of your pet or a family photo. With unique canvas prints personalized by you, you can turn bare walls into impressive home decor.
These size prints can be used as a decorative piece on your desk or bookcase. Also, it's easy and convenient to fill a gallery wall with canvas prints of this size. 
4. 16x20 Canvas Photo Print
You should add this size to your shopping list for home decor if you want to leave a lasting impression on your guests. In the living room, this size print makes a bold statement and speaks volumes about your personality. 
A square canvas of this size is one of the most popular canvas sizes people prefer to buy and place at their workstations, bedroom corner tables, or study room. Also, this size canvas print is an excellent choice for a surprise birthday or anniversary gift.
A 16-by-20 canvas might look small, but it allows for a large photo collage or a single image to be displayed readily. Also, a 16x20 canvas print with a great accent picture will give your room a cohesive look.
5. 30x40 Canvas Print
Want to take your guests by surprise? A canvas this large would be a beautiful addition to any room. It would also look great displayed separately as the only picture in the room. 
This size canvas print will work best as a centrepiece if you have much wall space. You can also choose artistic photos for your canvas prints to create an ambience similar to an art gallery. 
CanvasChamp offers a wide range of large canvas prints at an affordable price. It will make your guests think that you spent hundreds to thousands on your interior design.
Steps to Create Custom Canvas Prints with Ease:  ( Tool to Create )
1. Select the Type of Material of Canvas
2. Upload an Photo on Tool for Canvas Print
3. Select the Prefered Size
4. Select the Wrap & Border to Give Finishing
5. Select the Hardware Style & Color for Canvas Print
6. Check the Other Options available by CanvasChamp
Conclusion: 
Choosing the right size for a canvas print and having detailed canvas print sizes are very important. There are dozens of canvas sizes to choose from, and we have provided a sample of some popular ones.
You can select the best size which suits your persona and also goes with the interior designs. We hope that our small and practical guide cleared your dilemma of which size to pick for your home decor.
Now that you know so much about different sizes of canvas prints, you must be eager to customize a canvas print for yourself now. 
So wait no more, visit our official size and bring your best moments to life with canvas prints at CanvasChamp.