Top 10 Ideas of Jigsaw Puzzles For Adults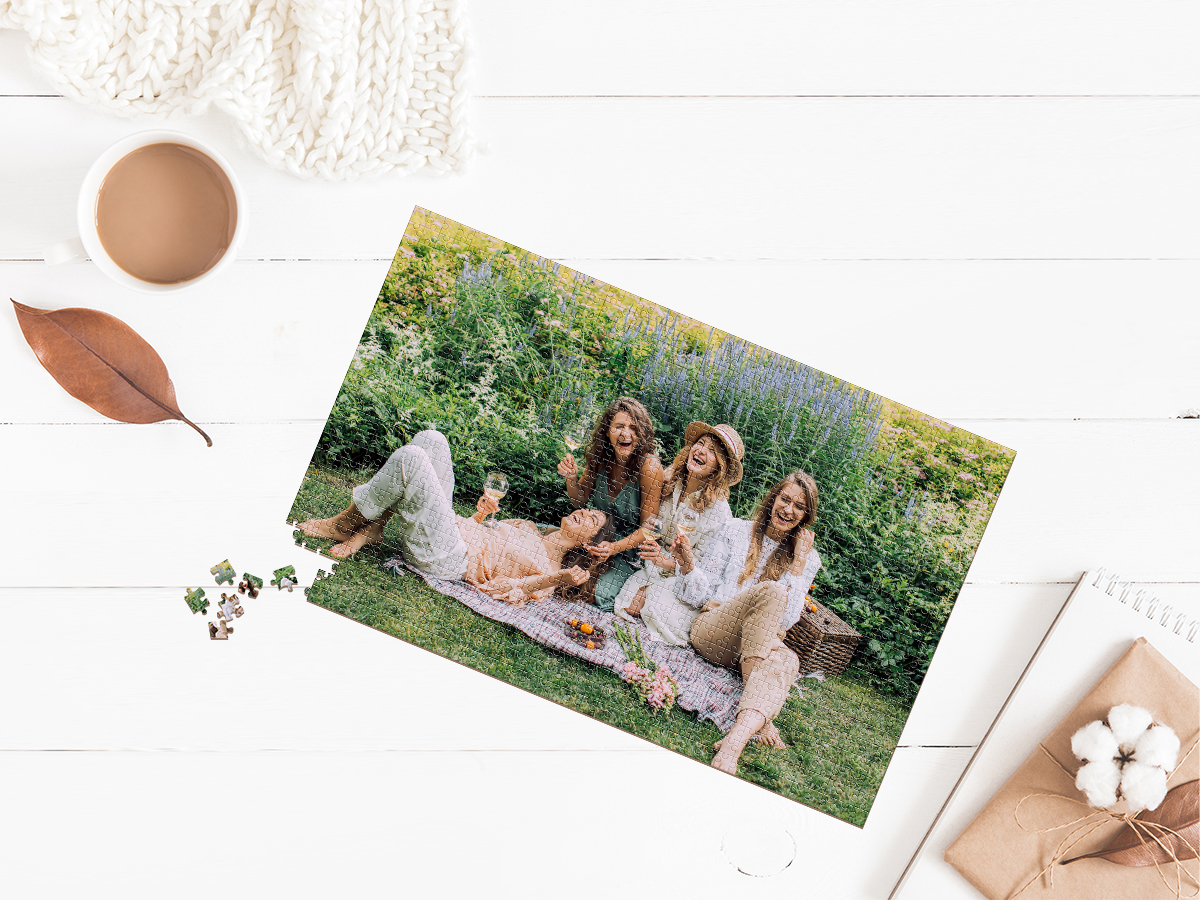 Indoor games are now in demand. Everyone wants something that keeps them busy differently. Today people tend to bring indoor games that will keep them engaged. But why settle for something so dated? Try a jigsaw puzzle for adults ideas that are the best thing you will ever get. Any design can be customized and printed on online jigsaw puzzles for adults. 
Jigsaw puzzles for adults are the best game for your keepsake, and it is also trendy for gifting. Personalized and cool puzzles for adults create a sense of belonging that brings curiosity and gratitude from the receivers. 
Here's what you can print on jigsaw puzzles and how effectively you can use these puzzles for adults:
1. Self Portraits of Adults on Puzzle
We know you have a unique picture, and you surely want to flaunt it. So, no matter what you call yourself, if you must print this on a jigsaw puzzle, you are a photo lover or love to pose creatively. 
So, are you up for taking compliments? Undoubtedly, you have thousands of photos and self-portraits. Now it's time to treasure those pictures uniquely with a jigsaw puzzle. Just pick your most loved and liked image or a self-portrait and print it on a jigsaw photo puzzle so you can enjoy your memories. 
2. Friend Group On Puzzle

We all share our best time with our friends and create many memories in every phase of life with them. From emotions to understanding, friends are the people who know you inside and out. 
This year brings a dazzling smile to your friends' faces and gives them the best memory you have shared. So open your friends' pictures on your mobile and pick the most cherishable memory from your gallery. 
Engrave this picture on a jigsaw puzzle and gift this memory-filled puzzle to your friend. They will surely rekindle old days spent with you, and your unbreakable bond will thrive forever.
3. Vacation Photos on Puzzle
Vacations are a time filled with joy, love, and carefreeness. People relax, enjoy, and revive during vacations, bringing more positive energy and fueling your further work. Undoubtedly, during vacation, you click lots of pictures with different poses and angles.
Print your most memorable vacation picture on a jigsaw puzzle and memorize your most relaxing memory again and again. You can also gift this vacation picture jigsaw puzzle to anyone there with you on your vacation. 
So open your gallery and pick the best memory for engraving, share your picture with CanvasChamp, and wait for a bundle of joy- a personalized jigsaw puzzle.
4. Couple Photo On Puzzle
Today's social media-friendly couples share thousands of memories. They have pictures of every occasion and event every moment of life. And a wedding memory shared by the team is the most precious and unforgettable memory, which is depreciable with countless pictures of their bond and love. 
So, if you are looking for a gift to surprise your love for your upcoming anniversary, try customizing a jigsaw puzzle? Print your wedding pictures or the most precious couple picture on a puzzle and gift it to your loved one. Then, ask them to solve it with you and let your love reveal itself with curiosity and fun.
5. Adult Siblings On Puzzle
Siblings are like Tom and Jerry; one can't live together and can't live without each other. They tease, protect and care the most. They are like a pillar who are always there to support you and to guide you. Since your birth, your siblings have been with you to share your life, and there are lots of moments captured by your parents, which are completely adorable.
Now revive your childhood memories with your sibling again and print them on a Disney jigsaw puzzle for adults. Surprise your sibling and bring a smile with tears after seeing your most fussy and lovely memory on a puzzle.
6. Graduation Pictures On Puzzle
Hash!!! A graduation picture is proof of the time when you are finally ready to face the challenges of a new world. The graduation picture depicts your sincerity, your hard work, and your sense of achievement. It shows your journey through college. When you view your graduation picture, all your emotions and moments are summed up in one shot. 
Now revive your college life again and print your graduation picture on a jigsaw puzzle. Push your disheartened friend by giving them something filled with their best days. 
7. Best Friend On Puzzle
A best friend is a secret keeper of yours. They know you more than you do. Best friend loves you and guides you in your hard times. They always stay by you and with you in any situation. But what if you forget the birthday gift this year and are stuck with what to give them that will make their day? 
Don't overthink! Personalize a jigsaw puzzle now, and it's accessible online with CanvasChamp. Just pick your best picture with your best friend, upload it to our designing tool, and get your custom jigsaw puzzle delivered with your image anywhere in Canada.
8. Car And Bikes On Puzzle
Would you consider yourself a car and bike enthusiast? Are you always talking about cars with your friends and for you everything revolves around cars and bikes? 
If you have most of your pictures with cars and bikes and love to click a new one on every new launch, it's time to let your car love be a little more special by picking it as the best 'jigsaw puzzle printable for adults' idea. So not only in your gallery and garage, now you can keep your favourite car in your room too! 
Have fun with your friends by playing a jigsaw puzzle engraved with your favourite bikes and cars pictures. You can make the challenge more fun by inviting your friends and asking them to solve the puzzle to reveal the recently launched car picture.
9. Favourite Food on Puzzle
Hello foodies!! Your next pizza slice is waiting for you! Just grab and click some pictures with it. Food is life, and life is food for some people, and if you are among them, you can engrave the mouth-watering food pictures on jigsaw puzzles. 
You can also keep your kids busy by introducing them to new food varieties with a jigsaw puzzle and gift this food-printed puzzle to your foodie friend and family.
10. Print Favorite Movie or Fictional Characters On Puzzle
Are you a fan of watching movies or following fictional characters from Deadpool, Game of Thrones, Dudley Do-Right, Robin Scherbatsky, Sasquatch, or Ed the Sock? Well, turn this passion into a custom photo puzzle where you can print your favourite character and invite your fandom group to solve the puzzle together.
Also, you can print your favourite movie scene picture onto a 1000 piece custom photo puzzle and enjoy solving the puzzle piece by piece while reminiscing about seeing the movie or show.
Conclusion
Jigsaw puzzles are the best way to keep yourself and your kids busy for an hour or more. And when you introduce them to this customized and memory-filled puzzle, this will be the best and most creative thing you have done.
So what's stopping you? Get your masterpiece now! Personalize this jigsaw puzzle for adults online on CanvasChamp and get it delivered to your doorstep with your preferred number of pieces and pictures. 
Besides the puzzle, you can also have custom magic mugs and custom photo coasters designed for your friends and family, so they can enjoy hot coffee while they solve your beautiful gift.