10 Best Wedding Picture Canvas Ideas Your Best Friends Will Love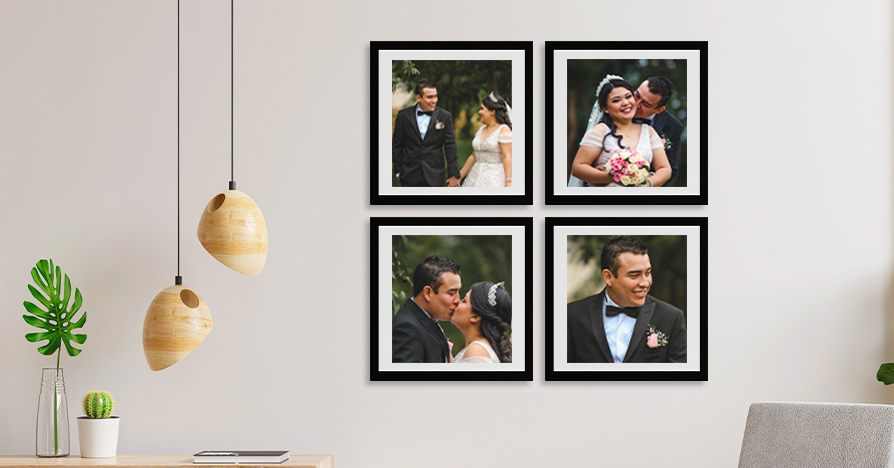 Wedding season is in full swing, and most of your friends and cousins are getting married this year. We know you are thinking of giving them something unique that makes their precious day more memorable and full of love.
If you are looking for a gift that not only shows your gratitude towards them but also helps the newly-wed to decorate their room with a romantic and memory-filled collection, this blog will help you find the best one.
Here, we have described the ten best wedding picture canvas ideas that will make your gift memorable, personal, and stand out from others.
10 Best Canvas Prints Wedding Photos Gift Ideas to Gift to Your Bestfriend:
1. Photo Collage
2. Hexagon Photo Prints
3. Heart-Shaped Moon Lamp 
4. Photo Blanket 
5. Split Canvas Prints
6. Photo Calendar
7. Frames Canvas Prints 
8. 3D Photo Frames 
9. Acrylic Prints
10. Tote Bags
Check out the list below and pick the most suitable Canvas gifts for a newly wedded couple or give them as a wedding anniversary gift:
1. A Picture Perfect Photo Collage
A wedding is a bundle of many memories; each moment of this day is precious and cherished throughout life. And on this day, a couple clicks as many photos with all their loved and special ones.  
Now you can print all the special memories of your best friend's wedding on a single canvas and turn these best wedding photo collage ideas into reality. Once the photo collage is ready, amuse them with this beautiful wedding picture canvas gift.
2. Hexagon Photo Prints With Six Special Photos
Create a love-filled corner in your newly wedded best friend's room by printing all his/her precious memories of the wedding on hexagon photo prints.
Give the wedding photograph a tangible form so that your best friend can hold it anytime and relive their special moments again.
3. Heart-Shaped Moon Lamp
Your best friend is giving their heart to someone else; it must be an unforgettable day for you. So make this day more inevitable by customizing a heart-shaped moon lamp printed with their wedding picture.
Yah! You succeed in spreading the feeling of love and romance by bringing a moonlight feel into the room. 
4. Photo Blanket 
Are you looking for a gift for your best friend's wedding anniversary?  Gift your friend a unique wedding photo blanket printed with their wedding pictures. Don't let your best friend miss you in her new house.
This is the most classic gift which can help your friend and the partner to get closer to and strengthen their bond. You can also engrave your message that motivates them to stay calm and happy in their married life and think positively about their new phase of life.
5. Split Canvas Prints
Are you looking for a gift for your best friend's wedding anniversary?  Gift them a split canvas print printed with their wedding picture and special moments they have shared in that year.
Make your special couple realize that they have spent another year together, growing closer and strengthening their bond.
6. Photo Calendar 
Your wedding day is the most precious day of your life, which is filled with many romantic moments, infinite smiles, and laughter, the purest feeling to share. It was the busiest day for you and your friend, and you surely want to rewind it and relive it.
So print all the glorious and flowery moments of your best friend's wedding on a wedding photo calendar and preserve every moment elegantly.
7. Frames Canvas Prints

Your best friend has just lived her most momentous day, don't let that memory fade away. Turn those precious memories on custom canvas prints and gift them to celebrate their moment.
You can also go with wooden frames for canvas prints that can be hung anywhere easily, whether home, office, room, or any other area.
8. 3D Photo Frames 
Illuminate your area with personal sentiments attached to your friend's wedding photo. Print them into 3D photo frames and make them inevitable and revivable anytime.
This 3D printed photo frame adds an extra special touch to your walls by printing your special message to your best friend that will be readable every time.
9. Acrylic Prints
Photographers capture many moments on a wedding day; just give them a tangible and glossy form with custom acrylic prints.
Decorate your new room with lots of memories and heartfelt sentiments and live the love you always wanted with exclusive and clean acrylic prints.
10. Tote Bags
Make sure your guys and girls carry everything you need on your wedding day. Give a custom canvas tote bags wedding gift to your bridesmaids and let them flaunt the bag on the wedding day with all the essentials items.
This tote bag has a lot of space to carry all essential stuff like makeup, cleansers, cleaning rappers, little munchies, or anything needed by your bride or groom.
CanvasChamp Happy to Help You to Decide Custom Wedding Gifts:
Give some unique gifts which are made with a personal touch to your best friend. Make them feel memorable with your love-filled wedding vows personalized canvas print. 
Visit on CanvasChamp, choose the gift you love from a wide range of wedding anniversary canvas prints options. Customize your gift online on our design tool and get it delivered anywhere in Canada at affordable prices.