Top 7 Wildlife Theme Custom Gifts to Give This Wildlife Day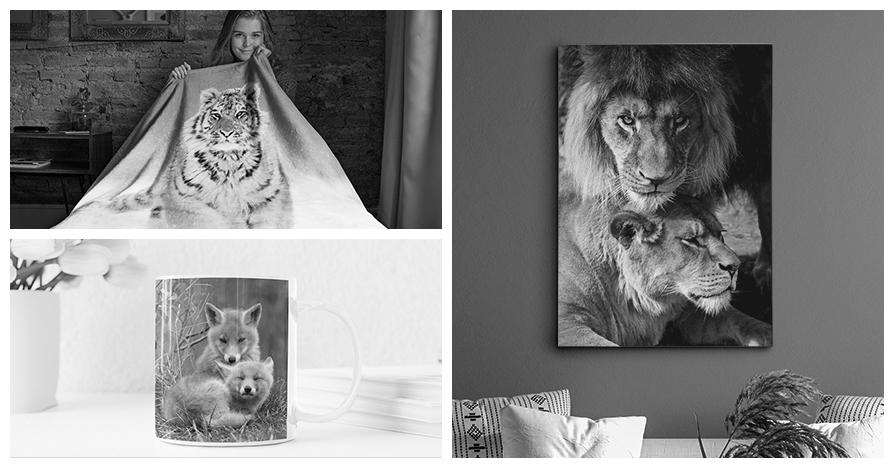 World Wildlife Day aims to protect critical species that are vital to the restoration of an ecosystem and its smooth functioning. Many people and organizations are working towards this aim, and World Wildlife Day is a day when you should thank them. 
You must take some tiny steps to share this wildlife awareness with most people and encourage them to save species. For this contribution, World Wildlife Day 2022 is the perfect occasion. Gift something to your wildlife lover or spread awareness with personalized gifts with CanvasChamp.
Let's explore the wide range of custom gifts printed with wild animals pictures.
Top 7 Personalized Gifts that are Perfect for World Wildlife Day 2022
Show your awareness of nature and maintain the balance between the environment and its creatures. Print the most suitable picture on a personalized product and give it to your family and friends. These tiny steps will contribute to a big change.
Get your personalized gift quickly with CanvasChamp!
Here we have summarized some extraordinary custom gifts that surely won't take your eyes off. Let's take a look!
1. Share Wildlife Protection Awareness With Wall Stickers
Get access to the latest wildlife prints to encourage everyone to save our wildlife on this world's wildlife day. Decorate your office and building with the best quality wall stickers and contribute to the cause. 
Also, you can gift it to your friends or families after customizing it according to your preference on this special occasion. 
2. Portray Your Pet Love With Portrait Canvas Print
Do you have a pet? Many people love to have pets in their houses. No matter if it is a fish, dog, cat, turtle, or bird, this portrait canvas print with their pet's pictures will be the best gift for such pet lovers. 
From making Instagram stories of pets to writing pet blogs, people are crazy for their pets. Some even keep dogs and cats and treat them as family members and prefer to take them out with them. 
They live together, eat together, play games, click lots of pictures, and treat you know someone like this; it's time to surprise a custom gift.
Try to give a cool custom portrait canvas print as a gift to those who are die-hard pet lovers on this World's Wildlife Day. CanvasChamp's portrait canvas print is the best choice for it.
3. Show the Importance of Environmental Balance with Custom Posters
On this World Wildlife Day, what will you do for our wildlife? You can best accomplish this by letting people know how important they are to us. 
For this, you can make world wildlife day custom posters printing and give them to your neighbours, friends, relatives, and colleagues. These posters are available at CanvasChamp at very affordable prices.
4. Use the Power of Quotes With Quotes on Canvas
Quotes empower you and motivate you to work in a specific direction. Use this power of quotes and spread your thoughts about wildlife and inspire others to work towards them.
Let's make this world's wildlife day more memorable with CanvasChamp's best-customised gifts. 
Get world wildlife day quotes engraved on canvas and deliver them anywhere in Canada.
5. Tiny but Powerful + Loud = Luggage Tag 
Do you have a brand working towards saving the environment? If yes, then this personalized luggage tag is perfect for you. So let's spread awareness about wildlife conservation among people with perfectly printed commercial luggage tags. 
Use your brand logo with a message to inform people of wildlife conservation and give it to your customers and employees on this world's wildlife day. It is the best way to promote your business with an environmentally friendly image. 
6. Photo Blanket For Perfect and Large Wildlife Picture Engraving
If you are looking for a gift for a person who is a wildlife lover, then CanvasChamp brings the best option for you. Give a photo blanket to them with a perfect wildlife photograph engraved on it.
Shower your love to your family and friends and also give them a great message on this world wildlife day. Get this personalized photo blanket at your doorstep and celebrate world wildlife day Canada with peace. 
7. Photo Mug for Taking a Sip with a Special One
People who live with pets and always keep themselves around animals, who usually love to go to the zoo and meet their friends, who love jungle safaris and never miss a chance to sight tigers. For those people, CanvasChamp has a surprise- A personalized photo mug.
This mug is printed with a perfect click of you and your love- an animal. Just print it on a photo mug and give it to yourself to celebrate world wildlife day.
Conclusion
Sharing awareness about wildlife doesn't require any day; share it as much as you can. CanvasChamp has various personalized gift options. Pick one as per your requirement and occasion and use it in the right direction and with the right people.
Use our easily accessible designing tool and get any product delivered to your doorstep with some clicks. 
Start doing it now!