Engraved Photos on Wood Info
Customer Reviews
Answered Questions
Personalized Engraved Wooden Plaques
Laser engravings on wood, granite, and/or marble are a fantastic way to create personalised gifts or artwork and are becoming increasingly popular. We provide a range of different options for engraved wood plaques to our customers, with online convenience and quick delivery. You can now create your very own engraved wooden plaques sitting at home.
How Engravings on Wood Work?
So how does the process work? It starts with you choosing the image you want to get engraved on a wooden plank. We offer four different plaque sizes that you can choose from: 9"x12", 7 ½"x10", 6"x8", and 5"x7". Once you're through with that, you move on to selecting the layout you want – there are three different options to choose from: the portrait, the landscape, and the best fit. Next you upload the image, select the accompanying text for your picture, and a border if you wish and submit your request to us. We take care of everything after that!
Type of Wood
The plaques used for engraving are crafted only from premium quality steamed timber. To ensure high quality engraving and spectacular graphic results, we also encourage our customers to send us only high resolution images that work well on the wood.
Our Process of Photo Editing
Send us the picture you want to engrave on your plaque and we will begin our engraving and editing process on wood as soon as we have it. We make use of specialised software that removes the picture's background with precision, readying it for the engraving process. The photo is then converted into a file format that can be used for engraving the plaque.
Example of Engraved Wooden Plaques
Here's a sample to give you an idea of what a completed engraved wooden plaque looks like.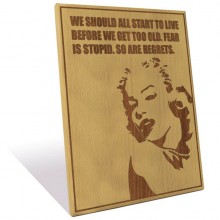 Shipping Information and Other Policies
No matter where in Canada you place your order from, we ensure quick delivery at flat rates. You can find out the rates applicable on your order here. We pride ourselves in delivering almost all of our orders before time.
We aim at providing you 100% product guarantee and customer satisfaction, and our return policy was designed to specifically cater that.
Received a damaged product? Or is it the quality that you feel isn't up to par? Return the product to us. We provide a 90-day after purchase return policy on all our products. Once the product is returned, you can opt for either a full refund, or free replacement.